By Jerika Bradford
Vivre dans un immeuble en copropriété ou un appartement ne signifie pas que vous ne pouvez vous entourer d'un jardin. Votre balcon pourrait être l'endroit rêvé pour créer cette oasis!
Avant de vous lancer, vous devrez connaître les éléments suivants :
Dimensions du balcon.
Règlements de l'immeuble et restrictions si applicables.
Est-ce que votre balcon est ensoleillé ou ombragé? Est-ce qu'il est orienté vers l'est, l'ouest, le nord ou le sud? Combien d'heures d'ensoleillement votre balcon reçoit-il par jour? Reçoit-il de la lumière indirecte? (Astuce : la plupart des téléphones intelligents ont une boussole pour vous aider à déterminer la direction exacte de votre balcon).
Avez-vous facilement accès à un approvisionnement en eau? Les jardins de balcon orientés vers le sud ou l'ouest doivent être arrosés plus souvent.
À quel point votre balcon est-il exposé à la chaleur? Certains balcons deviennent très chauds et certaines plantes ne résistent pas bien à ces conditions. De plus, si vous prévoyez de laisser les plantes à l'extérieur toute l'année, à quel point peut-il faire froid?
Établissez un budget avant de commencer! Un jardin de balcon simple et réussi peut être réalisé avec un budget serré.
Quel type de jardin voulez-vous avoir? Voulez-vous un jardin pour les pollinisateurs (c'est possible si vous vivez aux premiers étages d'un immeuble à appartements!)? Aimeriez-vous avoir un potager? Quel est le niveau d'entretien qui vous convient? Voulez-vous un jardin facile à entretenir, ou avez-vous la patience de cultiver des plantes plus délicates?
Une fois que vous aurez déterminé ces éléments-clés, dessinez et planifiez votre jardin sur une feuille.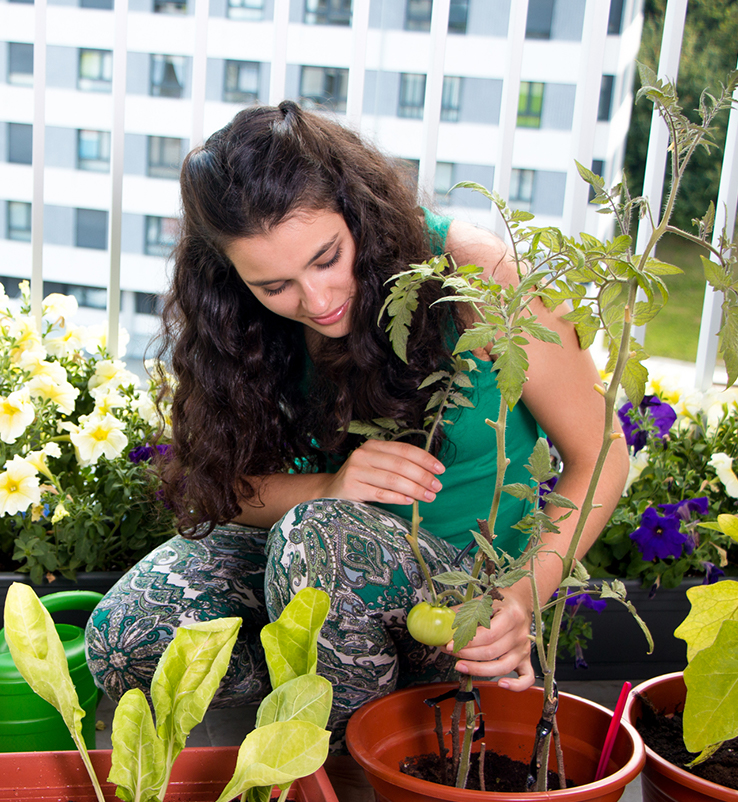 Allons-y!
La bonne lumière Mainly sunny balcony – plants like grasses, succulents, strawberries, herbs like basil, thyme, oregano, lavender, and veggies like carrots, cherry tomatoes, kale, French beans, radishes and more. Mainly shady balcony – most type of ferns, herbs like parsley and more.

La plupart des fougères et des herbes comme le persil et autres conviennent bien aux balcons généralement ombragés.

Les bons pots Assurez-vous que les pots sont assez profonds pour les plantes choisies et qu'ils ont assez de trous pour drainer efficacement l'eau.
Terreau Utilisez le terreau de rempotage conçu pour les pots. Votre dos vous en remerciera plus tard, car ce type de terreau est plus léger. Ensuite, recouvrez le terreau de paillis comme du gravillon ou des copeaux de cèdre, ou de la mousse si vous avez un coin ombragé!
La bonne quantité d'eau Si votre balcon se trouve dans une zone venteuse, il devra probablement être arrosé une fois par jour. La quantité d'eau peut aussi varier selon le pot utilisé; la terre cuite nécessite plus d'eau que les pots en plastique. La quantité d'eau peut aussi varier en fonction de la taille du pot et de la quantité de soleil! Certaines plantes sont plus sensibles aux vents forts, comme le basilic.
Related Ressources