By Jerika Bradford
Living in a condo or apartment building doesn't mean you can't surround yourself with a garden. Your balcony may be the perfect spot to create that oasis!
Before jumping right in, you'll need to find out the following:
Balcony measurements
Building regulations and if there are any restrictions
Is your balcony sunny or shady? Is it East, West, North or South facing? How many hours of sun per day does your balcony get? What about indirect light? (Tip: most smart phones have a compass to help determine exact direction of balcony)
Do you have an easily accessible water supply? South or West facing balconies need to be watered more often
How much heat does the balcony get? Some balconies get scorching hot and some plants don't thrive in this. Also, if you plan on leaving plants out year round, how cold does it get?
Set a budget before you begin! Simple and successful balconies can be done on a tight budget.
What kind of garden do you want? Do you want to garden for pollinators (you can if you live on one of the lower floors of your apartment building!)? Would you like to grow a vegetable garden? What kind of maintenance level do you feel comfortable with? Do you want it to be easy to tend to or do you have more patience for more delicate plants?
Once you've figured key details, sketch out and plan your garden on a piece of paper.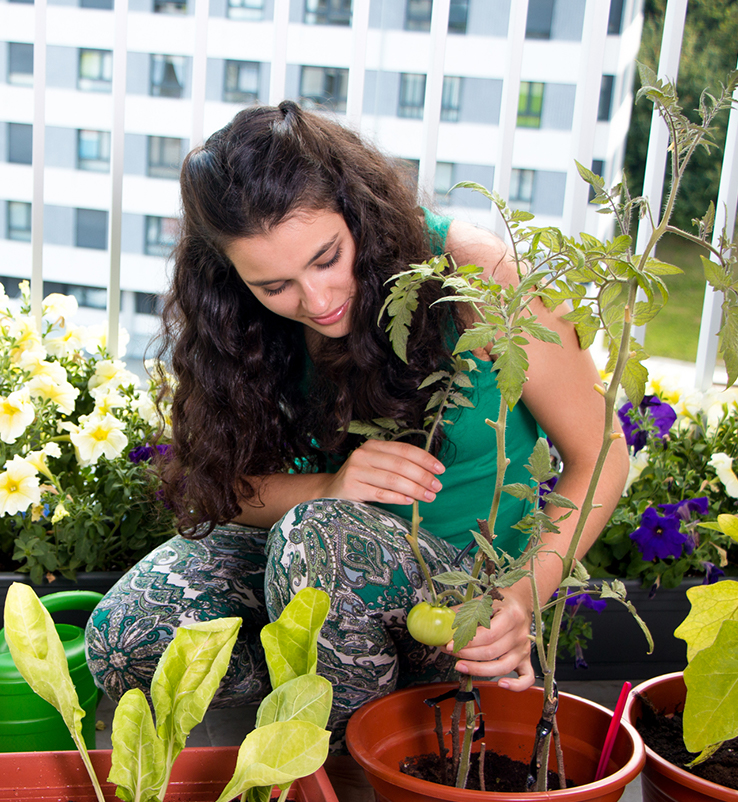 Let's get started!
Get your light right Mainly sunny balcony – plants like grasses, succulents, strawberries, herbs like basil, thyme, oregano, lavender, and veggies like carrots, cherry tomatoes, kale, French beans, radishes and more. Mainly shady balcony – most type of ferns, herbs like parsley and more.
Using the right planters Make sure the planter has enough depth as intended for the right plant and that it has enough holes to efficiently drain water.
Soil Use potting soil that is designed for containers. Your back will thank you later as this type of soil are lighter in weight. And when you're done, cover the soil with mulch such as pea gravel or shredded cedar, or if you have a shady spot - moss!
A good drink of water If your balcony is in a windy area, it will most likely need to be watered once a day. Also, depending on the planter used, terra cotta require more water than plastic planters. The amount you water will also depend on the size of pot and the amount of sun too! Some plants are more sensitive to strong winds – like basil.
Related Ressources