The Canadian Wildlife
Federation's Role in Freshwater
Turtle Conservation
The Canadian Wildlife Federation continues to work with regional partners, community groups, lake associations and individuals to reduce risks to turtles. We continue to carry out on the ground surveys to document at-risk turtle locations and HELP PROTECT their habitat. We have also undertaken an analysis of hotspots where turtles are more susceptible to being hit on the road. Finally, we continue to work with partners to outfit turtles with radio transmitters to track movement, habitat use, nesting sites and overwintering sites.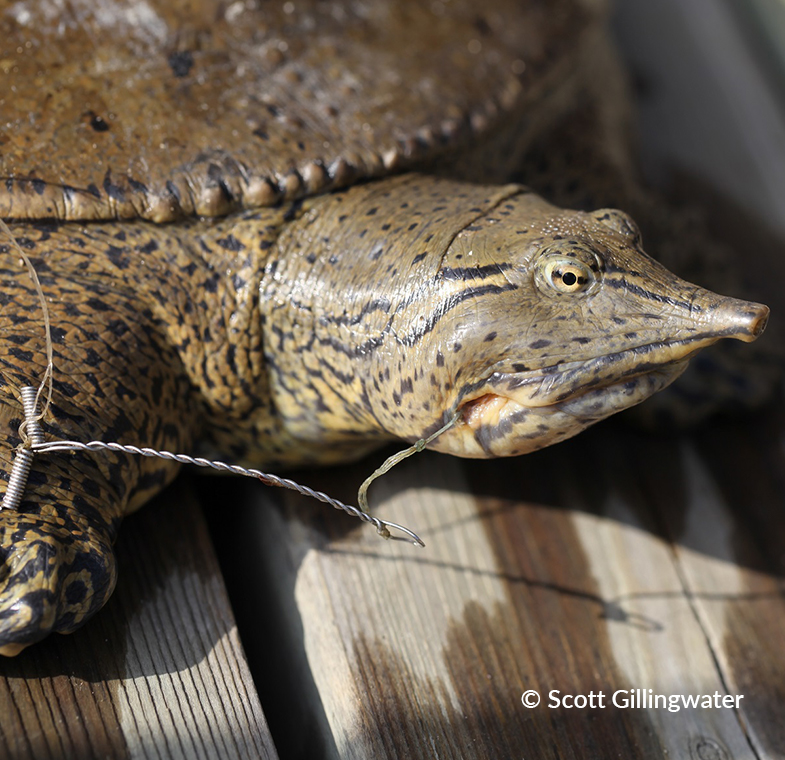 Hooked a Turtle?
Read the step-by-step guide to help a freshwater turtle that's been hooked while angling.
Support Freshwater Turtles with Oat & Mill Frozen Dessert!
When you purchase a pint of "Turtle Crossing", a percentage of the proceeds will support CWF's turtle conservation programs. Visit OatandMill.com to find a retailer near you.
Freshwater Turtles
"All 8 freshwater turtle species found in Canada are listed as Species at Risk. "
The Challenge
Freshwater turtles are one of the most endangered groups of animals in Canada. The threats are relatively well known – the following threats are having the largest impact on turtle populations in general:
Road mortality
Habitat loss
Nest predation
Poaching for the pet trade
The numbers are devastating. But the Canadian Wildlife Federation believes that we can help conservation efforts for these at-risk species. We are working with partners and landowners, the government and YOU to move forward in helping freshwater turtles in Canada.

770
Number of turtles in the Ottawa and Muskoka area found as roadkill in 2017 study

1,735
km2
Area of wetland habitat protected in Muskoka and Ottawa area as a direct result of this program

7,080
Number of hatchlings CWF partners released back into the Ontario wild after incubation
How to (Safely) Move a Turtle across the Road
You're driving down a back-country road and suddenly there's a turtle on the road. What do you do? Read on to learn how to move a turtle across the road.
Learn when to rescue a turtle
It is important to know when a turtle needs help and when it does not. Learn more about how to move a turtle safely across the road.
Turtle Eggs
Sometimes yard or excavation work can uncover a nest of turtle eggs, such as in a compost pile. If you expose eggs, cover them back up with the nesting material. If the eggs are moved, they may not survive.
Turtles
Most turtle hatchlings emerge from nests in late summer or early fall and head for water. Hatchlings are about the size of a loonie and are completely independent. If you find an uninjured hatchling, let it be, as it will find its way to the closest water body.
If you find an uninjured turtle on the road, you can help it across by moving it in the direction it is headed.
How to tell if a turtle needs rescuing
It is unresponsive (it can be hard to determine if a turtle has died so err on the side of caution)
It has head or limb injuries, or cracks to its shell
It is found upside down and is unable to right itself, which may indicate dehydration and overheating
Temporary turtle care instructions
If you have found an injured turtle, take these steps until you contact a wildlife rehabilitator for advice. Aside from Snapping Turtles, most turtle species can be carefully picked up with two hands at the sides of their shell.
Place the turtle on a damp towel in a well ventilated plastic bin with a secure lid. Do not provide any food or water.
Keep the container in a dark, quiet place away from people and pets. Do not provide any additional heat source for the turtle.
Contact a rehab centre for advice as soon as possible.
Hooking a Turtle While Angling
Another widespread threat is the accidental hooking of turtles on fishing lines. Many freshwater turtles are opportunistic scavengers that also take live prey, making them vulnerable to getting caught on baited fishing hooks. Often anglers will simply cut the fishing line when a turtle is hooked, so the hook remains caught in the turtle.