Join Us For a Turtle Blitz!
When: Sunday, July 13, 2019 at 10:00 a.m.
Where: Johnston's Cranberry Marsh and Muskoka Lakes Winery
What to Bring: Light-weight clothes, water shoes, hat, water bottle and picnic lunch
Before You Come: Download the free iNaturalist app and upload any pictures you take at the event to help us track turtle populations in Ontario.
The Canadian Wildlife Federation and Scales Nature Park invite you to join us Sunday, July 13 in the Muskokas as we search and inventory all the turtles we can find in the Johnston's Cranberry Marsh. You'll get to see and hold live turtles, learn about native turtles and turtle conservation and take part in a catch and release activity designed to help protect local turtles.

The Canadian Wildlife Federation and Scales Nature Park have joined efforts to deliver The Saving Turtles At Risk Today (S.T.A.R.T.) Turtle Project. The S.T.A.R.T. project launched in 2013 and is being delivered through Scales Nature Park in conjunction with the Georgian Bay Turtle Hospital. This initiative works to conserve turtles in the Muskoka and Lake Simcoe watershed region (Muskoka, Simcoe, Haliburton etc.) through on the ground conservation, education, public engagement and outreach. By inspiring local residents to protect turtles, CWF and Scales will create a national example of how these precious species can be protected throughout Ontario and other regions of Canada.
Thanks to generous funding from the Rogers Foundation, CWF is working with regional partners, community groups, lake associations and individuals to reduce risks to turtles.
The S.T.A.R.T. Turtle Project will target all six turtle species in the region (Painted, Snapping, Blanding's, Map, Musk and Spotted), with a particular focus on Blanding's turtles since this species is the most likely to be impacted by road mortality and human activities in the area.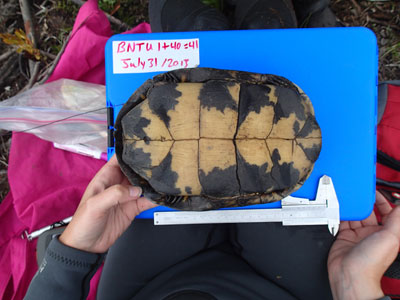 Summer 2019 Results
In collaboration with the Canadian Wildlife Federation, our partners at Scales Nature Park were busy working on the Saving Turtles at Risk Today Project in the Simcoe/Muskoka area in Ontario. Over 30 project staff and volunteers participated in last year's "Turtle Boot Camp," an intensive two week training program. The project's "turtle hotline," designed to encourage locals to report turtles continued to gain traction this year. The team fielded nearly 700 calls this summer. Many wetlands were surveyed and habitat protection under the Endangered Species Act was enabled for several wetlands that still lacked protection. Our work towards population estimates for the region's turtles continued through ongoing surveys.
RESULTS: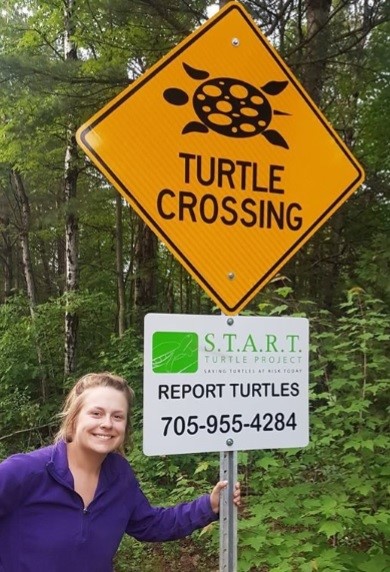 2790 turtles were encountered during surveys. These included 4 Musk Turtles, 86 Northern Map Turtles, 89 Spotted Turtles, 528 Blanding's Turtles, 673 Snapping Turtles and 1410 Painted Turtles.
205 Blanding's Turtles were captured and marked in 2019, bringing the total number of marked Blanding's Turtles up to 745 individuals.
Road Surveys
649 turtles were found on roads in 2019. Of those, 347 turtles were found alive on roads and rescued before being hit. Over the last three years, 587 turtles have been rescued off roads. Increasing populations
Eggs from the nests of 34 Blanding's Turtles, 53 Painted Turtles, 2 Northern Map Turtles, and 310 Snapping Turtles were collected and incubated at the Georgian Bay Turtle Hospital.
9,340 hatchlings were released back into the wild. This is an increase of more than 2,000 hatchlings from the number released in 2018.
Over the last four years, more than 24,000 hatchlings have been released, giving a boost to many turtle populations.
Outreach
Over 690 calls or texts were received by the S.T.A.R.T. Turtle Hotline, 705.955.4284. This is a major increase from the 465 that were received in 2018, showing the messaging is getting out and the public is more engaged. The busiest day was on June 25th with 110 calls.
In 2018, 10 permanent call-the-hotline signs were installed on pre-existing turtle crossing signs in the District of Muskoka. Four additional signs were installed in Simcoe County this year.
The START project egg collection and incubation project and turtle conservation was profiled on the Weather Network and on CTV Barrie in 2019.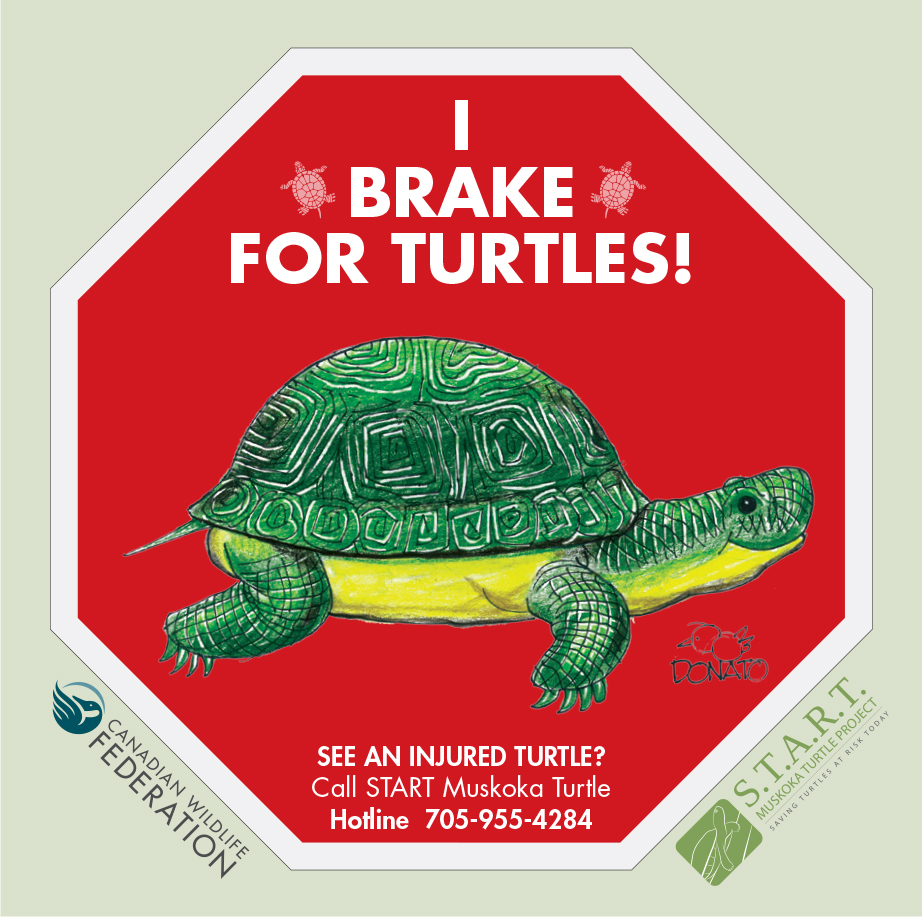 Conservation
Freshwater turtles as a whole are in decline throughout Canada. Seven of the eight freshwater turtles found in Canada are at risk. The remaining species are designated to be at varying degrees of endangerment.
The threats are relatively well studied. Road mortality and habitat loss are having the largest impact on turtle populations in general. Turtles often have to cross roads to find suitable nesting sites, which puts females at risk of being struck by vehicles. These females should lay eggs for decades to produce the next generation of turtles, and if they are killed the next generation will be reduced or even eliminated. The roadsides themselves often prove to be a nesting site of choice since they contain ideal gravelly shoulders, but this places both the females and young in a dangerous high traffic area.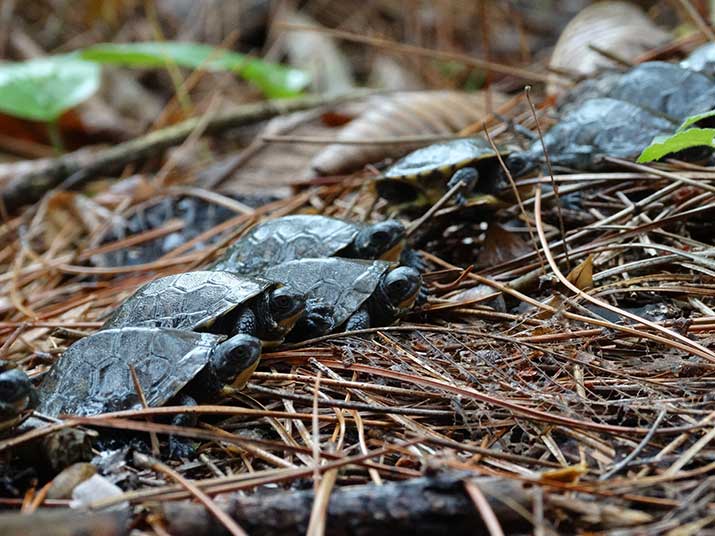 Community Outreach
S.T.A.R.T. project staff continue to participate in a number of festivals and community events in Muskoka and surrounding area. Public engagement and awareness is essential in turtle conservation. Engaging the local community bolsters support for turtle conservation and can lead to direct actions to safeguard turtles. Things you can do to help include the following:
Healthy turtle populations start with a healthy habitat. Help improve turtle habitat by participating in local lake, river or community cleanups.
If you find turtles in a safe place, leave them there.
Don't litter
If you see a turtle on the road, and it is safe for you to help it, please move it across in the direction it was going. Don't take it back to the water- it may be going to lay eggs somewhere else!
Leave fallen trees and branches in place along shorelines. Turtles use these as a platform for basking in the sun.
Don't buy real tortoiseshell barrettes, brushes, ornaments or jewellery.
Support CWF and its turtle and habitat projects.
If you find an injured turtle, you can take it to a wildlife rehabilitation centre for treatment. Saving one turtle can be a big help, since they are supposed to live for such a long time and lay eggs every year.