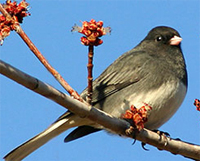 Description:
Dark-eyed juncos vary geographically in terms of their colouration. Depending on the region, the backs and sides of dark-eyed juncos can vary from dark grey to reddish-brown. In all regions, however, adults can typically be identified by their dark grey to black coloured head and breast (known as their hood), white outer tail feathers and white undersides. Females are typically smaller than males and are often lighter in colour. Juveniles differ markedly from adults with their streaked appearance and brownish plumage.
Dark-eyed juncos can be identified by their sounds as well. Their most familiar call is a musical trill that's performed on the same pitch.
Depending on predation, dark-eyed juncos typically live anywhere from three to 11 years in the wild. Their common predators are hawks, owls, cats, squirrels, chipmunks and weasels.
Photo Gallery:
(Please note — these photos are unverified images submitted by members of the CWF Photo Club.)

Range:
During the breeding season, dark-eyed juncos are found in every province and territory of Canada. Even in winter, these popular birds can be found in small numbers from British Columbia all the way east to Newfoundland and Labrador.
Habitat:
Dark-eyed juncos tend to avoid heavily wooded areas and instead prefer forest edges and woodland clearings that contain lots of plants for groundcover. In winter, their habitat shifts to roadsides, fields, gardens and parks that offer tree protection.
Diet:
Dark-eyed juncos are ground feeders whose diet changes seasonally. During the breeding season insects make up the bulk of their diet. At this time it's common to see juncos hopping along the ground in pursuit of their insect prey. In the non-breeding season they forage for seeds, insects and arthropods.
Behaviour:
When the males arrive on the spring breeding grounds they begin to claim their territories by performing their calls from atop a tree. Once a male and female form a pair, the two stay quite close to each other and are monogamous. The female builds a cup-shaped nest close to the ground and camouflages it amidst grasses or under logs or tree roots. The female lays an average of four to five speckled eggs that are white or pale blue. She is also usually the one that incubates the eggs, which takes about 12 days. The young are ready to leave the nest as early as nine days old, but remain somewhat dependent on their parents for up to three weeks. Dark-eyed juncos have two broods a year.
Dark-eyed juncos form flocks for the winter. With usually no more than 25 juncos in a flock, there is a definite hierarchy. Males are dominant over females and therefore have greater access to food, and adults are dominant over juveniles.
Primary Ecosystem Roles:
Dark-eyed juncos play important ecosystem roles by helping with seed dispersal and controlling insect populations. They also bring great joy to birdwatchers. In fact, dark-eyed juncos are often regarded as one of the most common feeder birds in Canada.
---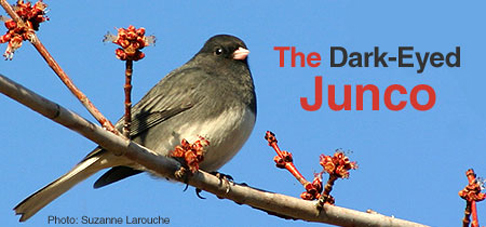 By Terri-Lee Reid
You can attract dark-eyed juncos to your backyard by planting native plants, shrubs and trees and letting them go to seed. Juncos are particularly attracted to the seeds of weeds and grasses, so let a corner of your garden grow a bit wild. Be sure to have some dense shrubs nearby as juncos get nervous without escape cover nearby. They like to forage for insects and seeds among fallen leaves and logs, so don't be too fastidious about your fall clean-up. These efforts will not only provide dark-eyed juncos with a food source but will also offer them places to nest and find protection from predators. You can supplement the dark-eyed junco's natural diet by offering black-oil sunflower seeds on a platform feeder.
Instead of using pesticides, leave juncos to take care of your insects. All your backyard wildlife will benefit from letting nature run its course.