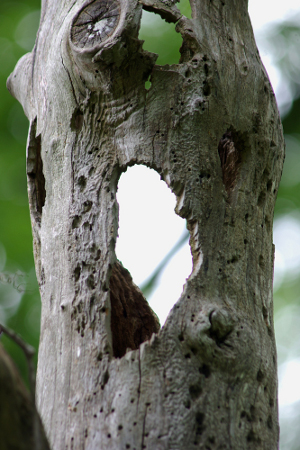 Wildlife needs shelter for many reasons. It offers protection from inclement weather such as extreme cold, rain and heat. It helps them hide from predators. And it provides them with places to safely raise their young. An absence or shortage of shelter limits the wildlife that will visit your property.
Look to neighbouring natural areas. If you include features of that habitat on your property, wildlife will see your garden as an extension of their existing habitat and you will be able to attract species that would otherwise see your property as too small.
Variety of Plant Types
As with food, a variety of plant types attracts a greater diversity of wildlife. Planting evergreens (trees that keep their needles), for instance, provides effective cover in the cold winter months while deciduous trees (those that shed their leaves) help block excessive sun but allow for more air circulation. Robins use both for nesting, making their first nest in an evergreen where the weather is still cool. Their second brood is usually in a deciduous tree as the air has warmed up. Both types of trees can offer protection from hungry predators.
Differing heights are also equally important for shelter as with food. Birds like hawks tend to prefer the top portion of tall trees. The whip-poor-will and ovenbird nest on the ground and so many others have their preferences anywhere in between.
In addition to birds, mammals like the northern flying squirrel, bats and porcupine seek shelter in plants of various heights. So do tree frogs.
Even a simple flower has been known to give shelter to beneficial insects and spiders. The pasque flower's blossom is one example that is purported to be several degrees warmer than the surrounding air – good news for early pollinators on a cold day.
In addition to plant types, the different stages of a plant's life can attract differing species of wildlife. For instance, dead or dying trees are perfect for cavity nesting animals. These holes are important for roosting as well as for nesting, with many species requiring numerous holes to fulfill their needs. Many birds require cavities from these 'snags', including those that help control our rodent and insect population. Some of these allies include woodpeckers, bluebirds, wrens, flycatchers, tree swallows, chickadees and owls. Even mergansers and wood ducks are known to nest in trees! Mammals like squirrels also need cavities. Bats will also make good use of snags, with an entire colony able to live in the thinnest of cracks. This is great considering bats will eat hundreds of mosquitoes and grub-laying moths while you sleep at night.
As there is such a range of species that require cavities, there is the need for varying size tree widths, with some species needing only a few inches and others requiring over two feet. There is also the need for varying tree heights, for while some species are comfortable making holes only a meter or two above ground, many prefer to make their cavities from 20-50 metres high. Maintaining or recreating sufficient habitat, and supplementing with roosting and nesting boxes where need be, can go a long way in preventing outbreaks of potential pest species and the destruction caused by such imbalances.
On smaller properties or in proximity to houses, parking areas, paths or play areas, ensure any snags don't pose any danger. Cut off branches and shorten the snag so that it won't damage property or people if it falls over in a storm.
Even plants with pithy stems such as elderberry, raspberry, sumac and annual sunflowers provide nesting sites for bees such as the tiny carpenter bees.
Smaller animals, like our pollinators, need places to lay their eggs. This can include a flower garden or wild area in a corner for butterflies or a patch of bare ground for certain bees.
If you can, group plants, allowing for denser cover. If native habitat such as shrubby thickets or woodland already exists, leave as undisturbed as possible.
Different plant types add layers, increasing available habitat, like adding a vine to a bare fence, for instance. Different plant types also take care of the different heights needed by wildlife, adding layers to an otherwise one dimensional space. It's like adding rooms and furniture to a bare house. This allows species that nest high up to share the same space as those who nest on the ground or in between.
Other natural shelter
Structures such as rock and brush piles are also very useful to wildlife. Even letting a log rot on the ground can provide shelter – and feeding grounds – for a variety of species such as the blue-spotted salamander or the shy ovenbird.
And then there are wet areas like ponds that can offer refuge for geese to sleep at night, for amphibians, fish and some mammals, too.
Minimize Lawn Space
Many of us have good uses for lawns – kicking the ball with our children, sitting with friends or simply providing a smooth green contrast to our textured and colourful garden beds. While keeping some grass is useful, look and see how much lawn you can replace with lush vibrant habitat. Shifting the balance to include more natural habitat will go a long way in supporting wild species. As an added bonus, a smaller lawn means less lawn maintenance which can save time, money and reduce pollution.
Supplemental Shelters
Nesting and roosting boxes, if placed in a good location, help to make up for any shortage of places for birds to nest and rest. And while these are useful for birds, also consider building bat boxes for these helpful creatures.
The location of your shelter can be just as important as the shelter itself. Bat boxes need to be in sunny spots like on house walls or poles that get the sun. Trees and shrubs are important to have near a feeder but ensure they aren't so close to allow a cat to jump out and catch a bird.
Clean nest boxes once a year, when they are no longer in use. This will keep them clean and healthy for next year's family.