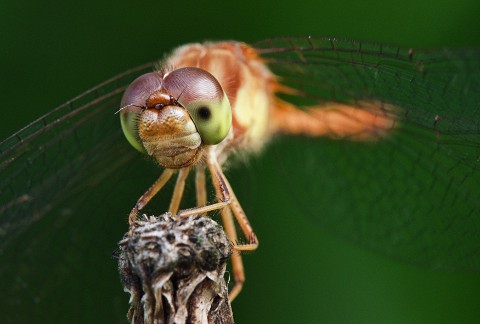 Insects perform a whole host of activities beneficial to our gardens and the environment as a whole:
They provide valuable products for us in the form of honey, beeswax, and silk.
Insects are vital pollinators, essential to most of our food crops, flowers, and other plants.
Many insects are important predators of pests in our gardens - see below to learn about some of them.
They also play a critical role in the recycling of materials, eliminating waste materials, and keeping our soils healthy.
In fact, of the approximately one million species of insects, man considers only a fraction as pests. Still, insects continue to be undervalued. They are lumped together as creepy crawlies and their mere sight can send people flying to get the spray can of insecticide.
Learn to recognize the good guys, because they are essential allies in keeping the bad guys in check. Work with them in creating a well-balanced, vibrant garden.
Below are predatory insects and how to attract them to your garden. To learn more about pollinating insects, their lifecycles and their needs click here.
Know your allies
Insect

Benefit

Ladybug

Eats aphids, scale
mites, mealybugs, whiteflies, eggs of some other insects

Eats aphids,
spidermites, leafhoppers, thrips, moth eggs, red mites, caterpillars,
mealybugs, syrphid (or hover) fly pollinates; larvae eat aphids, mealybugs, leafhoppers

Robber fly

Eats flying insects
such as beetles, butterflies, leafhoppers, and grasshoppers; larvae eat eggs
and grubs of pests in soil

Larvae eat larvae of
browntail and gypsy moths, sawflies, cutworms, armyworms, Mexican bean
beetles, grasshoppers, European corn borers, Japanese beetles, tent
caterpillars

Eats slugs and many
pest larvae such as gypsy moth larvae, cankerworms, armyworms, cutworms, and
snails

Eats aphids,
springtails, nematodes, fly eggs, maggots

Soldier beetle

Eats grasshopper
eggs, cucumber beetles, an array of caterpillars

Eats small insects,
spiders

Eats mites, scales,
thrips

Assassin bug

Eats caterpillars,
aphids, Mexican bean beetles, Colorado
potato beetles, Japanese beetles, leafhoppers, hornworm, flies

Eats leafhoppers,
aphids, Mexican bean beetles, and eggs of other insects, lygus bugs, spider
mites, mealybugs

Damsel bug or damsel
fly

Eats mites, aphids,
leafhoppers, larvae, other small plant pests

Soldier bug

Eats Mexican bean
beetles, cabbage loopers, cabbageworms

Dragonfly

Eats mosquito larvae
and adults

Parasitic wasp (most are tiny and don't sting), such as trichogramma, braconid,
chalcid, and ichneumon

Destroys the eggs of
cabbage loopers, cutworms, tomato hornworms, aphids, scale, mealybugs,
armyworms, gypsy moths, alfalfa caterpillars, spruce, budworms

Predatory wasp
(larger and makes a loud buzzing). Solitary wasps such as the mud dauber are
nearly harmless, as they don't sting easily. Paper or social wasps, such as
hornets and yellow jackets, create large colonies that they defend and are
therefore more likely to sting.

Kills flies,
caterpillars, other larvae

Both adult and larvae are fierce
predators that feed on a great variety of prey. Their particular favourites
are caterpillars and beetle larvae. They feed on Colorado potato beetles, Mexican bean
beetles, tent caterpillars, grasshoppers, aphids, cabbageworms, and cucumber
beetles.

The adult pirate bug and its nymphs feed
on spider mites, thrips, whiteflies, small caterpillars, corn borers,
leafhopper nymphs, and other small insects and eggs
Rallying the troops
To attract predatory insects to your garden to help with pest control:
Don't use pesticides, which rid your garden of many of the beneficial insects necessary for a healthy garden. Instead, attract predatory insects and other animals (such as birds) to your garden and let them control any pests. Even organic pesticides can have negative impacts on beneficial insect populations.
Plant a variety of flowering plants, especially those with small flowers rich in nectar. Although many of the larvae are predators, these will supply the nectar and pollen necessary to many of the adult forms and provide safe places for resting and laying eggs.
Particularly attractive are herbs allowed to flower, such as coriander, fennel, dill, lavender, thyme, mint, and parsley.
Flowers of the composite or daisy family are also appealing to beneficials. Examples include goldenrod, coneflowers, ironweed, sunflowers, coreopsis, and black-eyed Susan.
Intercrop: mix up your plants so that those that attract beneficial insects are near those that need protection, such as vegetables.
Place your plants close together to provide a moist, shaded environment for beneficials who dehydrate easily.
Provide a source of water for beneficial insects by putting out a shallow dish of water with stones to give them dry places to land.
Minimize soil disturbance to protect soil-dwelling insects and their eggs.
Create mulched or stone pathways to provide shelter for predatory beetles.
Allow leaf litter to remain on planting beds to provide overwintering spots
Plant ground cover to provide shadowy, sheltered spots for spiders.
Keep your soil healthy by adding compost to allow soil organisms to thrive.
Attract beneficial insects to your yard rather than buying and releasing them. Releasing insects may rid your yard of naturally occurring beneficials through competition and predation (some beneficial insects, such as praying mantises, feed on both pests and other beneficial insects). In addition, some insects, such as certain ladybugs, are migratory and, once released, quickly move on to other locations.
Invest in a good insect guide so that you can accurately identify troublemakers and beneficials.
Photo: Lu Zhang