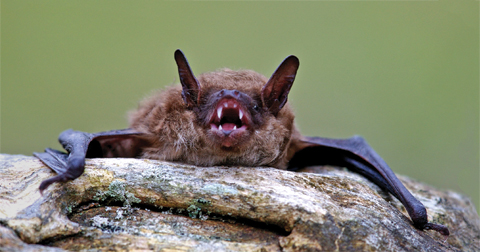 Photo: Tom Lusk
What are bats?
Bats are the only mammals capable of sustained flight. As mammals, they are warm-blooded and give birth to live young that are fed on the milk of their mothers. Poorly developed at birth, newborn bats are essentially helpless until they learn to fly at the age of three to five weeks.
Most bats give birth to only one young each year, although some species bear twins and a few, such as the eastern red bat, can give birth to up to four babies. This makes bats, for their size, the slowest reproducing mammals on earth.
There are nearly 1,000 species of bats in the world, roughly one-quarter of all mammal species. Of these, only three species are vampire bats, limited in range to Latin America.
All bat species in Canada are insect-eaters.
The importance of bats
Bats are the primary predator of night-flying insects such as moths, beetles, and mosquitoes. A single bat can catch hundreds of insects in just one hour, consuming from 30 to 50 percent of its body weight in insects each night.
A healthy colony of bats can protect gardens and crops from major damage by pest species such as cucumber beetles, moths, cutworms, corn earworms, leafhoppers, and June beetles. As each female moth can lay thousands of eggs, the control of even a few adults has an exponential effect.
Echolocation
"Blind as a bat" is an expression based on the myth that bats are blind. In fact, bats have great vision and rely on it for many aspects of their lives. To find prey, however, most bats rely on echolocation.
Bats, like dolphins, use high-frequency sounds to navigate and communicate. Bats send out pulses of sound and the returning echoes enable them to detect obstacles in their path. Their skill is such that they are able to avoid items as fine as a human hair. So much for the myth that bats get caught in human hair!
Bats in winter
Canadian winters pose a great challenge to bats. The cold weather and lack of insects make it impossible for bats to remain active year-round. Bats are left with two choices - hibernate or migrate.
Bats that hibernate choose locations where the temperature is relatively stable, usually caves. Their heartbeats slow from approximately 200 beats per minute to as low as 20 beats per minute. By slowing their metabolism, these bats are able to survive the long winter on their existing stores of fat. Each time they are aroused during hibernation, bats expend from 30 to 60 days' worth of fat reserves. For some bat species, even a few extra arousals are enough to kill them.
Some other bats, such as the hoary bat, migrate great distances to the southern United States or Mexico. They may hibernate in these warmer areas or remain active throughout the year.
Bats and rabies
Bats have long been feared as carriers of rabies. In reality, less than one percent of bats contract rabies, no higher than the rate in many other mammals. Once infected with rabies, bats quickly become paralysed and die, seldom becoming aggressive.
Bats, however, should never be handled. Like all wild animals, they are likely to bite in
self-defence. Handling is especially unwise if the bat appears to be sick. If a bat bites you, immediately wash the wound with soap and water and seek medical advice.
Bats in the house
Occasionally, a single bat will appear inside a house. Usually, it is a young bat that has lost its way and entered through an open door or non-grated chimney. In an attempt to escape, the bat will often fly frantically about the room. Should this happen in your home, simply close doors to other parts of the house and open a door or window to the outside to enable the bat to escape.
Certain bat species, such as the little brown or big brown bat, will sometimes roost in houses, typically in the attic. Buildings may be their only alternative, owing to the loss of many of their natural roosting sites. If roosting bats are causing serious problems, the only solution is exclusion, which essentially means evicting them. However, repellants and poisons do not give long-term results, and often cause as much harm to the human inhabitants of the building as to the bats themselves.
Before expelling bats, consider putting up a bat house to provide evicted bats with a place to go. Locate the box on the side of the house, near their entrance to the attic, so that it is easy for them to find.
To evict bats, look for their entrance(s) to the attic by watching for them to emerge at dusk and searching for stains from their droppings. Once an entrance hole is located, bird netting, available at some garden centres, can be attached above the hole and left to hang loosely below it so that bats can leave but not return. Leave the netting to hang for one week to ensure that all bats have been allowed to exit. Then seal and caulk entrances to prevent future problems. (Unlike squirrels, bats will not chew holes.)
Exclusion should not be attempted during May to August, when young bats may be present. Unable to fly, the young will be left to starve. Not only is this cruel to the bats, it will also cause further problems when the dead bats begin to smell.
There are a number of companies that will do the expelling for you. Some are reputable, while others make money by fuelling people's fears. Choose only those companies that follow the general principle of exclusion at an appropriate time of year.
Threats to bats
Many of the world's bat species are considered threatened. Several factors make bats particularly vulnerable to major population declines.
Bats are very susceptible to disturbances and react to the mere entrance of people or the beam of a flashlight. Human intrusion into a maternity colony can be fatal to young bats, which may be abandoned or lose their grip and plummet to the ground. Winter hibernation sites are equally vulnerable. As bats often roost in large colonies, disturbance or destruction of these roosts can seriously affect the survival of the species.
Many bats depend on riparian areas (riverbanks, lakeshores, etc.) for both water and insect foraging. The degradation of our waterways through pollution or the destruction of natural vegetation along stream, pond, and lake edges seriously affects many species of bats.
Pesticides affect bats directly and indirectly. Crops are often sprayed in early evening, when bats are active. Direct spraying can quickly lead to the death of bats. Pesticides also affect bats indirectly by killing off a wide assortment of insects, which limits their food sources.
Deforestation affects bat species that rely on forests for roosting and foraging. In particular, the loss of old-growth forests threatens certain bats. Many of these species roost in older trees or snags (dead or dying trees). Forestry practices that create even-aged stands, such as clear-cutting, result in the loss of these very important roost sites.
How you can help bats
Don't enter caves unless you know there are no bats present
Plant trees to create corridors between forested areas
Avoid the use of pesticides
Plant native plants in your garden to attract insects that feed bats
Protect trees and snags
Protect vegetation along streams, rivers, and lakes and replant those areas that have been degraded
Put up a bat house
To turn your garden into a bat magnet, start by enticing night-flying insects with plants that bloom both day and night; choose bittercress, four-o'clock, fireweed, goldenrod, phlox, wild Sweet william, bachelor's buttons, and cardinal flower, as well as aromatic herbs like lavender, spearmint, thyme, and sage; arrange plantings in clumps to concentrate food sources
Install a bat light in your garden; leave it on at dusk to encourage moths and other night-flying insects and, consequently, foraging bats (mercury vapour lights are particularly alluring to insects)
Build a shallow pond that appeals to caddis flies and other insects that start life in freshwater and emerge as adults
Plant leafy deciduous and thick coniferous trees, such as elms, maples, spruce, and pines, for hoary, red, and other foliage-roosting bats