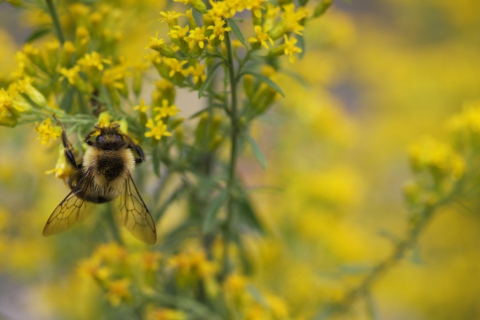 Providing wildlife with their favourite foods is a great start in attracting them to your property. Include a variety of plant types as this will provide both a diverse and continuous source of food. In addition to food plants that serve as natural habitat, many enjoy supplementing with bird seed or sliced fruit.
Variety of Plant Types
A diversity of plants will attract the greatest variety of wildlife and meet their needs on many levels including that of food. A combination of evergreen and deciduous trees, shrubs, grasses, vines and perennials/flowers will provide plentiful food as flowers produce pollen and/or nectar for pollinating animals like bees, butterflies, beetles, flies and hummingbirds.
Once pollinated, these flowers transform into seeds, nuts and fleshy fruit which provide food for all sorts of birds and mammals. Blue jays love acorns, as do wood ducks and some woodpeckers. Robins, waxwings and orioles enjoy the fleshy fruit of cherry, Saskatoonberry, hawthorns and others. And seeds from certain perennials are a great winter food for adult American goldfinches and juncos while seeds from trees are preferred by pine siskins, common redpolls and crossbills.
Plants may also provide sap for some birds like the yellow-rumped warbler, hummingbirds and the yellow-bellied sapsucker. In fact, the ruby-throated hummingbird has been known to locate its nest near a tree where a sapsucker drills holes. Butterflies also enjoy this sweet food.
Leaves from trees, shrubs and herbaceous plants are important for the early stages of a butterfly's life – as caterpillars. Mourning cloaks feed on poplars and willows, tiger swallowtails munch on white birches, as do green commas and white admirals. Even the tougher evergreen needles of pine trees are food to pine elfin caterpillars. Our ever popular monarchs need milkweed leaves for their young, preferably the common milkweed. And our bright yellow and black swallowtails dine on willows, birches, ashes, poplars and aspens, depending on the region and the species of swallowtail. Where habitat for predators exists, caterpillar numbers don't become problematic, as local woodpeckers, warblers and other insect eating animals help keep them in check.
Several mammals eat leaves, and buds and twigs offer sustenance during the winter months for many rodents like the snowshoe hare and hoofed animals like deer and moose. Birds that eat buds include the ruffed grouse. Look up in the trees as you walk about and you may notice these wild chicken-like birds perched above you!
A greater variety of plants also attracts a greater variety of insects. This is good news for the birds, bats, toads and other wildlife that feed on them in various ways. Overwintering nuthatches, brown creepers and woodpeckers glean insects that hide under tree bark while colourful warblers and the Baltimore oriole hunt throughout the layers of trees and shrubs. Even goldfinches which normally feed on seeds require insects and other invertebrates to feed their young, as with many other species of birds. A variety of plants allows a variety of heights, accommodating the various needs of differing species of birds. Some insects dwell in the leaves that fall from trees. This useful layer protects tree roots and returns nutrients as they decay, but that's in part thanks to soil and ground dwelling insects. To keep these numbers in check, however, birds like thrushes, amphibians like wood frogs and salamanders, reptiles like snakes and mammals like foxes and black bears feed on these bugs.
These different plant types add layers, increasing available habitat, such as adding a vine to a bare fence, for instance. Different plant types also take care of the different heights needed by wildlife, adding layers to an otherwise one dimensional space. It's like adding rooms and furniture to a bare house. This allows species that forage or feed high up to share the same area with those that spend more time on the ground or in between.
Seasonal Buffet
Most wildlife cannot survive on only one season's food. Consider the four seasons as you plan your garden. Early spring flowers are critical for returning and awakening animals. Summer and autumn blooms support all sorts of pollinators in their various stages of life and later help prepare them to migrate or hibernate. Seeds and berries in summer are useful, as are those that remain during the fall and winter months for migrating and overwintering animals.
Other Natural Food
Some other ways to provide food for wildlife is by creating or leaving existing wetlands and ponds. These water bodies are important feeding areas for ducks and shorebirds, amphibians and reptiles as well as fish.
Supplemental Feeding
Supplemental feeding, such as putting out bird feeders, can make it easier for wildlife to survive harsher times. However, creating habitat with plants is imperative in order for wildlife to survive, as planting helps to meet more than just their need for food. Also, native plants especially offer a healthy natural buffet for your wild friends, as these are foods that wildlife have adapted to over the centuries. Therefore, a well-planned garden should include plantings to meet a greater diversity of wildlife needs throughout their life stages and the changing seasons. When including supplemental feeding stations, it is important to make sure they are placed in a safe place where lurking cats and flying into windows are not likely. Feeders need to be kept clean in order to prevent disease and food needs to be stored in a dry place. Check out our bird feeding handout for more information.