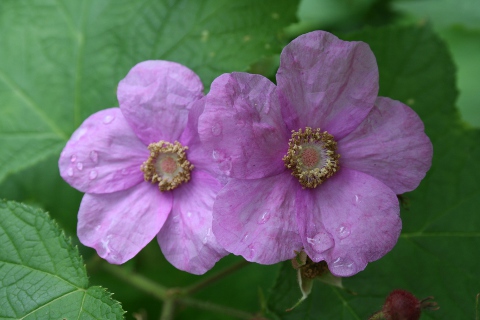 Regionally native plants are those that have grown wild in your area for many centuries. They have co-evolved with, and are therefore adapted to, the local environment and wildlife. Though many of today's popular garden plants are imported, native plants are making a comeback for a host of good reasons:
Native plants require less maintenance. When planted in a spot that mimics their natural habitat – in terms of lighting, soil or moisture, they typically thrive with less or no need for fertilizer and watering than other plants. In fact, once their roots are established they generally don't ever need watering.

Native plants are less susceptible to disease and pests. Having co-evolved with their local environment, native plants have developed defences that allow them to coexist with other local species, reducing or eliminating the need for pesticides. Domesticated plants, as well as plants stressed from being in an unsuitable location, are more prone to insects and disease which, for many, prompts the use of pesticides.

Native plants are better suited to meet the needs of local wildlife. Here's another example of the benefits of co-evolution. Regionally native plants provide valuable food sources and shelter for the wildlife around them. Many domestic flowers have been bred for showiness and may have lost much of their nectar and pollen producing capacity. Flowers that have been cultivated can also have tightly bunched, frilly flowers which can make it more difficult for insects to access their nectar.



Some wildlife species are entirely dependent on the availability of certain native plants. The Karner Blue butterfly, for example, is endangered because of the disappearance of its larval host plant, wild lupine. By choosing plants native to your region you help your local wildlife thrive, let alone survive.

Native plants can be beautiful. Despite the misperception that native plants are weedy and messy, many of Canada's native plants produce showy colourful blooms and bright berries with interesting fall foliage. Native plants encyclopedia

Native plants can be used in whatever gardening style you like.Many people believe native plants are only suitable for mimicing meadows or forest floors. The truth is that many natives are extremely versatile and will complement a variety of gardening styles.