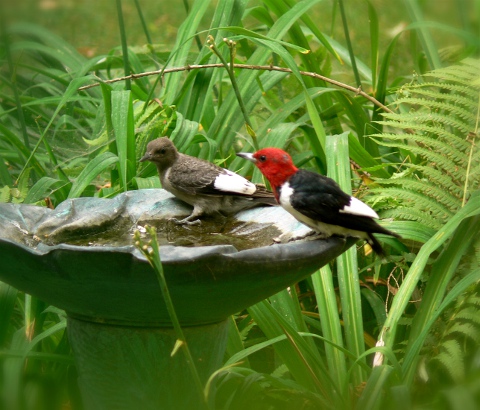 Water is the basis for all life. It is necessary for drinking, keeping clean and healthy as well as for cooling off. Some species rely on water for safety such as waterfowl sleeping at night and some amphibians when they sense danger. Add a source of water to your yard and you will be amazed at the wildlife you attract.
Variety of Water Sources
Water for wildlife can include natural features such as streams, ponds, rivers and other water bodies. If you are fortunate enough to live near water, consider leaving or restoring the water's edge so that wildlife have the necessary vegetation for shelter and food, the roots of which help keep the sand or silt together. They also filter any pollutants that would make their way to the water.
Creating a pond or recirculating stream will accommodate many species of wildlife, especially as you deepen the bottom. Keep in mind that edges are best if they are sloping, to prevent drownings of animals expecting a shallow area to drink.
If space or budget limitations prohibit a pond, you can still provide water with a small bird bath. Clean the dish once a week, more often in the warmer weather. Avoid harsh cleaners. Instead, a simple scrub with water and scouring brush or cloth should be sufficient. If the dish gets really mucky, add a small amount of gentle liquid dish detergent and rinse well. This keeps the water clean and healthy for those who drink it. Changing the water often also prevents mosquitoes from successfully breeding in your bird bath.
Butterflies love mudpuddling – a means of getting both nutrients and moisture. Leave an area of mud, sand, compost or manure. After a rain, watch and see how many of these winged beauties grace your garden in search of nourishment.
Other insects such as bees and dragonflies also require moisture. Fill a shallow dish with water, using one from the kitchen or a saucer from under a plant pot. It is important to place several stones in the dish, large enough to stick out above the water. This is where our insect allies can safely perch without fear of drowning. As with bird baths, clean often.
Add the sound of moving water and your yard will become even more enticing. Even a simple drip can attract more birds to your yard. Hummingbirds love flying through a fine mist and will get to know your schedule if you set up your hose to spray for 10 minutes at the same time each day.
Placement
If you put out a bird bath or bowl of water, find a spot where cats won't generally lie in wait. This may not always be possible, but you can give the birds a chance by having the dish raised off the ground. Also place near the shelter of trees but far enough away that the bird can see what is all around the bird bath.
Photo credit: Jennifer Howard