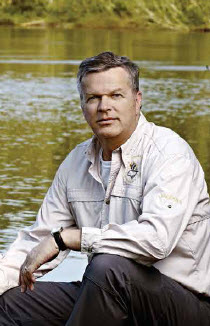 Jacques Héroux
Honouring the commitment by an individual to promote and enhance the conservation of Canada's natural resources.
Jacques Héroux was born in Cabano, Que., and by the age of 10 had become a fixture on the rivers, lakes and streams of the Témiscouata region, where he would fish for trout on the fly. As an adult, he moved to Dieppe, N.B., and, over the past 30 years, has become an expert on angling for salmon on its rivers, including the famed Miramichi.

Along the way, Héroux has also become one of the region's best-known fly tyers, especially salmon flies. His creations have been published in multiple books, journals and websites. They have won awards in international competitions, and Héroux has established a niche in designing signature flies for companies. Among his clients are insurance firm Assumption Life, lumber products company Groupe Savoie and New Brunswick's Pizza Delight.

His greatest contribution to fly-fishing, however, lies in the work he has done to promote the sport and salmon conservation. At the centre of his work is the Dieppe Fly Tying Club, which he founded in 1998. The club now boasts 50 members and hosts the annual Fly Fishing Forum, the largest fly-fishing show in eastern Canada. The main goal of the forum is to promote the sport of flyfishing, but it is also a force in salmon conservation, having distributed more than $100,000 to conservation and river associations over its 12-year history.

Héroux's individual contribution to salmon conservation runs even deeper. He is an active member of the New Brunswick Salmon Committee, which is affiliated with organizations such as the Atlantic Salmon Association, La Fédération québécoise pour le saumon atlantique and the Miramichi Salmon Association. Héroux has also served on the New Brunswick Wildlife Council, which distributes funding from the New Brunswick Wildlife Trust Fund. For the past 15 years, he has also been a dedicated member of the committee that organizes the Atlantic Salmon Federation's annual fundraising dinner.

An honorary member of the Atlantic Salmon Museum, Héroux was inducted into the New Brunswick Salmon Hall of Fame in 2009. He was joined there by the Dieppe Fly Tying Club in 2013.