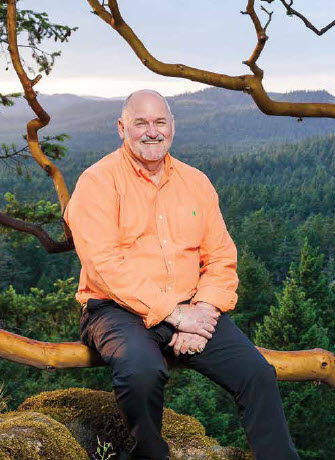 Brent Cooke
For any group or individual who brings awareness to conservation through artistic work
These days, Brent Cooke is perhaps best known for his finely crafted bronze sculptures, which capture images of wildlife in living detail and, frequently, sensuous motion. But even if you've never experienced Cooke's artistry as a sculptor, there's a chance you've encountered it in another medium: the museum experience.

Before becoming a full-time artist, Cooke built a career at the Royal British Columbia Museum in Victoria, developing groundbreaking exhibits, first as manager of exhibitions and later as director of exhibitions and public programs. Among the highlights of his career was the museum's now-retired Open Ocean exhibit, which used new technologies to create a first-ever film, sound and light-driven exhibit. A recreation of a submarine journey to the ocean depths, it was visited by millions of people between its opening in 1986 and 2004, when it closed.

A marine biology technician by training and a skilled underwater photographer, Cooke has also made valuable contributions to science. He has made hundreds of dives in B.C.'s coastal waters and used the experience to map the ranges of various marine species. He also amassed a collection of more than 14,000 underwater photographs for the museum, including images of species not previously known to live in B.C. waters.

Cooke made the transition to sculpture in 1999, when he began casting bronze sculptures of birds and marine wildlife, basing his work on his field photography. Since then, he has used his art to promote wildlife conservation and natural history to the public at large. In 2004, he was invited to become a signature member of Artists for Conservation, an international organization with 500 members, representing 27 countries. In 2012, he joined the group's board and, in that position, played an instrumental role in developing an agreement between Canada and China to promote protection of wildlife in China through artwork.

The following year, Cooke participated in Marine Explorers, an Artists for Conservation pilot program in which a team of artists, filmmakers and scientists from the Guy Harvey Ocean Foundation in Florida gathered in the Cayman Islands to explore issues in marine biodiversity and conservation.

Throughout his various activities, Cooke has continued to sculpt, mixing his artistic vision with a keen sense of the role art can play in building public awareness of the value of wildlife and habitat conservation.