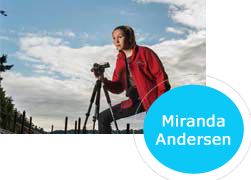 It's frequently said that one of the best things people can do to promote conservation of our natural resources is to talk about it and educate themselves. Miranda Andersen, a 14-year-old student from Port Moody, B.C., takes that idea to a whole new level as a young filmmaker who has produced documentaries since the fourth grade about environmental issues, both local and global.
Andersen's catalogue now stands at seven completed projects, with subjects ranging from profiles of environmentalists and environmental artists to carefully researched documentaries on issues such as coral conservation and plastic pollution in the ocean.
With each film, Andersen's work has become more sophisticated and carefully researched. But even her first effort — a profile of Ruth Foster, one of the founders of Mossom Creek Salmon Hatchery near Port Moody — showed a level of focus, effort and diligence beyond her years. That effort was recognized when she entered the film in the My Hero International Film Festival — for aspiring filmmakers of all ages — and won first prize in the elementary-school student division.
Andersen won another My Hero prize the following year with another film. She has gone on to earn honours in other competitions, as well as to start testing the waters as a public speaker at various events, including the TEDxKids@BC conference in Vancouver last fall.
Next up for Andersen? For the moment, she appears to be taking a breather after spending the last year on her latest project, A Child in Nature, which deals with the concept of nature-deficit disorder and includes original interviews with Richard Louv, the pioneer of the concept.
You can be certain of one thing, though: it's doubtful Andersen will keep still for long.