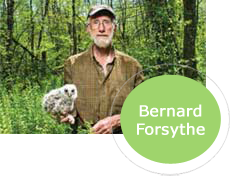 Bernard Forsythe, of Wolfville, N.S., takes the idea of "citizen science" to a whole a new level. During his long career as a rural postman and continuing into his retirement, Forsythe has been a keen observer of local wildlife. More than that, he has proved prodigious in documenting his observations and, as a self-taught naturalist, earned the respect of the scientific community.
Since the mid-1970s, Forsythe has been recording bird nests under the Maritime Nest Record Scheme, run by the Canadian Wildlife Service. During that time, he has filed more than 3,000 records, based on multiple nest visits for scientific accuracy. His contributions are unmatched by any other volunteer.
Forsythe has also spent the last three decades maintaining 20 nesting boxes for barred owls, maintaining import records on nesting activities at each box. His monitoring work — sometimes requiring him to climb trees and defend himself from aggressive females — includes noting approximate dates of first eggs, clutch sizes and the number of young that successfully leave the nest, as well as banding young owls.
Forsythe is also an expert on orchids and has a long record of finding rare and at-risk species, sharing his records (which he keeps without the aid of the computer) with botanists and landowners. An enthusiast of nature and the outdoors, Forsythe is known in his home province for sharing his passion and knowledge with community groups, both in presentations and in the field.