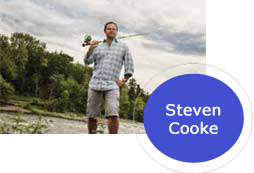 At the age of six, Steven Cooke inherited a tackle box from his grandfather. He's been fascinated by recreational fishing ever since. But angling is more than a hobby for Cooke, a professor at Carleton University in Ottawa. He's also made it the focus of a scientific career and today enjoys an international reputation for this work.
Although his teaching and research cover many subjects, Cooke is perhaps best known for his work in the area of catch-and-release practices. His studies have included the first catch-and-release mortality studies for both muskies and bluefin tuna. Other work has identified shortcomings in best practices once advocated by government agencies, leading to changes in catch-and-release guidelines.
On the national level, Cooke enjoys an esteemed reputation. Among various commitments, he is president of the Canadian Aquatic Resources Section of the American Fisheries Society. In that role, he is spearheading a book project that will document the science and management of Canadian fisheries, including regional status reports, threat assessments and management strategies. Internationally, he recently co-authored technical guidelines for recreational fishing for the United Nations.
In addition to his scientific activities, Cooke has a track record for public outreach that stretches back to his high school days, when he worked at summer fishing camps run by the Grand River Conservation Authority. Today, he continues that work, giving presentations to community and professional groups, as well as government agencies.