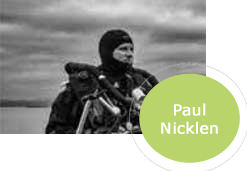 Even if you don't know Paul Nicklen by name, you've surely seen his work, which has been featured from time to time in Canadian Wildlife.
Nicklen's reputation, however, extends far beyond the pages of this little magazine. His is Canada's best-known wildlife photographer, having published 13 stories in National Geographic, authored two books and been the recipient of more than 20 international awards.
Nicklen, who grew up in Nunavut and started his career as a biologist in the N.W.T., calls himself an interpreter and translator, using his images to bring the work of scientists to the public eye in almost supernatural imagery.
Various projects have included diving among leopard seals in Antarctica, documenting the life of spirit bears in British Columbia, exploring the floe edge in Canada's Arctic and photographing manatees in Florida.
Though his career has been varied, Nicklen's main passion is the Arctic, and his work in the region casts a unique light on the issues facing this special habitat and the creatures that call it home. Climate change — in particular its effect on sea ice, a critical element in the polar ecosystem — is a key area of concern for Nicklen. He hopes his photography helps people understand just how important ice cover is to the species of the region.
Judging by his international acclaim — and popularity as a lecturer and media spokesperson — his images and his message are finding the audience they deserve.