By Heather Robison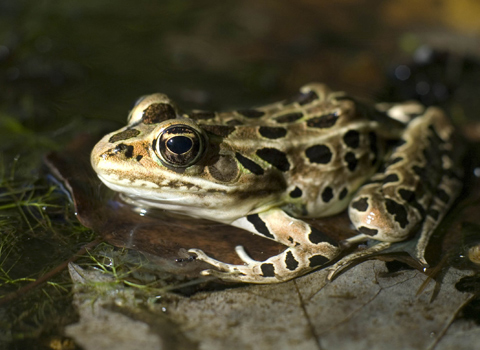 It's not easy to spot Northern Leopard Frogs in Western Canada anymore. The species, named after a leopard because of the dark spots across its body, has been designated as threatened in Alberta since 1997. It is estimated that Northern Leopard Frog populations in the province have fallen by 60 to 80 per cent over the last 30 years. In 2009, Calgary Zoo researchers made a chilling discovery: they only found Northern Leopard Frogs at 32 out of 46 sites where they were known to be present in 2006. This is a 30 per cent decline in just three years. The zoo's researchers are continuing their survey work in 2010 and will confirm whether this apparent decline is ongoing.

Home on the Range
Northern Leopard Frogs are found throughout North America from the Hudson Bay to New Mexico. The Calgary Zoo has compiled a significant amount of data about the species. Lithobates pipiens can grow up to 10 centimetres long and may have either light green or greenish-brown skin. These earthen colours and the leopard spots camouflage the species from both prey and predators. These little critters are quite distinguishable – no two frogs are alike. Because their spots differ from frog to frog, researchers can identify individuals. Northern Leopard Frogs are also hardy – they can handle the cold and survive in elevations of up to 3,350 metres. They are not fussy eaters, devouring beetles, flies, leafhoppers, ants, pillbugs, worms, snails, slugs and even other frogs and small mammals – basically whatever fits in their mouths! It would seem like this adaptability would help secure survival rates, but it's still not easy being green.
Deadly Deterioration
Although the reasons for decline are not fully understood, it would not be a leap to conclude that climate change, habitat loss, disease and water quality are among the suspects. The loss of this species is an unfortunate sign that the overall health of an ecosystem is at risk. Since Northern Leopard Frogs can adapt to a variety of habitats including meadows, marshlands, agricultural areas and forests, this is truly a troublesome story. Amphibians are very sensitive to environmental change because their skin is permeable. Since 1980, 122 species of amphibians have gone extinct worldwide; that's more than 105 times the expected natural extinction rate.
Call for Action
If you think your snoring is bad, just listen to the call of the Northern Leopard Frog. During mating season, these guys make sounds like guttural and obstructed human breathing followed by grunting. It's a call for action, as the frogs want to reproduce. Declining populations are also a call to action for organizations like the Calgary Zoo and the Canadian Wildlife Federation, working together to help this species at risk.
During the Walk for Wildlife at the Calgary Zoo, CWF presented a cheque for $40,000 to help the Centre for Conservation Research improve survey methods and the understanding of Northern Leopard Frog demographics.
The funding is part of CWF's new $1-million endangered species program. This additional support complements the $25,000 in annual funding CWF has been providing the zoo from 2008 to 2010. This annual funding is used for a scholarship program for wildlife biologists, as well as for research and recovery programs for black-tailed prairie dogs, Black-footed ferrets and Northern Leopard Frogs.
The work of the Calgary Zoo's Centre for Conservation Research will help determine how much human help, such as reintroduction programs, captive breeding or movement corridors, may be necessary for the future conservation of this species. This research will address several important questions:
• How long do organizations have to react to the crisis?
• What are the causes of the decline in Alberta?
• How much and what type of management activity (reintroduction, wetland enhancement, etc.) is needed to halt the decline of this frog?
CWF is supporting the critical research of Dr. Des Smith at the Calgary Zoo as he uses science to understand and protect this vanishing species.