A change for the better?
Have you noticed that the summers are getting longer and hotter, the winters shorter and milder? Maybe you think that's a change for the better. Think again.
What is climate change?
It is a shift in environmental conditions occurring worldwide. For thousands of years, the Earth's climate hardly changed at all. Temperatures, rainfall, the length of seasons, and other climatic factors remained just right for living things. This stability was thanks to the natural greenhouse effect.
Just as the glass of a greenhouse keeps the sun's warmth inside, a blanket of greenhouse gas traps solar heat in the planet's atmosphere. Without these gases, the heat of the sun would escape into space, and the average temperature on Earth would plunge from 15 to -18°C.
Until recently, climate change happened slowly and naturally. For example, most of the glaciers that covered the planet 20,000 years ago melted over many millennia. Today, the world is heating up faster than at any other time in 10,000 years. Global temperatures have risen significantly since the start of the Industrial Revolution in the early 1700s. During this period, greenhouse gas concentrations in the atmosphere have climbed — carbon dioxide by 30 percent, nitrous oxide by 15 percent, and methane by 100 percent. The past decade was the warmest in 1,000 years.
Scientists anticipate that carbon dioxide concentrations will triple by the end of this century. By 2100, average global temperatures could rise by 1.5 to 4.5°C. The increase will be smallest at the equator and progressively greater toward the poles. In some parts of Canada, temperatures could rise by 5 to 10°C. Scientists predict that the Earth's atmosphere will warm up more rapidly than ever before, resulting in climatic changes greater than humans have ever seen.
What is causing climate change?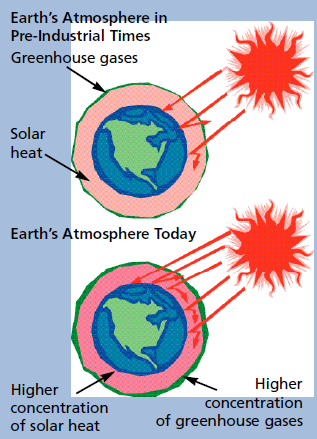 Most experts agree that human activities are responsible for climate change. When we burn coal, oil, and natural gas to fuel factories, power automobiles, and run our homes, workplaces, and schools, we add carbon dioxide to the atmosphere, increasing the greenhouse effect. Canadians release 18,000 kilograms of carbon dioxide per person each year. Other greenhouse gases produced by people include nitrous oxide (discharged from sewage treatment plants and fertilizers used to grow crops), methane (emitted when vegetation rots, burns, or is digested by animals), and chlorofluorocarbons (used in foam products, refrigerants, and aerosols). Likewise, when we chop down forests and pave over wetlands, we prevent plants from absorbing greenhouse gases and keeping the planet's climatic systems in balance.
Why does it matter?
Climate change is the greatest environmental threat facing life today. It is impacting everywhere, from the equator to the ends of the Earth. Scientists use computer-generated models to determine which regions are at risk and how. They show, for example, that northern countries like Canada could be hardest hit. What else do they forecast?
As temperatures rise, polar ice caps, glaciers, and sea ice will melt faster than before, raising sea levels by up to one metre worldwide, causing higher tides, and harming coastlines with floods and erosion.
Extreme weather events, such as hurricanes, thunderstorms, and tornadoes, will happen more often and will be more severe.
Rain and snow will increase in some regions like the Great Lakes, decrease in others like the Prairies, and change their seasonal patterns.
Forest fires will become more recurrent and damage larger areas.
Farmers will enjoy longer growing seasons, but more frequent cycles of drought and flood will stress freshwater resources, lower rivers and lakes, and make it harder to cultivate crops.
Human health could suffer from increasing heat and the northward spread of insect-borne diseases like malaria.
How might it affect wild species and spaces?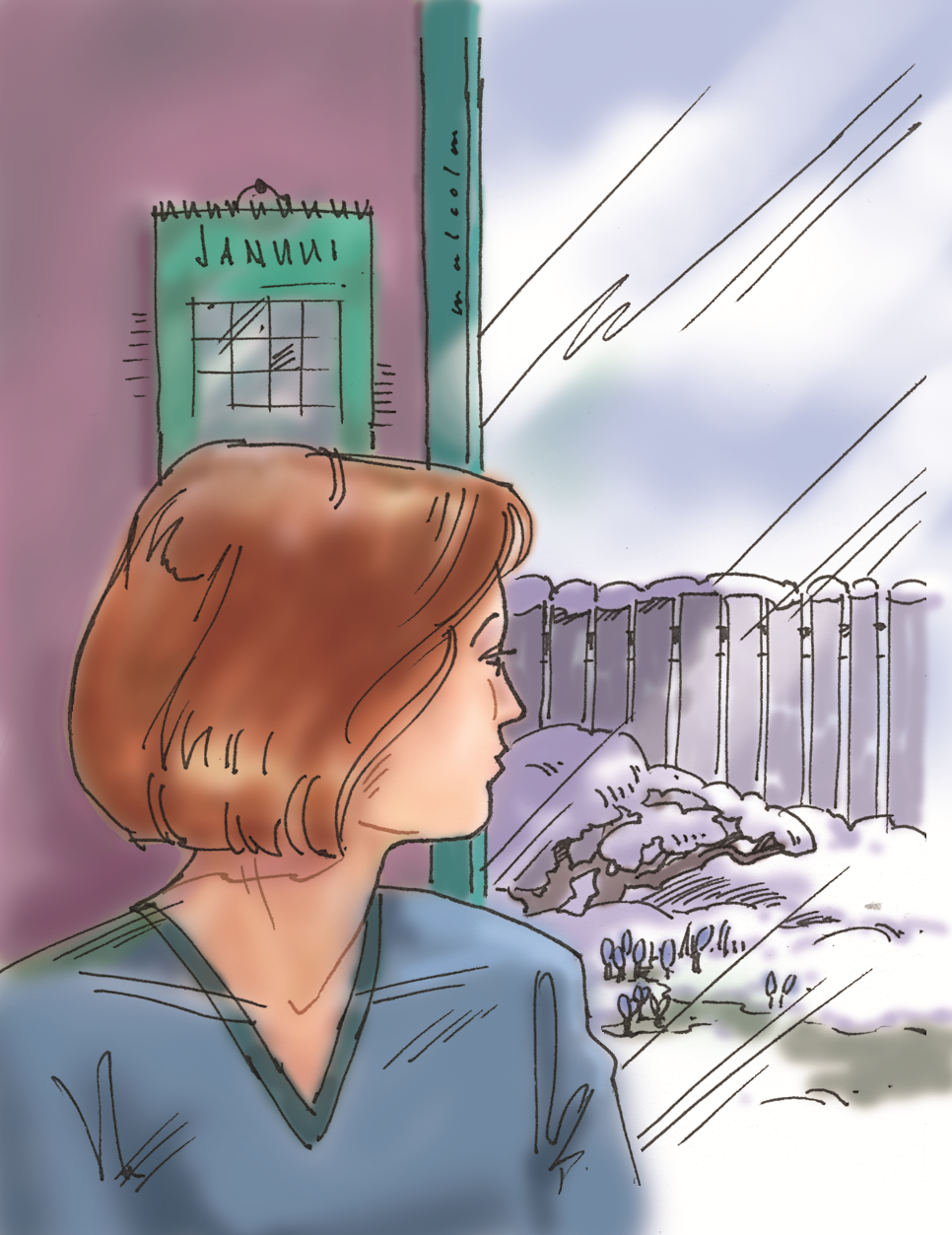 In the past, climate change occurred so slowly that wild plants and animals had time to adjust. Today, shifts in temperature, seasons, and weather are happening too fast for some species to adapt. Instincts developed over thousands of years are becoming useless. Key habitat elements — food, water, shelter, and space — are declining or disappearing.
Climate change is already having an impact on all kinds of wildlife. Many species are shifting their ranges, migrating sooner, and bearing young earlier than in the past. The American robin and red-winged blackbird arrive on their breeding grounds weeks before they once did. The Edith's checkerspot butterfly has moved its range northward. Amphibians are declining globally, including Costa Rica's golden toad, now feared extinct. Coral reefs worldwide are dying off.
The most dramatic changes of all are taking place in the High Arctic, which is heating up faster than anywhere else. Here, northerners are watching anxiously as the sea ice shrinks away from the coast; new species of birds, such as robins and barn swallows, settle in; unfamiliar plants, like white spruce and dwarf birch, invade the tundra; and Pacific salmon are being caught for the first time.
In the future, the fate of many species will depend on their ability to move from unfavourable climatic conditions to ones that meet their survival needs. Those that are endangered, slow-moving, or isolated in fragmented areas could find themselves stranded. Physical barriers, like mountain ranges and human settlements, may prevent some creatures from moving to suitable habitats. Migrators whose arrival and departure dates are no longer in sync with the rhythms of nature may miss the food sources they need to survive, the warm weather they need to breed, and the wind and ocean currents they need to travel. Some marine mammals and birds may flourish as a result of climate change. But wild plants and animals that cannot adapt may become extinct.
Copyright Notice
© Canadian Wildlife Federation
All rights reserved. Web site content may be electronically copied or printed for classroom, personal and non-commercial use. All other users must receive written permission.