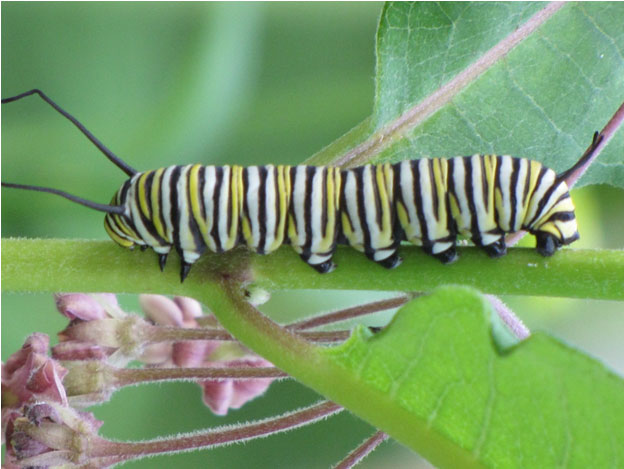 Caterpillars are an important food source for birds that need to feed their hungry young. Various mammals and predatory insects also eat them. Being low on the food chain has caused caterpillars to adapt in various ways to avoid being eaten. Some caterpillars, such as the monarch, feed on plants that contain poisonous substances. This makes them distasteful to most birds and other animals. They advertise this fact by sporting bright colours to warn potential predators.
Camouflage is another tactic used by caterpillars to avoid becoming a meal. Some use their colouring to blend in with their surroundings. Others, such as the white admiral, use mimicry to fool predators into thinking they are something other than a tasty caterpillar. Some caterpillars, such as the American painted lady, build structures that provide safe shelter from the searching eyes of predators.
Scare devices such as horns or eyespots are used to frighten approaching birds. Bristly fur makes them unpalatable to most creatures, while spines can contain painful toxins that teach predators to avoid them. In these ways, caterpillars enhance their chances of surviving long enough to transform themselves into butterflies.
To help caterpillars in their struggle for survival, gardeners should remember to cultivate the larval food plants of butterflies common to their area. While some caterpillars can avail themselves of a wide variety of plants, others are quite particular about their food choices. Some are able to eat only a certain type of plant or are limited to one plant species. The presence or absence of a caterpillar's food plant(s) is a determining factor in its ability to survive.
Pesticides are a caterpillar's worst enemy. Herbicides deplete the landscape of "weeds" essential to caterpillars' survival. Insecticides aimed at pest species can kill them. Even some "organic" treatments, such as Bacillus thuringiensis (Bt), can harm them.
By understanding the needs of caterpillars and accommodating them in our gardens we can make urban areas more inviting to these fascinating creatures as they grow to become beautiful butterflies.
Learn more about the differentcaterpillars by clicking on the species below: