By Jennifer Smart
Photos by Marc Parrot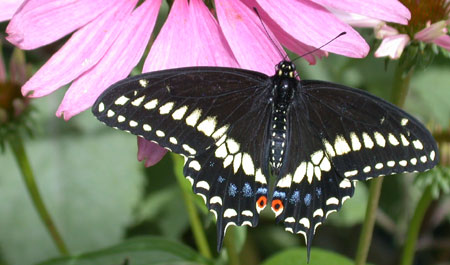 When we think of pollinators, our thoughts naturally drift towards the most famous members of this important group — bees. But butterflies also play an integral role in the process of pollination and they look good doing it too! From monarchs to painted ladies to swallowtails, Canada is home to almost 300 of these delicate and colourful species and visitors to the butterfly house managed by La Maison des Insectes have the opportunity to experience them up close and personal.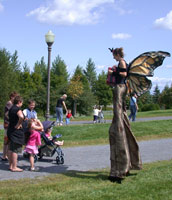 Photo: Yvon Ménard
Since 2003, the Canadian Wildlife Federation has funded ongoing projects at the butterfly house managed by La Maison des Insectes inc., an organization dedicated to educating Canadians about insects and their important ecological roles. Most recently, CWF provided $2,500 to enhance the enclosed butterfly environment with the purchase of native butterflies and plants.
Open from mid-June to the beginning of September, visitors to La Maison des Insectes are greeted by more than 100 butterflies and moths from eastern North America and other countries representing more than 30 different species at any given time. Over the course of the summer, the butterfly house is home to over 2,000 butterflies! Full-time guides and informative displays help visitors understand the insect-plant relationship, the butterfly life cycle and offer essential advice for butterfly gardening.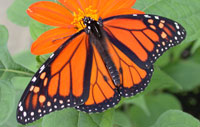 Visitors looking for an especially memorable experience should visit at the beginning of September for the tagged Monarch release — part of the organization's participation in the American Monarch Watch program. Over the course of the weekend, visitors are provided with extensive information about this amazing species, which is designated as special concern by the Committee on the Status of Endangered Wildlife in Canada (COSEWIC).
Located in Domaine de Maizerets, a municipal park in Quebec City, this butterfly house welcomes visitors from all over the world. So if you're in the neighbourhood next summer, make sure you stop by to discover your connection to the amazing world of butterflies. For more information, visit their website (available in French only).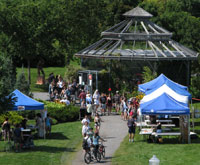 Looking for more information on butterflies? Order CWF's
Wild About Butterflies poster
or
Gardening for Pollinators
and
Gardening for Butterflies
handouts. Or check out our online resources at
WildAboutGardening.org
.
Did you know:
Canada is home to almost 300 species of butterflies
Both butterflies and moths belong to the family Lepidoptera
Butterfly pollination is known as psychophily while bee pollination is known as melittophily
Butterflies are the second largest group of pollinators next to bees
Monarch butterflies have been known to migrate over 3000km