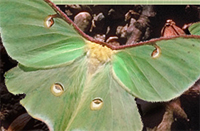 <!-\\Default - single specific -->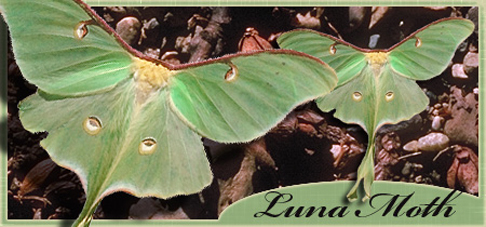 By Teri-Lee Reid
To most people, moths don't rouse the same admiration as butterflies do. That is, of course, until you see a luna moth. With a wingspan of 10 cm or more, luna moths are a sight to behold, with their long trailing hindwing tails, an eyespot on each of their wings, and their beautiful lime-green colour.
Found in Canada from the Maritime provinces west to Saskatchewan, luna moths make their homes among deciduous trees.
As adults, luna moths have one purpose — to reproduce. In fact, they don't even have a mouth for feeding. They survive on stored fat from when they were a caterpillar and live only for a week.
Active at night, the adult female releases a pheromone to attract males. Males use their sensitive antennae to smell this scent. The first male to reach a female is the one she typically mates with. Once mating is complete, the female lays an average of 200 eggs in small clusters on the undersides of leaves of trees such as white birch, hickory, walnut, willow, maple and oak. The female dies shortly after laying her eggs, while the male may live a bit longer to fertilize more females.
About 10 days after being laid, the eggs hatch into caterpillars. Luna moth caterpillars are green with short hairs, a yellow stripe along each side, red knobs, and a brown or green head. They eagerly feed on the vegetation in which they emerged, and after a week they moult their skin. In total, they go through five larval stages, each lasting about a week. When they reach a length of 8 cm, these caterpillars enter the pupal stage. They often fall to the ground and then make a cocoon by spinning silk and wrapping themselves in a leaf. This is how they remain — well camouflaged — for two to three weeks.
When the adult luna moth emerges from the cocoon, it crawls onto a tree. Unable to fly, it rests while its wings fill with blood. Once night falls, the luna moth is ready to fly off to find a mate.
Luna moths often fall prey to bats, spiders, toads, owls and other birds. Human activities also take their toll on these moths. Urban development can destroy caterpillar host trees, such as maple, oak, white birch or willow, and increased numbers of lights and the use of pesticides also threaten luna moth populations.
There are several things you can do to help preserve these beautiful moths.
• Avoid using pesticides. Pesticides not only affect the targeted species but also any species that depend on the target species for food. Besides, luna moth caterpillars do not generally cause significant damage to their host trees.
• Plant host trees native to your area. Native plants are better adapted to the local environment, are less susceptible to diseases and pests, and are better suited to meet the needs of wildlife. Choose trees such as maple, oak, white birch or willow.
• Avoid using outside lights more than necessary. As luna moths circle around artificial light sources, they can become distracted and may miss their chance to mate. Flying around outside lights also uses lots of energy and can result in extreme fatigue.
By following these three simple actions you will help provide a safe environment for luna moths through all stages of their life cycle. And if you have not already had the good fortune to see a luna moth, your efforts may give you the chance to experience their enchanting and delicate beauty.
<!-\\Default - single specific -->