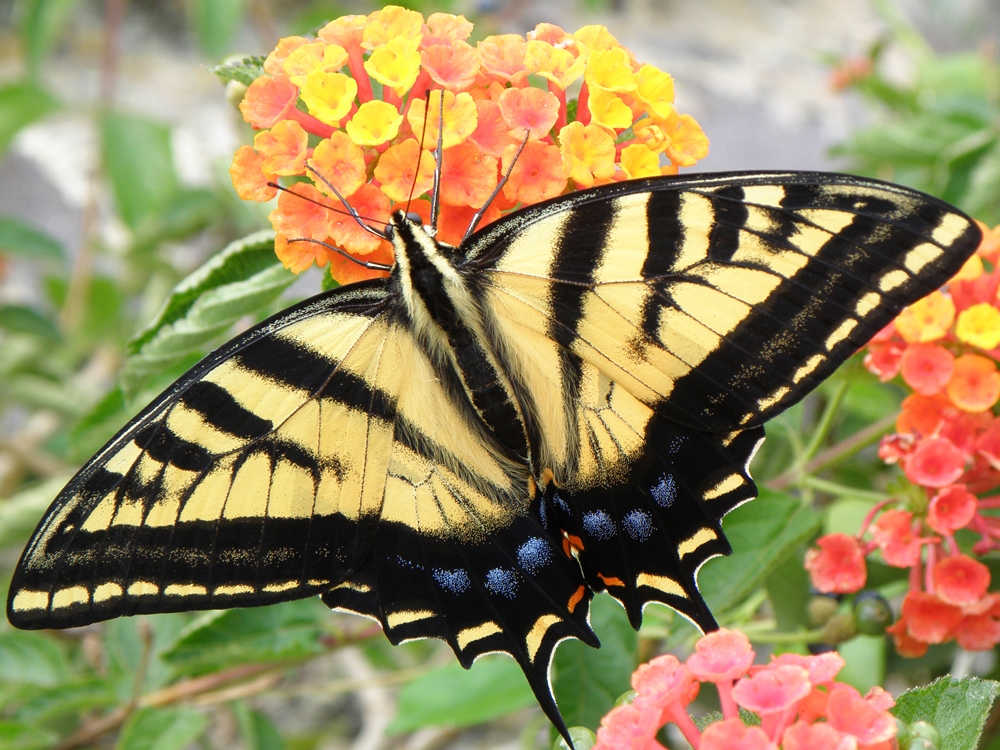 Scientific Name:
Papilio Canadensis
Classification:
Kingdom: Animalia Phylum: Mandibulata Class: Insecta Order: Lepidoptera Family: Papilionidae Genus: Papilio
Description:
Adult wingspan is 53–90mm. Adults (butterflies) are yellow with thick black bands coming down from the top of the forewing and some black lines/veins across the hind wings. There are thick black bands along the edge of both the forewing and hind wing, with yellow spots along the forewing and yellow and orange spots on the jagged hind wing. There is a softer band of blue patches on the hind wing. Near the bottom of the hind wing is an extension that, when you look at both wings together, resemble the long, forked tails of some swallows.

Young (larvae/caterpillars), when immature, are brown and white and resemble bird droppings. Older caterpillars are large and green. Their body is fatter just behind the head and has two yellowish spots that look like eyes and a yellow band farther back, giving the impression of a much larger head, which is thought to deter predators.

Similar Species:
Eastern tiger swallowtail
(P. glaucus)
is often (though not always) larger, and the underside of the forewing has yellow sections along the inner margin, rather than a continuous yellow band along the inner margin on the Canadian tiger swallowtail (plus a narrower margin – anal margin – along…); western tiger swallowtail
(P. rutulus)
; pale swallowtail
(P. eurymedon)
are paler with thicker black banding; the two-tailed swallowtail
(P. multicaudata)
has two tails on each hind wing.
Photo Gallery:



Photo by: Melanie Beebe




Photo by: Sheila Rolfe




Photo by: Heather McIlravey




Photo by: Diane Taylor
News:
Tweets about "pollinators"
Range:
All provinces and territories, including the northernmost reaches of the Yukon, north of the Arctic Circle!
Habitat:
Open woodlands and forests, roadsides and gardens near treed areas; areas north of the treeline including stunted trees and dwarf willows.
Diet:
Adults (butterflies) drink flower nectar from blooms with open or deep flowers and from mud puddles (obtaining minerals from damp ground). Young (larvae/caterpillars) feed on leaves of willow
(Salix spp.)
, cherry
(Prunus spp.)
, poplar
(Populus spp.)
, ash
(Fraxinus spp.)
and birch
(Betula spp.)
.
Behaviour:
These butterflies are one of the more common species that are found mud puddling (drinking in minerals from damp ground). It is thought that only males lose sodium and need to replenish.
Osmeteria, found only in swallowtails, is a fleshy part that protrudes when disturbed and has a bad smell, likely a defence against ants and other predators. They drink with their proboscises—long, thin, coiled mouthparts common to butterflies and moths. It is coiled up between feedings.
Primary Ecosystem Roles:
Pollinator (Their pollination services come into play as pollen gets on their legs and bodywhen they land and drink, helping the transfer of pollen from flower to flower.)
Status:
(verified February 10, 2014)
COSEWIC: not assessed
NatureServe : National rank - N5 (secure), Global rank - G5 (secure)
NOTE: While these assessment organizations do their best to stay current, the process of assigning or updating a species status may take a while to reflect real life changes.
Threats and What You Can Do:
While there is no official threat recorded for this species, they will benefit from tall trees left standing and from a variety of plants native that will feed both adults and larvae. As with other pollinators, you can help by avoiding pesticides.
Notes:
Special thanks to Chris Darling, Antonia Guidotti and Peter Hall for their help with this species profile.
More on this Species:
Swallowtails in general:
http://cwf-fcf.org/en/resources/encyclopedias/fauna/insects/black-swallowtail.html
http://blog.cwf-fcf.org/index.php/en/miraculous-metamorphosis/
http://cwf-fcf.org/en/resources/downloads/booklets-handouts/gardening-for-butterflies_resource.html
http://cwf-fcf.org/en/discover-wildlife/resources/posters--handouts/butterflies_resource.html
http://cwf-fcf.org/en/news/articles/funding-stories/home-for-the-butterflies.html
http://cwf-fcf.org/en/discover-wildlife/magazines/wild-classes/2012/grade-5/butterfly-garden.html
References:
The Butterflies of Canada, Layberry, Ross A., Hall, Peter W., Lafontaine, J. Donald. 1998. University of Toronto Press.

Butterflies of Algonquin Provincial Park. Gary W. Otis, 1994. The Friends of Algonquin Park

Kaufman Field guide to Butterflies of North America. Brock, Jim P.; Kaufman, Kenn. 2003. Houghton Mifflin. New York, New York.

http://www.cbif.gc.ca/spp_pages/butterflies/species/CanadianTigerSwallowtail_e.php

http://www.royalalbertamuseum.ca/research/lifeSciences/invertebrateZoology/bugsfaq/swallow.htm

http://www.ontariobutterflies.ca/

http://butterfliesofamerica.com/papilio_canadensis.htm

http://www.butterfliesandmoths.org/species/Papilio-canadensis

http://www.natureserve.org/explorer/servlet/NatureServe?sourceTemplate=tabular_report.wmt&loadTemplate=species_RptComprehensive.wmt&selectedReport=RptComprehensive.wmt&summaryView=tabular_report.wmt&elKey=119243&paging=home&save=true&startIndex=1&nextStartIndex=1&reset=false&offPageSelectedElKey=119243&offPageSelectedElType=species&offPageYesNo=true&post_processes=&radiobutton=radiobutton&selectedIndexes=119243
---