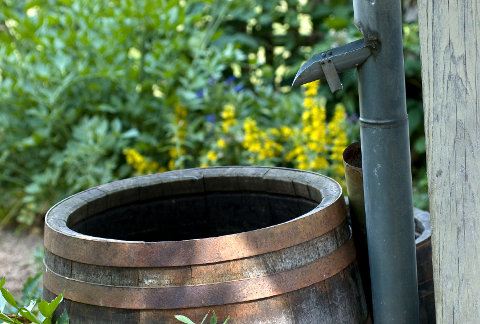 Water means life to just about every creature on Earth – including ourselves. We use water daily, and clean water at that, for a variety of important purposes. We drink it for our survival and pleasure and we use it to keep our bodies, clothes and homes clean. It's important for a lot of our cooking and baking, for construction and for healing therapies. We also use water for swimming, fishing, canoeing and other fun or relaxing activities that are integral to our well-being. For wildlife, water is critical to maintain certain habitats and the life within them.
But as our demand for this precious resource increases and our clean usable supply diminishes due to drought and pollution, we are all significantly affected.
Benefits of Conserving Water in the Garden
Save tax dollars
As we lessen our demand for water from towns and cities, we lessen the need for pumping and processing the water both taken and returned to the original source, usually a river. This saves time and materials which can impact our municipal taxes.
Water supply
If you are on a well, using less water will save your water supply, as one never really knows just how much groundwater is flowing and how much our neighbours are consuming.
Helping Wildlife and their Habitats
Conserving water in cities and towns means we take less water from the local waterway which lessens the disturbance on that environment and the life within it.
Using water wisely also means we are gardening in a more ecologically sustainable manner, where your impacts both near and far are as harmless as possible. For instance, minimizing run-off (excess water that the soil can't absorb quickly enough) minimizes sediment and pollutants that can be carried back to our water sources, which can impact a variety of environments along the way.
Indirect benefits
As we help to conserve wildlife and their habitats, we then benefit from the multitude of services provided by wildlife as they help maintain the web of life on this planet. One of the biggest is pollination which creates a large percentage of our food supply. Another is keeping their numbers in check, preventing 'pest' problems.
Water Saving Tips
Thoughtful planning and maintenance help produce a garden that remains vibrant no matter what nature has to offer. Here are some tips to minimize water use:
Group plants according to their water needs.
Use regionally native plants chosen to suit the particular conditions of each area of your property — once established they should require little or no watering. Some plants are especially drought-resistant such as our native grass species.
Maintain healthy soil rich in organic matter to retain moisture.
Mulch plant beds for better moisture retention. It will also maintain a healthier temperature for plant roots during hot summers, so plants better withstand periods of drought. As a bonus, mulch also prevents erosion and suppresses competing weeds.
Take advantage of shade as water evaporates less quickly there. Try planting appropriate plants in shaded spots and move potted plants to areas where they will receive more cover.
Reconsider your need to water the lawn. It may go brown during extreme heat but this is usually a period of dormancy rather than a dead lawn.
If you feel the need to water your lawn, water more deeply and less often as this encourages grass to develop deep roots and allow the lawn to survive periods of drought.
Also, consider minimizing lawn areas, to minimize the resources involved in maintaining it. Try xeriscaping (landscaping to minimize watering needs) your property with mulches, ground covers, rock gardens, shrub beds, walkways, a deck or patio.
Set up a rain barrel to capture rainfall from eavestroughs to use for watering.
Before watering, consider how much precipitation fell the previous week. Perhaps it was sufficient, eliminating the need for watering altogether.
Use drip irrigation to provide maximum moisture with minimum waste.
Water the plants with care to reduce water waste from run-off and to avoid eroding the soil's surface. For instance, watch how the water moves as it lands on the soil. If it rolls off, then water more slowly or with a finer spray to allow it to penetrate the soil. This might be a good spot for mulch or amended soil, too.
Water plants at ground level. This will prevent water loss from evaporation and mildew and fungus from developing on foliage.
Water in the morning. This too helps reduce evaporation and will prevent leaf scorching from water droplets in the sun. Morning watering also gives the plants a chance to dry before night sets in. This helps prevent pests that are attracted to very moist environments, like slugs and fungi.
For a plant that needs more water, try sticking a water bottle with the base removed into the soil near the plant and water through the top of the bottle. Using this technique, water will be channeled specifically to that plant's root system.