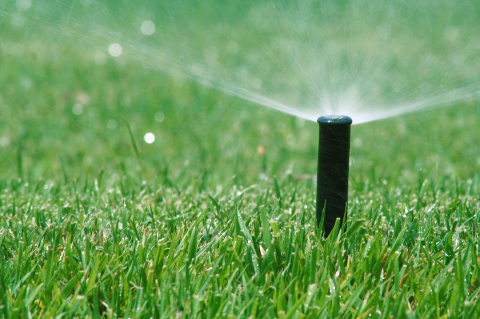 Before you water, consider if you can do without. We are seeing more and more municipalities prohibiting or limiting watering lawns in response to water shortages due to dry weather, polluted water or simply the long task of replacing water pipes. Grass typically goes dormant in dry weather, returning to green once the rains return. Help your grass survive these times by amending the soil with compost to retain moisture, letting grass grow a bit higher and overseeding to keep the lawn dense enough to provide shade for the soil which helps keep roots healthy and retains moisture.
If you do water, keep in mind that how you water your lawn seriously affects its health. Shallow watering causes the roots to grow upwards towards the water. This makes them susceptible to scorching from the sun and causes them to exist in the upper level of the soil, where water evaporates quickly. To promote a lush lawn with deep roots that better resist weed, drought, and insect damage, water deeply: 2 to 3 cm (½ to 1 inch) once a week. If you have a very sandy soil, however, you may need to water more often until you can build up the soil with compost applications. You may also need to water more where your grass grows under large trees. (A better solution would be to replace the grass with mulch under trees and shrubs at least out to the drip line.)
Use an empty tin to track how much rain falls each week and to determine how much water you need to add, if any. To know if you are watering deeply enough, dig about 15 cm (6 inches) down to see how dry or moist the soil is. If it is bone dry right after a watering, you need to add more water.
Let the soil dry out between waterings to prevent disease and allow for good air circulation. Early morning is the best time for watering to reduce evaporation. During times of dormancy, such as in the heat of mid-summer, refrain from watering the lawn to make it harder for germinating weed seeds to survive. This also discourages the eggs and grubs of lawn pests such as the Japanese and June beetles.