Recognizing the contribution of individual youths or youth groups to wildlife or habitat conservation project
RIVERS WETLANDS LEARNING CENTRE OF EXCELLENCE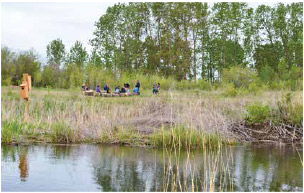 If you'd travelled to the Town of Rivers, Man., a few years ago and walked along the path of its Aspen Trail, you would have come across an old railway gravel pit. The pit was eventually shut down and bulldozed as part of a reclama- tion project. Over time, it filled with water and a small wetland began to form. Today, that spot is home to the Wetlands Learning Centre of Excellence, a project led by the local high school, Rivers Collegiate, to promote conservation to students, the community and visitors.
Work on the project began in 2012 with a land-use agreement from the Town of Rivers. That was followed by bathymetric analysis and mapping of the wetland. Docks were constructed and brought down to the area. Nesting boxes and bat boxes were constructed and installed. In the spring of 2015, Trees Canada planted 92,000 trees.
Conservation organizations have supported the project from the outset, including Ducks Unlimited, the Rivers and Area Game and Fish Association, and the Little Saskatchewan Water Conservation District.
But the stars of the Wetlands Learning Centre of Excellence are the students from Rivers Collegiate. As part of the school's outdoor education course, Grade 10 students receive training as interpreters provided by staff from Winnipeg's Fort Whyte environmental education centre and Spruce Woods Provincial Park. Then the Rivers Collegiate students deliver programs at the wetlands centre to elementary-level students.
Besides working as interpreters, Rivers Collegiate students support and benefit from the Wetlands Learning Centre of Excellence in many other ways. Grade 11 and Grade 12 students have been involved in developing the wetlands' site plan, including creating interpretive signage, building trails and removing invasive plants. Computer drafting students have contributed to the design of an outdoor classroom structure and an observation tower. Woodworking students have made nesting boxes and bat boxes, while desktop publishing students have created interpretive materials and lessons for elementary-age students.
Coming up next? Students are helping to build a pond-aeration system, consisting of a 3.5-metre windmill, compressors and diffuser.