Honouring an elected legislator for contributions to the conservation of wildlife in Canada
ELIZABETH MAY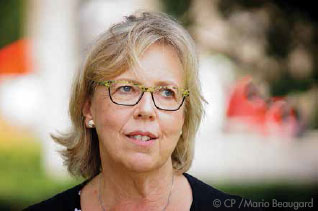 Most Canadians know Elizabeth May as the leader of the federal Green Party and, since 2011, as the member of Parliament for the riding of Saanich-Gulf Islands. These roles have propelled her to the forefront of the conservation movement in Canada — at least in terms of her reputation among the general public. Those who pay closer attention to environmental issues, however, will have known about May for much longer.
She first gained attention as an activist during the mid-1970s in Cape Breton when she played a leadership role in a campaign to block the aerial spraying of insecticides to combat a budworm infestation in Nova Scotia's forests.
The effort became the foundation for her first book, Budworm Battles: The Fight to Stop the Aerial Insecticide Spraying of the Forests of Eastern Canada . In the early 1980s, May earned a law degree from Dalhousie law school in Halifax and went on to become a senior policy advisor for then federal environment minister Tom McMillan in the Brian Mulroney government. During that time, she played instrumental roles in the creation of several national parks, including Gwaii Haanas National Park in British Columbia.
May rose to national prominence in 1989 when she joined the Sierra Club of Canada as its founding executive director, a position she held until 2006 when she became the leader of the Green Party.
Throughout her career, May's work has been recognized with awards at the local, national and international level. She is also the author of seven books in addition to Budworm Battles, including At the Cutting Edge: The Crisis in Canada's Forests, How to Save the World in Your Spare Time and Global Warming for Dummies.