Presented to a CWF affiliate for the most outstanding conservation project completed during the previous year by its members
LAKE ONTARIO ATLANTIC SALMON RESTORATION PROGRAM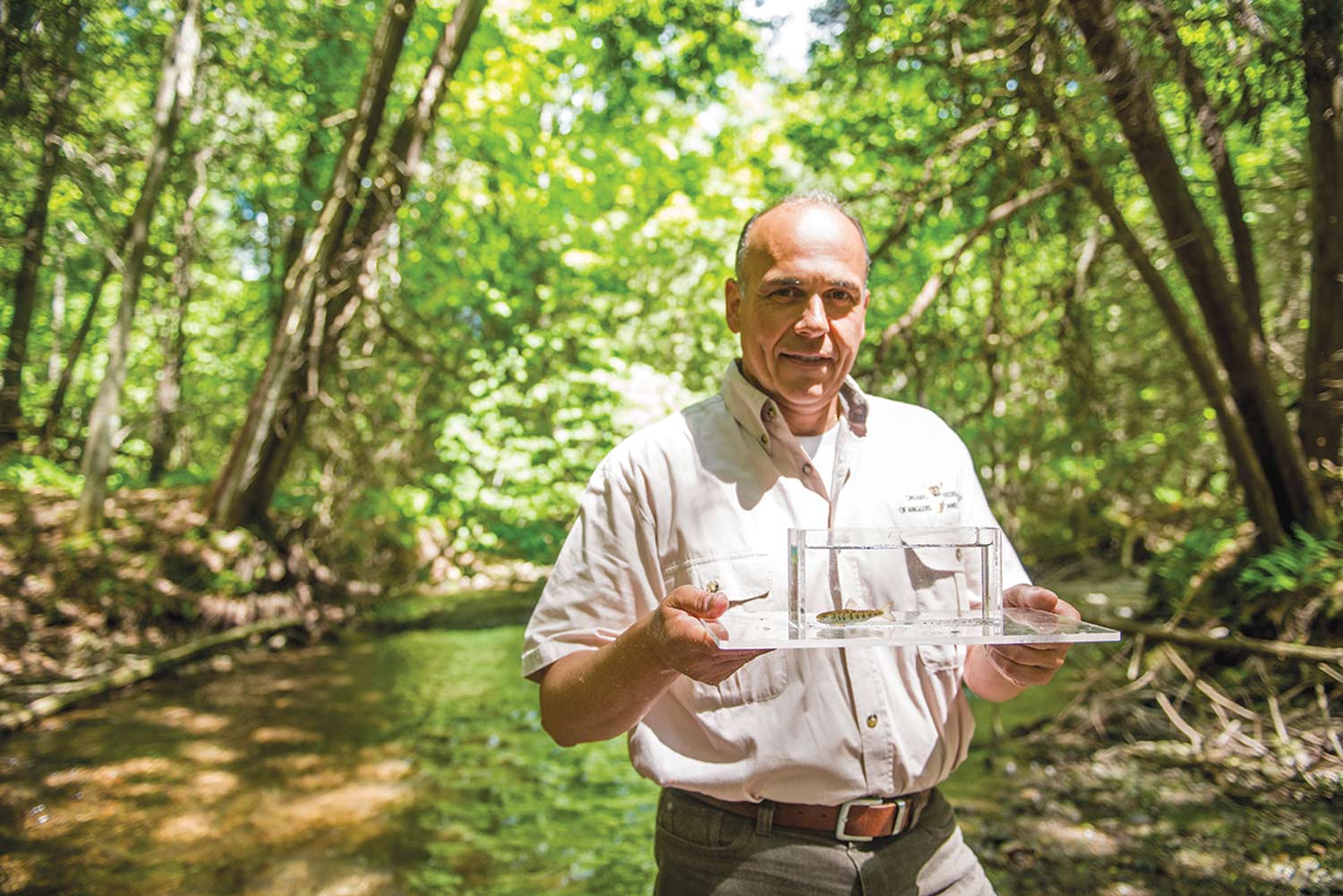 More than a century ago, Lake Ontario was home to a thriving population of Atlantic salmon. Thriving perhaps, but not so much that the fish could withstand the pressure of human development. By the end of the 19 th century, the salmon populations were no more.
But things are looking up for the species. Give credit to the Lake Ontario Atlantic Salmon Restoration Program, a project to bring the salmon back, led by the Ontario Federation of Anglers and Hunters, Ontario's Ministry of Natural Resources and other partners and sponsors.
One of the program's most recent accomplishments has been the creation of a bypass channel around a pond to improve the migration path for adult salmon on spawning runs. The project focused on an area along Mitchell Creek at the Transport Canada Pickering Land Site on federal lands in Pickering. To improve migration conditions, volunteers dug a 420-metre channel next to the stream to create a diversion around a pond, which was warming the waters of Mitchell Creek and creating unfavourable habitat.
A field next to the channel was then converted into a wetland to maintain waterflows to Mitchell Creek. More work followed to develop the local ecosystem, supported by community and student volunteer work. In October, 2014, 101 volunteers came out to plant native shrubs — 700 in all — along a 115-metre stretch of the stream. A few weeks later, students from Dunbarton High School participated in two events that saw 700 shrubs planted along the bank of the bypass channel. That was followed with the planting of 363 trees by students from Claremont Public School.
A fifth planting — by a Lake Ontario Atlantic Salmon Restoration Project staff member and two co-op students — saw 2,000 live willow cuttings planted along a 50-metre stretch of the stream bank.
The Lake Ontario Atlantic Salmon Restoration Program has many more facets — and many more projects to come. With the help of supporters, Lake Ontario's salmon once more have a fighting chance.