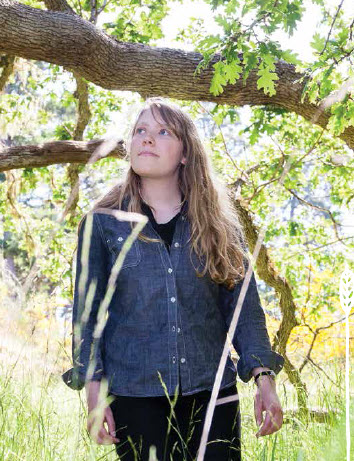 Alana Krug-MacLeod
Recognizing the contribution of individual youths or youth groups to wildlife or habitat conservation projects
If you have a passion for a subject, there's no good reason to delay diving right in. For proof, look no further than the example of Alana Krug-MacLeod, a Grade 12 student from Saskatoon at the Pearson United World College, just outside Victoria.

Although only 17, Krug-MacLeod has a resumé of environmental and conservation projects that would be impressive for a person many years older. As a Grade 8 student in the ScienceTrek program at her local school, Krug-MacLeod began making awardwinning videos on environmental subjects. She followed up by creating and implementing projects dealing with biodiversity, climate change, sustainable food and transportation.

These early efforts set the stage for a pivotal event in Krug-MacLeod's young life: her selection for an expedition to Antarctica with the Students on Ice program. Experiencing the region and the impact human actions could have on its fragile ecosystem left Krug-MacLeod with the powerful sense that not only could she make a difference — but she must make a difference.

Since then, Krug-MacLeod has been blazing her own trail. She has shared her Antarctic experience and ideas through presentations, media interviews and public readings. She has also created programs to promote conservation. In one, Project Penguin in 2012, she raised funds and spread awareness about Antarctic issues through photo cards, informational videos and polar-themed geocaches. This project was later expanded into Polar Protectors, which focuses on issues facing both poles.

Krug-MacLeod has worked on many more conservation-themed projects since then. She has created three websites based on themes of wildlife protection and biodiversity, all which have earned honours in the Canada-wide Virtual Science Fair. She also created four projects for Saskatchewan's Caring for Our Watersheds contest and has been active in projects ranging from insect conservation to sustainable food production. Many awards have followed, including the first award in the youth category in the national Museum of Nature's Nature Innovation Awards program and the Saskatchewan Junior Citizen of the Year award.