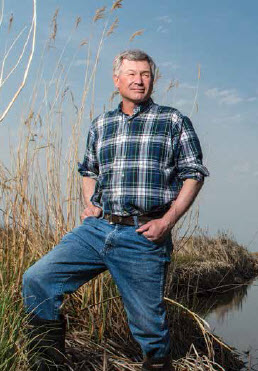 David Single
Honouring the commitment by an individual to promote and enhance the conservation of Canada's natural resources.
Late last year, the province of Manitoba entered into an agreement to protect Big Grass Marsh, a 45,000-acre wetland that is an important staging area for migrating birds. The agreement is the largest of its kind in the province's history. You can thank many people for the achievement, among them, David Single, the reeve for the rural municipality of Westbourne.

The agreement to protect Big Grass is based largely on the donation of land by Westbourne and its neighbouring rural municipality, Lakeview, along with a donation of provincial Crown land. As a result of the deal, the marshland is now protected from development.

Big Grass Marsh is designated an "important bird area" under the IBA Canada program. In addition to being a staging area for waterfowl such as mallard ducks, snow geese and sandhill cranes, the marsh is also an important nesting site for Franklin's gulls.