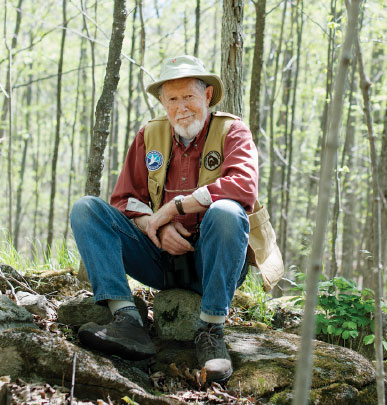 Cliff Bennett
In recognition of Canadian outdoorspeople who have demonstrated an active commitment to conservation
When it comes to conservation in Lanark County and area, few people are as deserving of recognition as Cliff Bennett. A lifelong naturalist, he first began learning about the outdoors as a child in the 1930s, when his father would take him on nature walks. Later in life, Bennett became a teacher and worked with children with learning disabilities. Nature was a key theme in his programming.
In the community, Bennett was a founding member of Mississippi Valley Field Naturalists in 1988 and led the development of various activities, including the group's environmental education program, its international outings program and a canoeing program. Bennett also served in local government as a municipal councilor and deputy mayor. During that time, he led the process that created a community developed official plan — the first of its kind in Ontario — which established many policies aimed at protecting natural assets, such as wetlands and forests.
Bennett has received many awards over his career. The Mississippi Valley Field Naturalists also honours his contributions with the Cliff Bennett Nature Bursary Fund, which supports local post-secondary students involved in nature or environment studies. He also remains active in the cause of conservation, leading nature walks, organizing birding trips for the community and writing columns for the local newspaper.