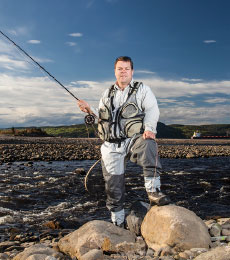 Remi Aubin
Honouring the commitment by an individual to promote and enhance the conservation of Canada's natural resources.
On the shores of the Saguenay River, few people in the sport fishing community are as well known as Remi Aubin. Through his family business, a sporting equipment shop, he has been serving the angling community for many years and is known for sharing his knowledge of the region with fellow enthusiasts, both as customers and through the media. Aubin also played a key role in the development of the winter sport fishery in the Saguenay region. Since the 1980s, the activity has grown in popularity and is now a major contributor to the local economy.
Aubin combines his love of fishing and the outdoors with a strong commitment to conservation. For several years, he has supported efforts to restore spawning grounds for brook trout and is a well-known spokesman in promoting the importance of taking precautions to protect recreational fisheries. It's a message he brings audiences in interviews and newspaper columns, and through Courant du Saguenay, a magazine Aubin founded that has a print circulation of 15,000 and is available online.
In addition to receiving this year's Roderick Haig-Brown Award from CWF, Aubin has been honoured by the federal government with the National Recreational Fisheries Award, sponsored by Fisheries and Oceans Canada. He has also been recognized by Quebec's National Assembly for his efforts to ensure the viability of the Saguenay region's winter sport fishery.