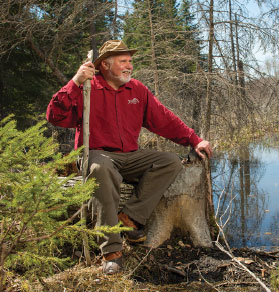 Robert Sopuck
Honouring the commitment by an individual to promote and enhance the conservation of Canada's natural resources.
Although Robert Sopuck's career in politics has not been long — he was first elected to Parliament in 2010 — he brings a strong conservation ethos to the business of government. After graduating from Cornell University with a master's degree, he went to work as a district biologist for Fisheries and Oceans Canada in the Eastern Arctic. He moved to Manitoba with the department in 1979 and, a decade later, joined the provincial government as the coordinator of its sustainable development initiative. He later went to work with the Pine Falls paper company as director of its environmental programs.
In addition to this work, Sopuck has been a farmer, growing grains, oilseeds and forages. He also has a long list of contributions to environmental causes. Among various positions, he has served as the vice-president of policy (Western Canada) for the Delta Waterfowl Foundation and, in 2007, was appointed to the National Roundtable on the Environment and the Economy. An avid outdoorsman, he also spent eight years as the hunting and wildlife columnist for the Winnipeg Free Press.
Sopuck lives on his 480-acre farm in western Manitoba, where he and his wife, Caroline, have granted permanent protection to 320 acres under an agreement with the Nature Conservancy of Canada.