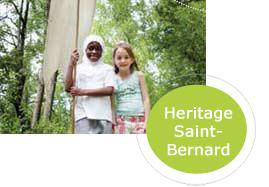 Founded in 1987, Heritage Saint-Bernard has a long history of promoting, protecting and managing natural areas in the Montreal region. Its main project is the Marguerite D'Youville wildlife refuge, near Châteauguay on the south shore of the St. Lawrence River.
For the past six years, the organization has focused on developing programs aimed at children and youth. Those efforts have paid off. In 2012, more than 7,000 young people participated in Heritage Saint-Bernard programs. The prospects for this year are equally encouraging.
Heritage Saint-Bernard has taken a multi-faceted approach to its youth programs, developing a series of workshops targeting various age groups that can be delivered in the classroom and outdoors. Subjects covered reflect a wide variety of issues. Some programs look at our own habits, such as how we create waste and the impacts of consumption on natural systems. Others get young people into the outdoors, where they learn the basics of habitat systems, wildlife observation, species recognition and the nature of watersheds. The programs often have an outdoor activity component, such as cross-country skiing, snowshoeing or paddling.
In 2012, the group undertook a special program called My Forest Project, which involved students from four classes at a nearby school in planting 250 trees in a residential neighbourhood.