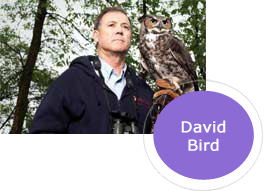 When it comes to conservation of birds — and raptors in particular — few people have a reputation as deep as McGill's David Bird. As director of the university's Avian Science and Conservation Centre, he has kept a captive breeding program for American kestrels for more than 35 years, which has allowed him to conduct important studies in areas ranging from nutrition to genetics and to set the stage for vital conservation work with at-risk species.
A founding member of the National Peregrine Falcon Recovery Team, Bird has bred and released about 50 birds on the island of Montreal and sent more to other North American centres for release. (He was also the first to produce a falcon through artificial insemination.) He has made an equal contribution to loggerhead shrike conservation, first proposing a national recovery team for the species and then being first to breed them and release to them to the wild.
These efforts — just a small sampling of highlights from a distinguished career — are matched by Bird's strong support for public education, which he undertakes in addition to his teaching at the undergraduate and graduate level. He is a well-known author and editor of popular birding books, including The Bird Almanac and Birds of Canada. He also pens a weekly column on birds for the Montreal Gazette, Quebec's largest English-language newspaper, and is a regular columnist for Bird Watcher's Digest magazine. He also frequently appears as a guest expert on radio and television.