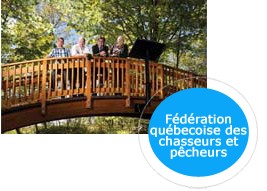 With more than 200 member associations, representing 125,000 individuals, the Fédération québecoise des chasseurs et pêcheurs is a major force for conservation across Quebec. Its most recent accomplishment, however, is a backyard affair — although we're talking about a very big backyard.
This year, the federation will complete a habitat restoration project on the five-hectare parcel of land in St-Augustin-de-Desmaures, west of Quebec City, that is home to its headquarters. Among the highlights of the project — called Boisé héritage faune — have been restoring more than 550 square metres of wetland, the restoration of natural biodiversity at the site, planting indigenous trees and shrubs, creating a 600-square-metre natural pond and installing a network of bird houses and feeders.
To complete the project, the federation had to do extensive decontamination and remediation work, as well as negotiate with landowners and the public to ensure support before the work began. A successful fundraising campaign has also been key to the project's success.
The results speak for themselves. Today, the area is a showcase for natural habitats and wildlife. The federation expects between 10,000 and 15,000 people will visit each year, making it a promising contribution to the quality of life in the region.