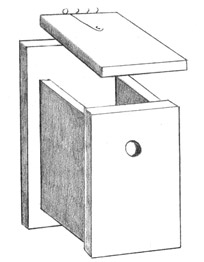 Many of Canada's wildlife need trees, especially large ones, that are dying or dead (snags) as safe places to nest in the warmer months and escape poor weather and predators the rest of the year. They are also a key source of food for birds who glean insects along tree trunks and branches.
Where safe, it is best to leave these older trees in your backyard alone. But if it's not possible, or if they were removed before you moved to your home, putting up birdhouses – aka nesting boxes – and roosting boxes can make a big different for bird species that have adapted to these structures.
Tree Cavity Birds in Canada
Tree cavities are formed by either natural decay, an animal or both. Some birds, such as woodpeckers, make their own cavitieswith their strong bills, while others, like owls, nuthatches and chickadees, use these pre-made holes once they are abandoned.
Here's a list of Canadian bird species that have been known to use tree cavities. Many of these birds will use either a bird box and/or a roosting box.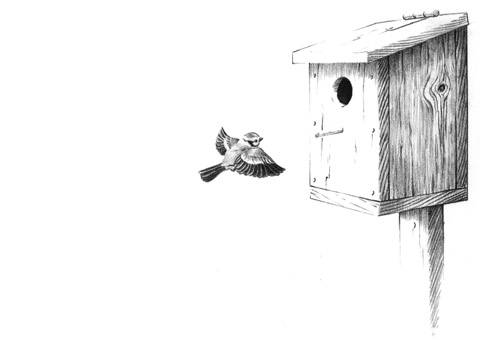 Eastern Bluebird
Black-capped Chickadee
Boreal Chickadee
White-breasted Nuthatch
Red-breasted Nuthatch
Tufted Titmouse
Pileated Woodpecker
Downy Woodpecker
Hairy Woodpecker
Red-headed Woodpecker
Northern Flicker
Red-bellied Woodpecker
American Kestrel
Peregrine Falcon
Merlin
Barn Owl
Eastern Screech Owl
Barred Owl
Boreal Owl
Saw-whet Owl
Northern Hawk Owl
Pygmy Owl
Flammulated Owl
Spotted Owl
Turkey Vulture
Great Crested Flycatcher
Purple Martin
Tree Swallow
Chimney Swift
Vaux's Swift
House Wren
Prothonotary Warbler
Common Goldeneye
Bufflehead
Common Merganser
Hooded Merganser
Wood Duck
However, according to "Cavity-Nesting Birds of North American Forests" by Scott, Evans, Patton and Stone, the Peregrine Falcon and Merlin no longer had access to big enough cavities with the removal of large trees around the early 1900's and had to adapt to other means of surviving. Some, the western population of Purple Martins have not adapted well to man-made boxes and still need large snags.
Benefits of Putting up Boxes
It is captivating to watch our winged friends building nests, feeding eager mouths and seeing their young take flight. But having cavity nesting birds around our properties is also a huge benefit as they keep insect and rodent populations in check.
It is also satisfying to know that we are helping these important wild neighbours. As more and more people remove the dead or slowly decaying trees from their properties (for various purposes, including firewood, safety, aesthetics and development), there are fewer homes for these important birds.
Removing decaying trees also removes a food source as they forage on insects found on and in dead or dying trees. In fact, experts say that keeping three or four snags (dead or dying trees) per acre of forest is critical for many organisms in that ecosystem, including birds. That's where we can make a real difference!
Some species, like the Eastern Bluebird, once faced serious decline because of the dwindling number of natural cavities available to them, but rebounded because of nesting box programs organized throughout their range.
Where possible, leave dead or dying trees standing. Remove any potentially dangerous branches if near paths, homes or other areas of human activity. If the tree trunk is also a concern (perhaps the top looks weak) consider having a tree company lop the top off to allow the stronger lower portion of the tree to remain standing for several more years. This is especially important for wide trees as larger birds who need bigger homes have less options with fewer mature trees around.
If you can't keep a snag on your property or you want to support these birds, you can put up nesting boxes for the spring and summer and roosting boxes for the rest of the year.
Making Your Own
The dimensions and placement of the nesting box, as well as the size and height of the entrance hole will determine which species will set up house. Check that the species you wish to support lives in your region and that the habitat on your property matches their needs.
Both nesting and roosting boxes benefit from an overhang which prevents rain from going in and makes it harder for predators, like cats and racoons, to reach in. If you are able, cut a groove along the underside of this roof, close to the edge, to channel away any rainwater that could trickle in.
Both boxes should also have a predator guard. You can attach a metal piece fitted around the entrance hole so it can't be chewed wider or, if on a pole, place a baffle below it to prevent animals from climbing up. It's important not to have perches outside the boxes as they make it easier for predators to enter the box.
They will also need a side that can be easily removed or opened for regular cleaning.
When looking to buy or make a nesting or roosting box, keep in mind the main differences between the two kinds of boxes.
Materials
Use woods that resist weathering, such as cedar, pine or redwood. Always avoid pressure-treated lumber as it can be toxic to wildlife. Use lumber at least 2.5 centimetres thick. For roosting boxes, consider using thicker wood to increase the insulation value.
To help the box blend in, use pieces of wood with bark still attached. These slabs are less expensive and can often be found at sawmills and lumber yards.
Consider using screws instead of nails to make it easier to correct mistakes and remove parts in the future if needed. Or use a hinge and latch for even greater access.
It is better not to paint or stain the box. This helps the box blend in, avoiding the attention of predators, and will be healthier for those that use the box. If you do choose to paint, however, follow these tips:
Use a non-toxic water based paint.
Paint nesting boxes in the fall for the fumes to dissipate before spring. Paint roosting boxes in the spring, once the coldest days are over.
Do not paint the inside to prevent paint fumes and flakes from harming young birds.
Use natural colours that help the box blend in.
Avoid dark paint colours for nesting boxes, as they can cause the box to hold more heat.
Roosting Boxes
Can have perches inside. They are not necessarily needed as birds have been known to huddle inside but if used, place at different heights and allow sufficient room for moving about.
Include scuffed sides for gripping.
Have a low entrance hole so heat rises.
Do not have ventilation holes in order to contain heat. If your roosting box does have ventilation holes, ensure it is placed on the floor corner and that it is very small.
Are often larger in size than nesting boxes to accommodate several birds at once.
Benefit from using thicker wood for added insulation.
Can be placed in a spot that allows for maximum sunlight, if desired.
Dimensions
These boxes can be any size, as they are known to accommodate varying numbers of birds at one time. You could make them the same size as a nesting box or larger to allow several birds to roost together.
If you have the space, put up a roosting box with a smaller hole (see entrance hole sizes below) and one with a larger hole to attract different species.
Construction
Cut the pieces as specified in the table above, keeping in mind the two side panels should be a bit taller at the back, to allow for a roof that slopes down at the front. (If you are a woodworker or are up for the challenge, you could use two pieces of wood for the roof which slope down at the sides. To do this, you will need to make the front and back pointed at the top to be snugly attached to the roof.)
Whatever box you decide to make, allow extra for the roof to overhang on the front and, if you wish, the sides. If you are comfortable with woodworking, cut the top of the sides at a slight downward sloping angle and cut the edge of the roof where it meets the backboard to match so it sits snugly.
Drill a hole in the front panel to make an entrance hole using the measurements indicated in the accompanying table (note both the entrance hole diameter and the height of this hole above the floor).
With rough sandpaper, make the inside walls rough enough for young birds to climb out of the box. The higher the entrance hole from the floor, the more help the bird will need. Some species, like ducks, need actual grooves called kerfs.
Attach the pieces with screws or nails. If you choose nails, decide which side you will use to access the inside for cleaning and use screws for that wall, allowing you to undo and reattach each year. You could also use a hinge and latch although raccoons may be able to open it, depending on how loose the latch is.
Drill a few small holes on the sides of the box where you have an overhang to allow hot air to escape. Drill a few small holes (1/4") in the floor near the walls for moisture drainage. Make the front wall rough on the inside, to help the young climb out as they grow. Some species, such as ducks, will benefit from a few grooves or notches.
Do not attach a platform or perch outside the box. Predators could raid the nest and young birds might venture out of the box too soon.
Installation
Roosting boxes can be treated very similarly to nesting boxes in terms of placing in a sheltered spot facing away from prevailing winds, being stable even in strong winds, adding protection from predators and located several feet off the ground. They have different needs in terms of heat, however, as they need the sun's warmth to help survive the colder months, so place on the southern side of a building or tree.
Maintenance
If you think the box is empty, take it down, clean out any droppings and return immediately to the tree. In the spring the box can be cleaned out and disinfected with hot water, as with nesting boxes.
When summer arrives, close the box up or put it away to prevent sparrows and mice from taking up residence.
Nesting boxes
Have small ventilation holes near the top to let heat escape.
Have drainage holes along the bottom to let any moisture drain away.
Have a roughly textured inside front panel for small birds, and grooves along the inside front panel for larger birds, to climb out once they are old enough.
Can be placed in a few locations: along a tree trunk to mimic the natural habitat, mounted on a solid metal pole if you are concerned about predators, or mounted on a wooden pole (if you choose a wooden pole, place a baffle – a downward facing cone – just below the box) to prevent predators.
Should be placed in a spot where it will get shade from nearby trees or building during the hottest part of the day as too much heat can be fatal for young birds. Additionally, face away from prevailing winds.
Must be well secured so it doesn't move. Even a tiny slant can affect the development of young birds. If it is fixed on a pole, ensure it doesn't sway in the wind.
May require monitoring for some birds, such as bluebirds. Check out this article for more information.
Dimensions
Below are the measurements for nest boxes of a few Canadian bird species. Keep in mind that the depth (width of the walls) will be less than the height of the walls and match the dimensions of the floor panel. The roof, if you use one piece of wood and it has an overhang, will be a bit longer than the floor panel.
The floor and roof are attached to the top and bottom edge of the walls, rather than the insides of the walls (which would make the box wider and shorter).
To be most efficient with (buying and) cutting wood, consider copying the method below, adapting the measurements to the species in question.
| Species | Entrance hole diameter | Height of hole above floor | Floor panel | Width of wall panels | Height of wall panels | Roof | Height above ground |
| --- | --- | --- | --- | --- | --- | --- | --- |
| American Kestrel | 7.5 cm (3") | 31 cm (12") | 25 cm x 25 cm (10" x 10") | 25 cm (10") | 40 cm (16") | | 6-9 m (20-30 ft) |
| Bufflehead | 6 cm (2.5") | 30 cm (12") | 15 x 15 cm (6" x 6") | 15 cm (6") | 37 cm (15") | | 3 m (10 ft) |
| Chickadee | 3 cm (1 1/4") | 15 cm (6") | 9 cm x 9 cm (3.5" x 3.5") | 9 cm (3.5") | 20 cm (8") | | 2-5 m (6.5-16 ft) |
| Downy Woodpecker | 3 cm (1 1/4") | 15 cm (6") | 9 cm x 9 cm (3.5" x 3.5") | 9 cm (3.5") | 20 cm (8") | | 2-3.5 m (6.5-11.5 ft) |
| Great Crested Flycatcher | 5 cm (2") | 15 cm (6") | 15 cm x 15 cm (6" x 6") | 15 cm (6") | 20 cm (8") | | 3-5 m (10-16 ft) |
| Hairy Woodpecker | 4 cm (1.5") | 22-30 cm (8.5-12") | 15 cm x 15 cm (6" x 6") | 15 cm (6") | 30-35 cm (12-14") | | 3-5 m (10-16 ft) |
| House Wren | 2.5-3 cm (1-1 1/4") | 10-15 cm (4-6") | 10 cm x 10 cm (4" x 4") | 10 cm (4") | 15-20 cm (6-8") | | 2-3 m (6.5-10 ft) |
| Northern Flicker | 6 cm (2.5") | 35 cm (14") | 15 cm x 15 cm (6" x 6") | 15 cm (6") | 40 cm (16") | | 2-5 m (6.5-16 ft) |
| Nuthatch | 3 cm (1 1/4") | 15 cm (6") | 9 cm x 9 cm (3.5" x 3.5") | 9 cm (3.5") | 20 cm (8") | | 2 m (6.5 ft) |
| Red-headed Woodpecker | 5 cm (2") | 25 cm (10") | 5 cm x 15 cm (6" x 6") | 15 cm (6") | 140 cm (16") | | 4-9 m (13-30 ft) |
| Screech Owl | 7.5 cm (3") | 31 cm (12") | 20 cm x 20 cm (8" x 8") | 20 cm (8") | 40 cm (16") | | 4-9 m (13-30 ft) |
| Wood Duck | 7.5 x 10 cm oval (3" x 4") | 46 cm (18") | 30 cm x 30 cm (12" x 12") | 30 cm (12") | 61 cm (24") | | 2.5-4.5 m (8-15 ft) |
Construction
Cut one floor panel, one roof panel, two side panels, one back panel and one front panel. If you are comfortable with woodworking, cut the sides at a slight downward sloping angle and cut the edge of the roof (where it meets the backboard) to match so it sits snugly.
Cut an entrance hole in the front panel.
Nail most of the pieces together, using screws for the removable side that will provide easy access for cleaning.
Make several perches out of dowel 0.7 cm or 1 cm in diameter, mounting the perches at varying heights inside the box. (Optional.)
Add some wood chips to the floor for added insulation and to help absorb fecal matter. (Optional.)
Installation
Install the box when the birds you hope to attract return from their migration or, if they remain year round, shortly before nesting time. Putting it up too early can attract species such as the House Sparrow and European Starling which nest early. These introduced species can be aggressive, driving off or killing native species. Alternatively, you can put the boxes up earlier but with a plug in the entrance hole which can be removed when you think the relevant birds are ready to nest. This is especially important in Purple Martin houses.
Mounting nest boxes on metal poles will help prevent predators from accessing the box. Metal T bars are excellent. They should also be placed at a sufficient distance from trees and other structures so that squirrels and cats cannot jump to the box. An alternative is to use a wooden post and to slip a length of PVC piping around the post to prevent predators from climbing it.
Nest boxes can also be mounted on tree trunks. In this case, cut the back a little longer so it comes above the roof and therefore creates a place to nail to the tree. These spots can leave the nest vulnerable to predators which you can discourage by putting a guard, such as a collar, around the trunk. These tree guards help protect the nest and may also provide a place for some forest-dwelling bat species to roost.
Make sure your box is mounted securely for wind storms. Even subtle movements can affect the development of the young. Also, have the box face away from prevalent winds.
Place in an area that is not sprayed with pesticides as they reduce and contaminate the local insect population.
Place nesting boxes on 1.5 to 1.8 metre poles in quiet open fields, orchards or pastures with some nearby trees for perching. Leave a minimum of about 100 m between boxes. Click here for detailed information. A good idea is to place bluebird boxes in pairs about ten to twenty feet apart. This typically encourages Tree Swallows to take one box and bluebirds the other. These swallows tend to fight off other swallow pairs that are close by but tolerate bluebirds as neighbours.
Situate boxes on 1.5 to 1.8 poles in backyards, front yards, near fields, a river or pond. This species will possibly use boxes that are mounted on the sides of buildings or under eaves. Leave about 15 m between boxes or make sure they are not visible to each other.
Place nest boxes near the shoreline or in a wetland. Use steel poles, dead or live trees to install the boxes 1.2 to 1.8 m above the water or ground. Make kerf cuts in the wood – grooves that serve as steps and help ducklings to get out of the box.
Maintenance
While there has been the tendency to remove used nests in the fall, some studies suggest that there can be benefits for leaving them. Sometimes birds will choose a clean box while others will choose one with an old nest.
A couple of benefits to keeping an old nest, according to bird expert, David Bird, are that reusing a nest can save a bird time and energy. And for bluebirds, where parasitic wasps actually help these birds by eating harmful blood-sucking blowfly larvae, parasitic wasps will use the old nest to overwinter in until the following year.
Removing nests, however, removes various mites and fleas that could infest adults and their young. It also keeps the height of the current nest lower. This keeps nestlings safer as they are farther away from the entrance hole. It minimizes young birds from accidentally falling out and prevents them from being easy prey for animals reaching in the box.
You may need to be your own citizen scientist and notice from year to year what your birds prefer.
If you choose to clean your nesting box each fall to get rid of parasites, keep in mind that for species like Eastern Bluebirds which typically nest two (sometimes three) times each summer, you might want to clean the nesting box between broods.
When cleaning, it's a good idea to wear a facemask (available at hardware stores and drug stores) to avoid breathing in any potential fungi and parasites. Scrub your box with a stiff brush and bleach. Rinse well with just-boiled water and allow it to air dry thoroughly in the sun.
Thanks to Cliff Bennett for his helpful suggestions with this article.