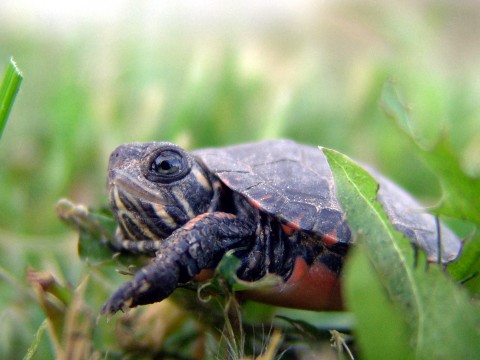 Discover the world of amphibians and reptiles - their importance on this planet, their needs, their threats.
Browse through a few of our Canadian species in these "At A Glance" fact sheets. Each page has basic information on some of our Canadian wildlife, with links to detailed, reputable sources such as Hinterland Who's Who and the Government of Canada. Don't see a species you need? Comments or questions? Let us know!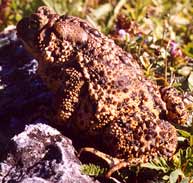 American Toad
The American toad is a medium sized, squat toad which averages 5-9 cm in length. Its colour can change depending on humidity, temperature, and stress level, though it is typically brown, reddish or olive skinned with dark blotches containing one or two spots or "warts". The belly tends to be white or yellow with dark spots.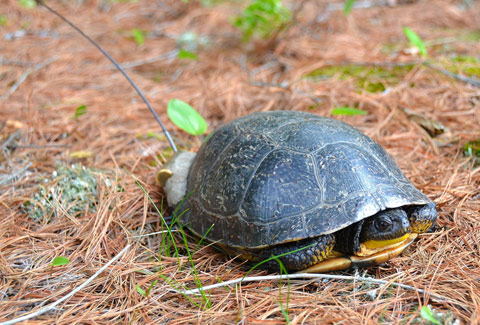 Blanding's Turtle
Highly domed, smooth, dark coloured upper shell with light coloured flecks. Bright yellow chin and neck. Size: 12-27 cm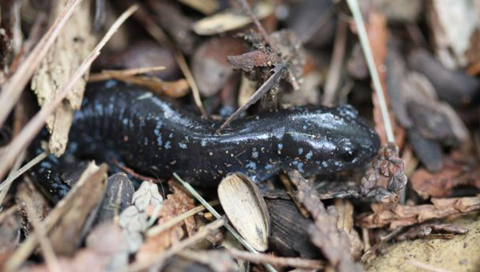 Blue-Spotted Salamander
The Blue-spotted Salamander is a small, cold-blooded, nocturnal animal. A large adult will only be about 12 cm long, 40% of that is tail and its body is only about 1 cm wide. It is shiny-black with dusty blue spots mainly on the sides and belly.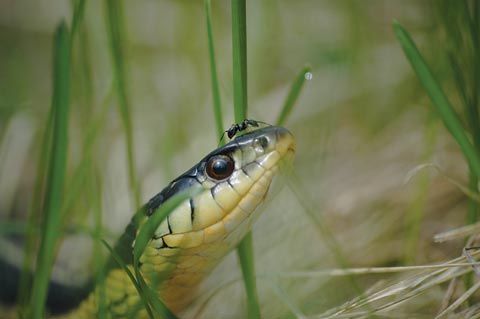 Common Garter Snake
Garter snakes are typically 60 centimetres long. While their colouring varies greatly, they are generally recognized by a dark body with three light-coloured stripes down their back and sides (usually shades of yellow, red or orange). Some have speckled markings along the lighter coloured stripes and some small populations are all dark with no stripes.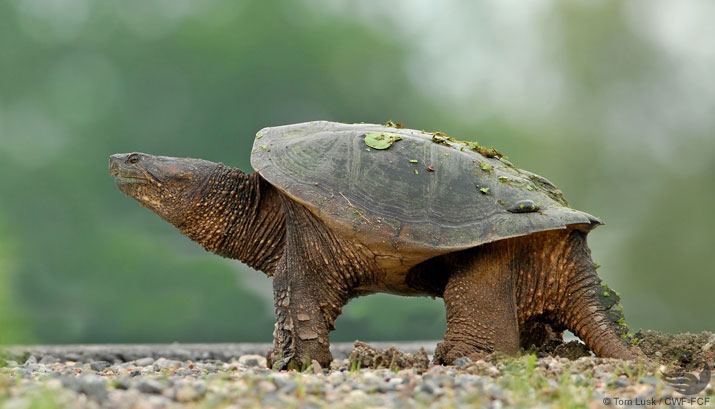 Common Snapping Turtle
Largest freshwater turtle in Canada. Distinguished by their large head and hooked upper jaw. Upper shell has three prominent ridges running length wise. The tail can be nearly as long as the shell and is adorned with triangular shaped projections that protrude from the top. Size: 20-50 cm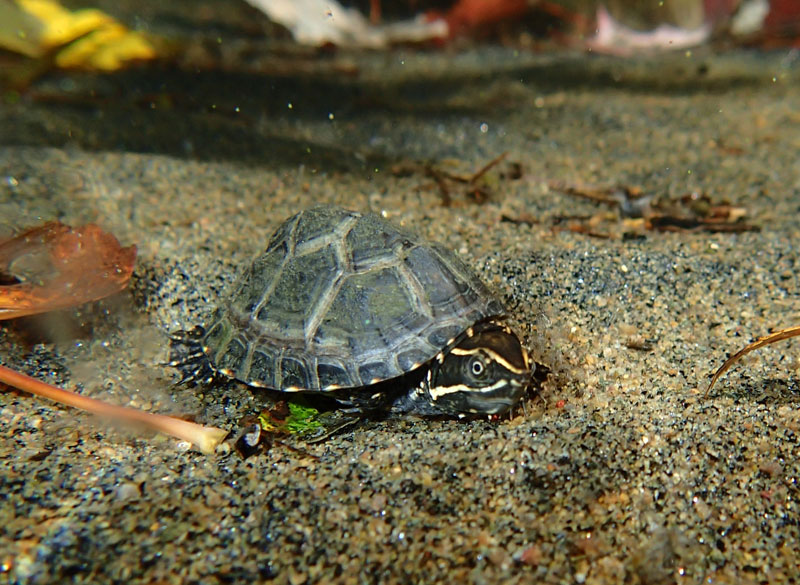 Eastern Musk Turtle
The Eastern Musk Turtle is easily recognized by its' narrow, high arched shell which is less than 13 cm long. Other turtles have wide and flat shells. This turtle has a dull black-brown body except for two distinctive yellow stripes often found on the side of the head. When disturbed the turtle lets off a musky, skunk-like scent.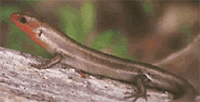 Five-lined Skink
Despite their smooth-skinned appearance, skinks are actually lizards not salamanders. Lizards, which are reptiles, have scales, claws on their feet, and external ear openings, whereas salamanders, which are amphibians, have smooth, moist skin, and lack both claws and ear openings. Five-lined skinks start off life with a bright blue tail and dark body with 5 broad light-coloured stripes. As they age their tail and body fades to a more uniform brown-grey averaging about 15 - 20 cm in length.
Green Frog
Green frogs are relatively large frogs, 6 - 9 cm in length. They can be distinguished from the similar bullfrog by the ridges that run down each side of their back. To determine the sex of the green frog, look at its eardrum - if it is significantly larger than its eye it's a male, if it's the same size as its eye, it's a female. During the breeding season, you can also tell the males by their yellow throats.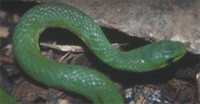 Green Snake
Often called grass snakes, smooth green snakes, as their name implies, are an emerald green colour with a white or yellow underside. This small- to medium-sized snake has smooth scales and ranges in size from 30 to 60 cm.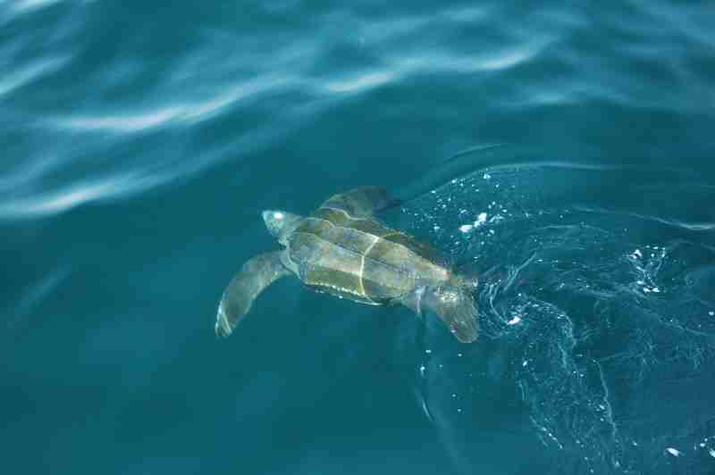 Leatherback Sea Turtle
The leatherback sea turtle is the world's largest reptile. It is significantly larger than all other marine turtles. The leatherback's body is teardrop-shaped, tapering at the rear to a blunt point. The carapace, or upper shell, can grow to more than 2 m in length, and the turtle can weigh more than 900 kg.
For more species, visit Hinterland Who's Who, a joint program of the Canadian Wildlife Federation and Environment Canada.