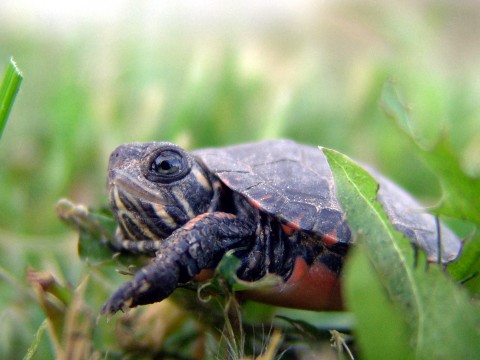 Photo credit: Adam Van Spronsen
Amphibians and reptiles, though not everyone's favourite creatures, are important contributors to the good health of the environment and your garden. Both play crucial roles in the ecosystem, and the health of their populations is a good indicator of the health of the environment.
Amphibians and reptiles are important to your garden for the role they play in keeping pest populations under control. The majority of reptiles and amphibians are carnivorous, preying on rodents or insects, though some, such as turtles, also eat vegetable matter.
Amphibians and reptiles are important in controlling populations of slugs, rodents, and insects. Garter snakes are one of the major predators on slugs. One toad can eat well over 1,000 earwigs in a summer.
What are amphibians and reptiles?
Amphibians and reptiles are cold-blooded. This means that unlike humans, who produce heat internally, amphibians and reptiles derive heat from outside their body. To control their body temperature they must move to a cooler or warmer location. If they wanted to warm up, they might move to a stone or log in the sun, which is why you often see turtles basking on logs. To cool down on a very hot day, they would move to a shady location, which is why you can find salamanders hiding under logs, where it is cool and damp.
You can tell the difference between amphibians and reptiles by their skin and the presence or absence of claws. Reptiles, such as snakes, turtles, lizards and crocodiles, have scaly skin and all, with the exception of snakes, have toes and claws. Amphibians, on the other hand, have moist, glandular skin and their toes lack claws. Salamanders, toads, and frogs are all amphibians.
To distinguish a toad from a frog you need to check their skin and how they live. Frogs have smooth skin and live in water or in wet places. Toads have tough, lumpy skin and live mainly on land.
Cold-blooded threats
Amphibians and reptiles are disappearing from many areas where they were once abundant due to threats, such as pollution, an increase in ultraviolet (UV) levels from thinning of the ozone layer, introduced species, the pet trade, and habitat loss.
Amphibians are particularly sensitive to chemical pollutants for several reasons. Because of their permeable skin, which they use to help them breathe, amphibians are vulnerable to pollutants in the water. Their skin acts like a sponge, soaking up all the pollutants. Handling amphibians with sunscreen, insect repellent, or other chemicals on your hands can also be hazardous to their health.
The eggs of certain amphibians, due to their lack of protective shells, are also affected by increases in UV levels. This may help explain why amphibians are disappearing even in some remote areas.
Introduced species can cause havoc to native reptile and amphibian populations. When certain game and bait fish are added to previously fishless lakes and wetlands, they can have devastating effects, as can the introduction of bullfrogs to previously unpopulated areas. Introduced species affect native species directly, through predation (the introduced species eats them up), and also indirectly, by competing for limited food or altering the habitat.
The collection of reptiles and amphibians for the pet trade, if carried out irresponsibly, can have ruinous effects on native populations already stressed by other threats.
The major threat to amphibians and reptiles, however, is habitat loss. With rapidly expanding urbanization, their habitat is quickly disappearing. More than 80 percent of Canada's urban wetlands have been destroyed. Although the focus of recovery efforts tends to be on restoring large wetlands, by creating amphibian- and reptile-friendly habitat in your backyard, including small ponds and temporary wetlands important to many amphibians, you can help to alleviate this problem.
A wet 'n' wild welcome
To attract amphibians and reptiles to your backyard consider the following tips:
Amphibians require moisture, so building a pond is the best way to invite them to make your backyard home.
Ensure that your pond does not have steep edges so amphibians and reptiles can get out, or provide logs to allow them to do so.
Remember that some frogs overwinter under water and so require a permanent pond with a depth of at least 2 metres.
Toads overwinter on land and only require shallow, temporary ponds (or the shallow areas of larger ponds) for breeding.
Plant some emergent vegetation, native to your area, around the edges of your pond to provide cover for frogs and toads. Check out local wetlands for ideas on what types of vegetation you should plant.
If you live on a shoreline, remember that aquatic and shoreline plants are important to reptiles and amphibians for nesting, food, and shelter. Plants also support the insects that are important in their diet. Logs, rocks, and other natural shoreline features are used for shelter and nesting and as basking sites. So maintain or restore natural shoreline areas.
Reptiles like a warm, sunny environment, with lots of places to hide. Provide some rock piles and logs around the pond and garden to offer these creatures shelter and protection from predators. Put some of the rock piles in sunny areas to provide a place for basking in the sun.
Allow some areas of your garden to go a bit wild, providing damp and shady areas for reptiles to cool off in the hot summer months.
Create a toad abode to shelter toads and place it in a cool, shady part of your garden.
Build a snake den for hibernating snakes so they can overwinter in comfort.
Snakes often return to the same hibernation site year after year. Protect existing hibernation sites. Rocky outcrops, talus slopes, or rock crevices that allow snakes access to shelter below the frost line are all great sites.
Do not purchase or move frogs or toads to your backyard, as they will often die. When you have provided all that a frog or toad could want, be patient and they will come to you.
Dense foliage close to the ground provides cover for amphibians and reptiles.
Piles of leaves provide winter cover for some frogs and salamanders.
Prevent the death of amphibians and reptiles in window wells by placing a log that allows them escape.
Avoid the use of pesticides.