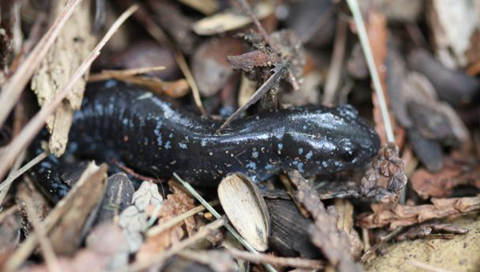 Scientific Name:
Ambystoma laterale
Classification:
Kingdom: Animalia
Phylum: Chordata
Class: Amphibia
Order: Caudata (tailed amphibians)
Family: Ambystomatidae (the mole salamanders)
Genus: Ambystoma
Species: laterale
Description:
The Blue-spotted Salamander is a small, cold-blooded, nocturnal animal. A large adult will only be about 12 cm long, 40% of that is tail and its body is only about 1 cm wide. It is shiny-black with dusty blue spots mainly on the sides and belly.
Photo Gallery:
Range:
Nova Scotia, Manitoba, New Brunswick, Newfoundland, Quebec, Ontario, Prince Edward Island
Habitat:
Blue-spotted salamanders are terrestrial as adults however they do return to water to breed and lay their eggs. This woodland species prefers areas that have moist forest floors and are likely to be found near lakes, streams, and in wetland areas with mixed forests.
Diet:
The Blue-spotted salamander is a carnivore and prefers to feed on snails, earthworms, slugs, spiders, centipedes and other such invertebrates.
Behaviour:
Breeding occurs in early spring. They generally move into snow-melt ponds like those used by wood frogs, and in small permanent ponds that are free of fish. The female can lay up to 200 eggs and within 3-4 weeks the eggs hatch. The larvae then transform into a salamanders by mid-summer.
References:
http://www.naturenorth.com/spring/creature/bluespot/blspot1.html
http://www.animalplace.net/amphibians/blue-spotted-salamander-facts-characteristics-habitat-and-more/
https://ontarionature.org/programs/citizen-science/reptile-amphibian-atlas/blue-spotted-salamander/
---
Text by Terri-Lee Reid and photography by Sarah Coulber
Although quite secretive, this little creature may be living in your backyard. The blue-spotted salamander is the name of this creature, and it is quite easy to identify with its black, irregularly spotted body and light blue on its limbs, sides, belly and tail. The adult blue-spotted salamander averages between 10 and 14 centimetres in length including its tail, which takes up approximately 40 per cent of its total body length. Females, typically larger than males, have slightly shorter tails.
Larvae are very dissimilar in appearance to adults. When small, the larvae have tail fins and external gills that allow them to live in water. By three weeks of age they have developed both their front and hind legs, and when they reach a length of three to five centimetres they transform into adults, lose their external gills and tail fins and are ready to leave the pond to live on land.
In Canada, blue-spotted salamanders can be found from Manitoba to Labrador. They are often found in wooded areas and breed in ponds. During the day they take shelter under logs, rocks and leaves to escape the sun's heat and come out at night to feed on spiders, worms, snails, slugs, centipedes and beetles. They spend winter under the protection of logs and rocks.
Blue-spotted salamanders breed in early spring. Courtship, mating and egg laying all take place under water. Following a courtship that may last several hours, females lay either single or small groups of eggs attached to plants, rocks, logs and sticks. When the eggs hatch about a month later, the larvae already have well developed external gills, eyes, mouth and tail fins. Larvae feed on small aquatic invertebrates, including water fleas, mosquito larvae and tadpoles. By late summer they reach adulthood.
This so-called mole salamander – like moles it spends a lot of time under debris – has many defence mechanisms to protect it from predators. Its small size enables it to find shelter quickly, and its blue spots help to break up its profile.
In addition, its tail secretes a noxious milky liquid. When threatened, the blue-spotted salamander flips its tail back and forth curls it up over its body. If it's not careful, the predator can end up with a mouthful of this nasty tasting liquid.
Increased road mortality, plus the loss of wetlands and forested areas, continues to threaten this important species, which helps to control mosquito populations.
You can help the blue-spotted salamander by building a pond that it can use for breeding. Get helpful advice on how to build a pond. Be sure to include aquatic native plants that will provide both cover but also places for the salamanders to attach their eggs. You should also place rocks and logs around the pond so the adults can find shelter. Finally, remember that pesticides are a problem for this species as they not only pollute their water source but are also absorbed through their skin.
This fall, you just may have the opportunity to discover a blue-spotted salamander in your backyard before it hides for the winter!