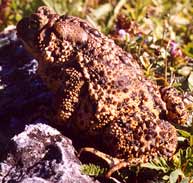 Scientific Name:
Anaxyrus americanus
Description:
The American toad is a medium sized, squat toad which averages 5-9 cm in length. Its colour can change depending on humidity, temperature, and stress level, though it is typically brown, reddish or olive skinned with dark blotches containing one or two spots or "warts". The belly tends to be white or yellow with dark spots.
Photo Gallery:
(Please note — these photos are unverified images submitted by members of the CWF Photo Club.)

Range:
This fascinating creature is found across Canada from east of the Rocky Mountains to the Atlantic Coast.
Habitat:
The American toad can live almost anywhere, from forests and fields to gardens. It is one of our most terrestrial amphibians, and can survive a considerable distance from any water source. However, a semi-permanent source of freshwater is needed for its early life stages.
Diet:
The American toad eats insects and small creatures that live in soil, such as worms and slugs.
Behaviour:
From late March to early June, depending on how far north they are, American toads lay 2 strands of eggs that wrap themselves around aquatic plants or sink to the bottom of the pond. Eggs hatch anywhere between a few days to a few weeks where they are tadpoles for about 50 - 60 days. The come out of the water as toadlets and continue to become a full American toad.

American toads and tadpoles have poison glands in their skin which helps protect them from some predators.
Notes:
As you sit on your porch in the evenings this fall, you may be able to hear the musical trill of the American toad.
In British Columbia you can find the western toad, the province's only true toad. It is also found in Alberta and the Yukon. The western toad is typically green or brown and has a light stripe down the centre of its back. It finds shelter in loose soil and is typically found near ponds, streams, rivers, and lakes.
More on this Species:
Ontario Nature :: American Toad
References:
Ontario Nature
---

Article by Terri-Lee Reid
Images Steve Anderson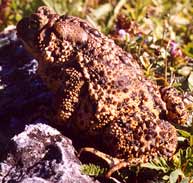 The American toad is medium sized, averaging 5-9 cm in length. Its colour can change depending on humidity, temperature, and stress level, though it is typically brown on its back with a white or yellow belly. In comparison to its front legs, which have four toes, the American toad has five toes on its hind legs that are held together with webbing. Its skin is thick and rough, and of course it wouldn't be a toad without warts — one or two within each spot on its body.
Depending on pond temperature, American toads can start breeding as early as March. Once males find a suitable location, either a temporary pond or a shallow section of a larger pond, they start calling the females. In comparison to frogs, which lay their eggs in clumps, a female American toad lays its eggs (thousands of them) in a long line. These eggs receive no parental care but hatch into tadpoles in anywhere from a few days to a few weeks. After another 50 to 65 days, the tadpoles change into toadlets.
Nocturnal in nature, the American toad is easiest to spot in the evenings, especially after it rains. During the day, it will hide under rocks, leaves, and logs. It is not a fussy eater and will prey on a variety of ground crawling insects and other invertebrates, such as slugs, ants, and beetles. One American toad was observed consuming up to 100 insects in one night!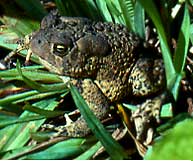 To protect itself from predators, the American toad has developed many defences. Chemicals in the skin of an adult makes it taste bad and can even make some animals sick. Tadpoles also have toxic chemicals in their skin. Because of this, many birds and mammals have learned to avoid the American toad.
The American toad also relies on camouflage for some protection from predators. Its eggs are cryptically coloured and typically laid in water without fish for added security. The adult American toad uses its brown colouring to blend into its environment. If discovered despite these efforts, it will inflate itself to give the appearance of a much larger quarry.
The American toad is not entirely successful at eluding predators and other hazards. Adults fall prey to snakes (such as garter and hognose snakes), raccoons, skunks, hawks, and herons.
Tadpoles are commonly eaten by wading birds and large water bugs. The ability of an American toad to absorb moisture through its skin also makes it susceptible to chemicals and toxins found in its environment. While it can live up to 10 years or more, all the daily pressures of life in the wild means that most will survive no more than two years.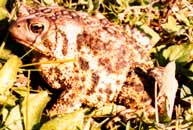 The American toad has a very important role to play. Its consumption of large numbers of pest insects and invertebrates helps protect our plants and crops, making it a welcome addition to any garden. Consider attracting American toads to your property. By providing areas of dense vegetation for shelter and hunting, and by building a pond, you will be well underway to welcoming these helpful creatures! Click here for more details on how you can encourage American toads to take up residence in your backyard.