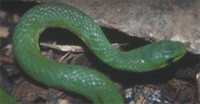 Scientific Name:
Opheodrys vernalis
Other Common Names:
Grass snake
Description:
Often called grass snakes, smooth green snakes, as their name implies, are an emerald green colour with a white or yellow underside. This small- to medium-sized snake has smooth scales and ranges in size from 30 to 60 cm.
Photo Gallery:
Range:
Found from the Maritime provinces west to Saskatchewan, smooth green snakes have a fairly broad distribution in Canada.
Habitat:
They are often found in grassy areas such as meadows, pastures, abandoned farmland, woodland edges, city parks, lawns and gardens.
Diet:
Smooth green snakes mainly eat bugs including crickets, spiders, grasshoppers, slugs, snails and caterpillars; however they have been known to feed on salamanders too. They spot their prey with their keen sense of smell, sight and also through vibrations.
Behaviour:
Females generally don't begin reproducing until their second year. They'll often lay an average of four to ten cylindrical eggs under rocks or wood. The timing it takes for the eggs to hatch varies as the female keeps the eggs in her body incubating them, but they often hatch in about two weeks. Once the eggs are laid, she has no further parental duties. Newly hatched smooth green snakes are an olive-green or gray colour and are about eight to 16 cm long.
While the lifespan of smooth green snakes in the wild is not known, it is known that when they die they turn blue. Their green colour is generated from both blue and yellow pigments. When they die, the yellow pigment fades faster leaving only the blue pigment to surface.
Threats and What You Can Do:
The two main threats facing smooth green snakes today are loss of habitat and pesticides. Because their diet consists mainly of insects they are very susceptible to the effects of insecticides. They also fall prey to predators such as birds of prey, foxes and raccoons.
Notes:
Does the sight of a snake make you want to run in the opposite direction? Well, if you happen upon a smooth green snake, there is no need to run; in fact, you're actually very lucky. Smooth green snakes can be difficult to find as they camouflage very well with their surroundings and move very quickly.
---
Photo: Steve Anderson
By Terri-Lee Reid
A Snake's Life
Smooth green snakes are active during the day and are often found basking on logs and rocks. When they feel threatened they quickly find protection in grass or will retreat under rocks or other debris. They are normally found on the ground but they are good climbers and can also be found climbing vegetation.
In the winter they hibernate with other snakes, even with other reptile species. In Ontario, 100 to 150 snakes have been found together in one hibernaculum.
Snacking Snakes
Smooth green snakes are not venomous. While they may emit an offensive secretion if handled, they rarely bite. In fact, smooth green snakes actually carry out an important ecological function that certainly benefits people — they control insect populations that many of us consider pests.
Backyard Buddies
To encourage this mild-mannered snake to your backyard, make piles of rocks, logs or leaves for shelter. Also, leaving dense foliage close to the ground will provide this snake with a sense of security. You can help them to over winter in your yard by building them a hibernaculum.
And remember, because smooth green snakes are so dependent on insects for their survival, avoid the use of pesticides. Get more information on gardening organically.
This gentle smooth green snake will be a benefit to your backyard!