November 10, 2016
By April Overall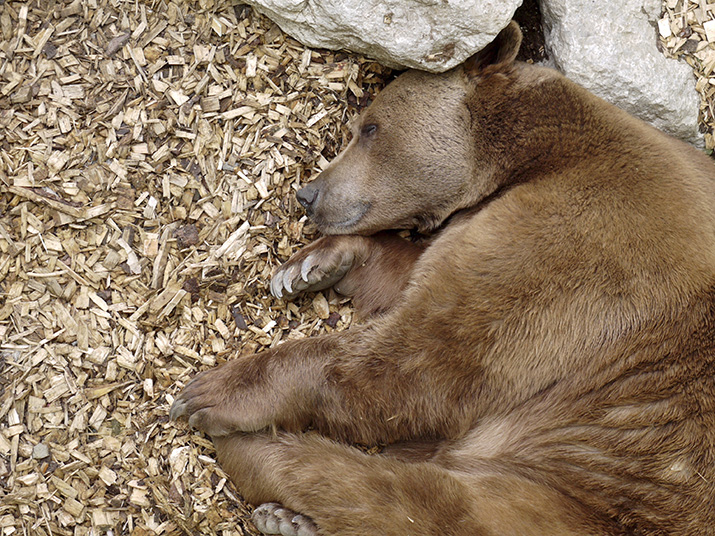 We take our sleep seriously, don't we? We download apps on our phones that ring out to let us know it's bedtime. We spritz lavender linen spray over our bedsheets and sip chamomile tea to calm our senses. We even have alarm clocks that gradually dim the light in our bedrooms to help us drift off. But are we alone in our love affair with the almighty Zzzzzzzzzzz'? How do animals sleep?
Half Asleep
Walruses are great multitaskers. When they get peckish, they can dive underwater searching for prey and have a cat nap too since they can hold their breath for up to five minutes. And why not get a little slumber in when you know your body is designed to keep you afloat? It's true. They can puff up pouches in their bodies, called, pharyhgeal pouches, that will keep these marine mammals from drowning.
"I'll just rest my eyes for a second."
While some animals like the Black Bear will hibernate when old man winter rolls into their neck of the woods, others will go into a torpid state. Animals like the American Badger will drop their body temperature, rate of breathing and even heartbeat to low levels to reduce the amount of energy needed to survive the winter months.
Slumber Parties
Sea Otters don't like to snooze solo. That's why they'll join paws when they feel sleepy. Linked, they'll be able to stay together as a group and won't be able to drift away in the water. While you might see just a couple of Sea Otters slumbering together, they're also not averse to having a huge slumber party! Can we join?!
You Snooze You Lose
Researchers have found that herbivores get less shut eye than carnivores since they need to keep their energy up by chowing down on plants. Deer, for example, only get about three hours of sleep a day which explains why they're so active at dusk.
Sleeping Upside Down
Some people sleep on their sides. Others snooze on their tummies. But bats like to rest upside down. Not the most comfortable position if you ask us, but they do this for a good reason. These small mammals have fairly fragile wings, and therefore, taking flight from this position is easier on their little bodies. That said, it appears they can get quite comfortable hanging upside down! Researchers found that the Little Brown Bat can sleep up to 19.9 hours a day! That's one heck of a nap!
"I'll sleep when I'm dead"
Sperm Whales don't need much rest to feel rested. They take short and frequent naps near the water's surface. But get this. They don't breathe or move while they're sleeping. They're either the world's most efficient nappers or have a serious case of insomnia!
Sleep ….. Flying
Have you ever woken up in the middle of the night standing at the pantry or at the bathroom sink wondering how in the world you got there? Birds do the same thing, except they may wake up in a different province! Okay it's a little more complicated than that. What we do know is that birds can sleep with one eye open and only half the brain buzzing with activity while migrating. But they leave this kind of slumber to higher altitudes and in rising air currents.