July 15, 2013
By April Overall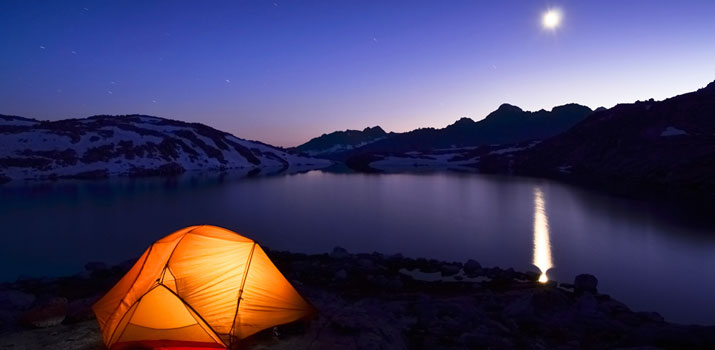 The summer blockbusters can wait. The stars are putting on a show of their own this weekend. You can turn off your iPod. A crackling campfire is a classic soundtrack for summer. It's time to unplug. The Canadian Wildlife Federation would like to invite you to join our Great Canadian Camp Out. We want to get you and your family outdoors so you can enjoy all that nature has to offer. Dust off your camping gear and get ready to soak up some sun!
Happy Campers.
Are you hitting the park with your kids? If so, you might want to choose a campground that's easily accessible. Hiking through brush with a tent in one arm and a five-year-old in the other would probably put a damper on your excursion. Are you bringing Lassie along? Maybe not. Some parks and campgrounds don't allow pets, so make sure you call ahead to find out. If you do bring your dog, make sure to pick up a long leash so he doesn't wander off at the first whiff of a wild animal. Finally, don't forget biodegradable poop bags!
"Here's Good!"
Before you plop down your bags and set up camp, make sure you're picking the right spot. Plants can be damaged when you set up camp overtop of them, and if you camp on top of native plants it could take years for them to grow back. Look for grasses and designated areas to camp on instead.
Burn, Baby, Burn.
What's a camping trip without a s'more or two? When you're gathering firewood, think small. You want to pick sticks from the ground that you can break with your own two hands. When you're deciding on a spot to build your fire, settle on a fire pit since they are designed to stop fire from spreading. Before you light up, check the conditions with rangers to make sure you're not starting a fire in a particularly dry area (which could lead to wild fires). If you get the go ahead, make sure all the embers are out by the time you head to bed. Finally, put one person in charge of doing a final check before you leave the grounds.
Don't Pet the Bears.
Ok. Ok. I know you won't snuggle up with a grizzly, but don't approach any animal when you're camping. Admire them from a distance. Interacting with wildlife or feeding them can make humans more familiar to them – and that can actually put them in harm's way. So do right by the critters and keep your food and garbage secured and out of the reach of their paws, beaks and bills!

Take a Minute.
You're away from the hubbub of city life. Take a minute to appreciate the quiet. The feeling of the breeze on your skin. The smell of pine around you. It's easy to forget how awesome this country really is. So make it a point to take it all in!
Vanish Without a Trace!
While you might have had a relaxing trip, don't be too relaxed about your packing. Grab all your gear and food and pack it up to go. And don't forget your trash! Pack that up too and drop it off at one of the designated trash stations – or bring it on home with you and set it on the curb.
Stuck at Home?
If your kids are a little too young or life is just a little too hectic this summer, why not camp in your very own backyard? Pitch a tent, grill some burgers and enjoy your very own green patch. But don't forget to set some ground rules before your staycation begins:
- Do turn off your phones, video game consoles and computers. It's time to enjoy nature's playground!
- Don't head inside! Except for trips to the loo, of course.
- Do explore your backyard! Venture out looking for birds, insects and maybe even frogs!