By Megan Findlay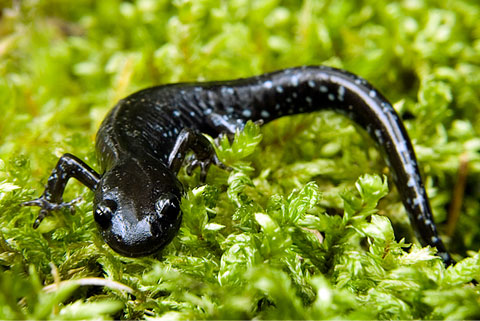 Provided by: Trevor Morris of Fredericton, New Brunswick
As the days get longer and the nights grow warm, many animals across the country feel the tug of springtime rituals. They may have the instinct, and they may have the mate—but what happens if they don't have the habitat?
Amphibious Cupids
Imagine yourself charging out of your winter shelter and into the electric blue of spring, your mate waiting only 500 metres away, eager to celebrate the season the way that nature intended—sounds divine, right? But if you only measure 10 centimetres from tail to tongue-tip and are compulsively shy, negotiating those 500 metres can be a heart-stopping endeavour. When the blue-spotted salamander feels the pull of love during the first warm nights of the year, it must leave its shelter of forest debris and migrate to the nearest pond—often across deadly highways—where it can breed and lay its eggs underwater. You can watch one of these introverted Romeos by visiting Hinterland Who's Who. Like many species of amphibians, the blue-spotted salamander is facing population decline, mainly due to habitat loss or degradation.
Long-Distance Love
Many animals affected by disappearing habitat are migratory, from the blue-spotted salamander to the thousands of bird species that fly to Canada each spring from tens of thousands of kilometres away. The golden-winged warbler, for example, overwinters in Central and South America and has even been seen cavorting in the trees of Cuba and some Caribbean islands. Up to 50,000 couples—or 18.5 per cent of the world's golden-winged warbler population—return to Canada for romance in early May. These little Casanovas prefer to return to the same sites year after year, usually along the hydro-wires, fencelines and young, regenerating forests of Ontario, where low bushes and shrubs provide shelter for their nests, which they build on the ground.

You might imagine that a bird that is sturdy enough to migrate thousands of kilometres a year could withstand most threats, but the golden-winged warbler, like many other neo-tropical birds, is in a perilous situation. Habitat loss is forcing its close relative, the blue-winged warbler, to move out of its normal breeding grounds in the northeastern United States and into Canada. Studies show that the golden-winged warbler disappears locally within 50 years of the blue-winged warblers' arrival as a result of overcrowded breeding areas, which contribute to species hybridization and, conceivably, competition-related extinction. Since the mid-1990s, the golden-winged population has declined by 79 per cent, making it one of the most vulnerable songbirds of North America. It is considered threatened by the Committee on the Status of Endangered Wildlife in Canada (COSEWIC).
Protective Passages
In response to this grim forecast, Environment Canada (EC) is preparing a recovery plan for the golden-winged warbler and many other species, from tiny birds to large, carnivorous mammals. In 2009, EC signed the Inuit Impact and Benefit Agreement, ensuring that 18.5 hectares of land on Baffin Island will be set aside for wildlife regeneration efforts, including 11 Migratory Bird Sanctuaries and five National Wildlife Areas. Wildlife corridors are also part of the solution; by linking areas of suitable habitat together, conservationists ensure the genetic diversity and population growth of migrating species. Tunnels above and below the Trans-Canada Highway in Banff National Park, for example, support one of the oldest wildlife corridors in Canada, eliminating road deaths of everything from small amphibians (like salamanders!) to migrating elk herds by as much as 96 per cent.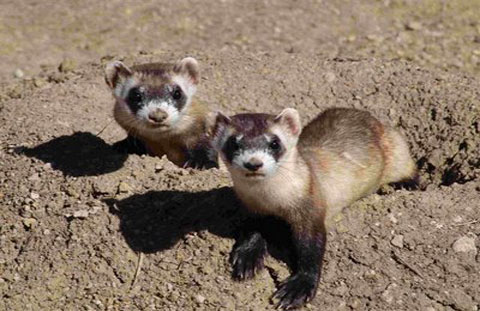 Wild at Heart
Unfortunately, these measures alone aren't always enough to reinvigorate a struggling species. The black-footed ferret, which once populated Saskatchewan and Alberta before agricultural expansion destroyed 80 per cent of Canada's mixed grasslands, was feared extinct until 1981, when a farmer's dog discovered a small colony in Wyoming. Since then, captive breeding programs across North America have resulted in the birth of more than 6,500 kits. On October 2, 2009, using funds from the Canadian Wildlife Federation and the Canadian Association of Zoos and Aquariums, the Toronto Zoo released 30 ferrets into Saskatchewan's Grasslands National Park, marking the first-ever ferret reintroduction in Canada.
The ferrets' adjustment from captivity to the wild is not assured; after all, once you've gotten used to a five-star hotel, would you be able to adjust to your humble natural habitat? Despite a rigorous "boot camp" where all ferrets safely acclimatize to natural conditions before release, the survival rate of reintroduced ferrets is only 20 per cent, and three of the 18 attempted ferret reintroduction sites across the United States have failed to establish self-sustaining populations. Because ferrets generally breed from January to early June, researchers are closely monitoring this population to assess its breeding success. You can read more about the black-footed ferret program by visiting the Toronto Zoo online.

Restore the Romance
Despite the gravity of threats facing Canadian species as the breeding season draws near, there is plenty we can do in our own backyards and communities to help. Support songbird populations in your area by creating shelters out of fallen branches and debris from pruned bushes. These shelters provide year-round cover for birds and are excellent nesting sites for small mammals and invertebrates. Reduce cat predation by installing a cone-shaped predator guard around nesting areas and planting dense vegetation along a forest edge. These are just a few of the many actions you can take to protect local wildlife.
As for the bashful blue-spotted salamander that needs a place to take his date, you can help by building a pond in your community or ensuring that existing ponds have lots of rocks and native plants to provide shelter for pairs and their eggs. Stop using pesticides in your household, as salamanders can absorb pollutants through their skin. And while you're settling into the cozy embrace of friends and family this Valentine's Day, take a moment to think of the thousands of species across Canada that are preparing for their own romantic rituals—with your loving support!