By Sarah Coulber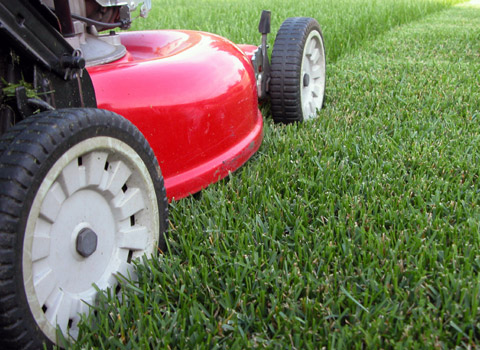 As we move through our day, we make countless moment-to-moment choices that may seem insignificant at the time. Collectively, these choices shape the face of our life, our community, our country and our planet. We have the power to make great changes, one choice at a time – whether it's writing on both sides of a sheet of paper, driving your car a little less or planting native plants. There are many choices to be made in creating and maintaining a garden or large expanse of land. Ready to see how green your garden can grow?
Your Grassy Knoll
Keep up with the Joneses and have a gorgeous lawn without spending every waking moment outside watering it. We've got a few tricks up our sleeves to ensure your lawn is the healthiest on the block.
Ready, Set, Grow! Buy grass seed that suits the soil and light conditions of the area in question to help keep the plants strong and healthy. It'll help them be more weather- and pest-resistant, keep the lawn thick and help crowd out weeds.
Snip, Snip. Avoid cutting the grass too short! With a sharp blade, remove only one-third or less of the grass blade, leaving it standing at around seven centimetres or higher. The longer blades help the plant make its food from the sun, allow it to recover more quickly after dormant periods, prevent moisture evaporation, reducing the need to water, and encourage deeper roots. Longer blades also make it difficult for weed seeds to land and germinate.
Hands Off. Grasscycle your lawn cuttings by letting them lay where they fall. This returns nutrients to the soil, which the grass roots can then utilize, encouraging a healthier, stronger plant. If you do experience thatch, where the clippings aren't decomposed after several days, this could be a sign that your soil is depleted of sufficient soil organisms. You can help restore the natural balance by eliminating all pesticides and chemical fertilizers. This usually allows a natural buildup of beneficial organisms, although you can speed up the process by sprinkling a layer of compost over your lawn, which will get worked in gradually with rain.
If you do have to rake up your grass clippings – perhaps your lawn hasn't been cut in weeks and grass clippings are 13 centimetres long – then rake them up and use them as mulch in your garden or add them to your compost pile.
Drink Up
We all love clean water – it's our bodies' favourite drink; it helps clean our teeth, clothes and counters, and we love to swim and fish in it! It is imperative for the health of the countless species that live in Canadian ponds, lakes and rivers, not to mention the oceans, where it eventually ends up. It also becomes the rain that falls back down to us. To look after this precious resource – and save you time and reduce your water costs and well water, here are some ideas to reduce or eliminate watering needs:
Homegrown. Native plants have grown in Canadian soil for generations, so they're a low-maintenance choice for your garden beds. Once their roots are established, they should thrive and not require any watering. You can also use mulch on your garden beds with materials like straw; they'll let rain seep in but keep the sun at bay to help retain moisture.
Eco-lawn. More and more Canadians are refusing to water their lawns. They are choosing suitable grasses that can handle less moisture and are tolerating some temporary browning during a natural dormancy that occurs when the weather gets too hot and dry.
Let it rain, let it rain, let it rain. Get yourself a rain barrel to catch the water that is collected and diverted by your house's eaves trough and downspout. Due to the construction of the average roof, you may wish to use this water for garden beds with non-edible plants to prevent any toxicity from the roof from entering your fruit and vegetables.
Pesky Business
Our natural world got along just fine for thousands of years without the use of pesticides and herbicides. So take a cue from Mother Nature and allow your land to return to a natural state by planting native plants of varying sizes and types, as well as avoiding chemicals. This will automatically invite allies to your garden such as bug-eating birds, bats, toads and insects that will help keep "pest" insect species in check. You can also lessen pest damage by strengthening plants; just plant them in a suitable location and give them plenty of nourishment with compost or aged manure.
Bugs Be Gone! Pesticides – both herbicides and insecticides – can harm beneficial organisms such as butterflies, bees and even hummingbirds. While these beautiful birds do rely on nectar for carbohydrates, they also need protein from insects and spiders. If this food source is contaminated or eliminated by pesticides, the hummingbird's health can be at risk. Moreover, pesticides can be harmful to human health and enter our waterways, affecting environments far beyond your garden.
Ward off Weeds. To minimize weeds, use mulch in garden beds and see above for ideas for lawns. In addition, you may wish to investigate if corn gluten meal is suitable for your lawn. It is a natural byproduct that inhibits seed germination and is a natural fertilizer as well.
Of course, you could try eating the weeds, as many people are rediscovering their nutritional benefits! For instance, dandelion greens are a source of many vitamins as well as zinc and iron. Before you branch out with your garden harvest and start your weed feast, make sure you check with a couple of reputable sources!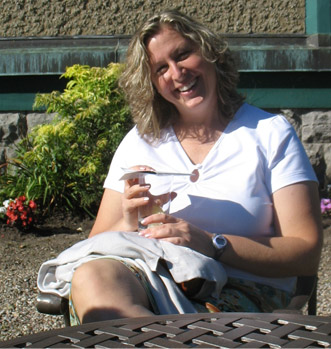 Most of what CWF's Backyard Habitat Program has to offer is thanks to the passion and vision of Maria MacRae. She has been an integral part of CWF's success in helping Canadians discover and appreciate the wildlife around them and create habitat for these valuable species on their property. Unfortunately, Maria had been ill with cancer for several years, and on April 11, 2010, she died at the young age of 44. Please visit our Wild About Gardening website to read more about Maria's life and the creatures and habitats she worked so hard to protect.