June 11, 2009
By April Overall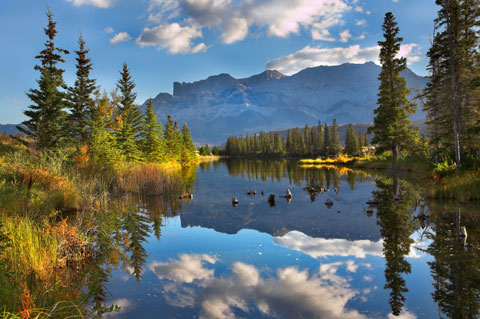 From the smallest droplet to the tallest glacier, water is considered to be precious worldwide. Not only does it cover nearly 70 per cent of our planet, but most plants and animals consist mainly of water as well. It is the primary source of life for plants, insects and mammals, and is essential to our well being. It is a religious symbol of devotion and purity and plays a large role in the history of Canada. Rivers to Oceans Week, a flagship program of CWF, pays homage to this life giving role of water every June 8 to 14.
Water is one the oldest substances on earth and has played a significant role in the earth's evolution. Life in water began between 3.1 to 3.4 billion years ago, while life on land is comparatively young, starting only about 400 million years ago. Water has therefore more firmly established its ecosystems. But these ecosystems need to be protected.
New and exotic flora and fauna are being discovered all the time. Unfortunately, as more are discovered, many are also lost to pollution and environmental abuse. This fragility makes our water supply all the more precious and emphasizes the need to care.
Over time, our waterways have slowly but surely become contaminated, rendering it unsafe not only for us but for human consumption but for the creatures that live in it, too. Toxic chemicals, industrial development, and severe over-usage have depleted an already small, clean water supply. More and more human waste has been dumped into oceans and rivers, destroying ecosystems and killing plants and animals, and the Pacific Ocean is now home to a manmade island the size of Texas called the Great Pacific Garbage Patch.
"Improving the quality of oceans begins with boosting the health of local streams, lakes, rivers and wetlands — something in which everyone can play a role, regardless of where they live," says CWF executive vice president Wade Luzny. "Really, no matter how far you live from the sea, your actions — positive and negative — impact Canada's oceans."
To discover more about your connection to water, check out these great water-related resources from the Canadian Wildlife Federation:
Remember, Water's Worth It!