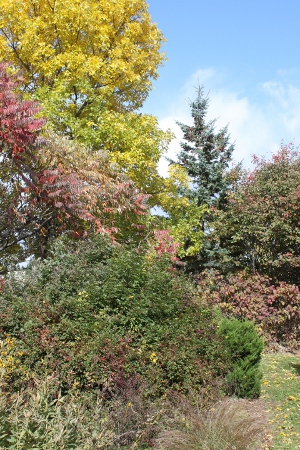 An edge is the border between two types of habitat, such as forests and fields. Urban areas have many edges along property lines, streams and rivers, road sides and parks that can be very beneficial to wildlife.
If there is a sharp change from one habitat type to the next, the area has limited usefulness for wildlife. For example, a short-cropped field bordered by a straight line of tall trees leading into a forest is less useful to wildlife than a cropped field that gradually gives way to taller grasses, then small shrubs and then trees. A variety of plant types and heights allows for a wide variety of wildlife. This transition area of mixed habitat creates a unique dwelling that wildlife can use for nesting, hunting, foraging and cover.
Improving edge areas in your yard is easy to do, even on a small property, if you follow these tips:
• The background vegetation should be the tallest and ideally consist of trees, or, if space is limited, taller shrubs.
• The next layer, consisting of shrubs, should be lower, followed by a shorter layer of wildflowers and native grasses, and final layers of ground cover and lawn.
• An edge doesn't have to be large to attract wildlife. A few trees surrounded by a ring of shrubs, then encircled by wildflowers and grasses and finally bordered by an open lawn provides several small edge environments for wildlife.
• If you have a downtown lot with really limited space, you can use strip as small as 15 centimetres along your yard fence. Climbing vines such as scarlet runner beans, grapevine, virgin's bower, bittersweet or dropmore scarlet trumpet honeysuckle vine will give wildlife a boost with their berries and blooms. You can then add wildflowers and native grasses at their base.
• No matter how expansive or limited your space, focus on diversity. The more native plant species you can include in your edge, the better. Mast-producing trees and shrubs (those that produce edible nuts, fruits and buds for wildlife) will draw a wild crowd and look beautiful on your property all year round.
Too Much of a Good Thing
What we call edges in our backyards are known to landscape ecologists as ecotones in nature. Ecotones are important areas for wildlife; they tend to support greater diversity and are more densely populated compared with the ecosystems on either side. This boost in biodiversity or "edge effect," is due to the proximity of resources and the climate these areas offer. This is what makes them so great in our yards too.
However, when it comes to our forests, the old adage is true—you can have too much of a good thing. Deforestation for development, logging and agriculture is creating far too much edge habitat within forests, where edges wouldn't normally occur. If you are considering dividing any forested area, keep in mind that specialists are noticing negative impacts; fragmented habitat can mean increased competition for space and food, skewed predator-prey dynamics and easier spreading of parasites and weed seeds. These influences can alter forest ecosystems in ways that may never be reversed.
You've Got the Power
Habitat loss is one of the most significant threats to wildlife, so never underestimate the power of your backyard. Creating an edge area in your backyard will benefit all kinds of wild creatures, and should your edges connect to hedgerows, all the better. Think big picture. You (and hopefully some inspired neighbours) are helping to create much-needed wildlife corridors that will connect wild populations and preserve habitat in a modern world.
Photo: Sarah Coulber, CWF