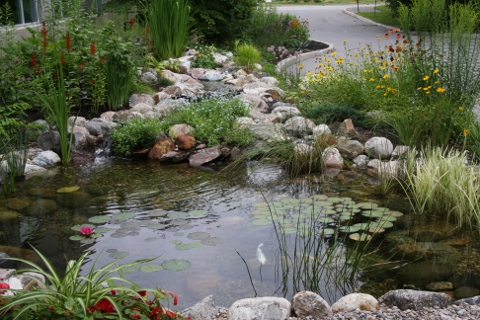 Creating a pond, especially one with shallow edges, can be an ideal way to attract toads, salamanders and frogs to your backyard. Birds will appreciate your efforts too; once they spot your pond they'll swoop down for a drink and preen their feathers. You'll also get to know many beautiful insects. Metallic beetles, delicate damselflies and an array of insects that swim, dive and whirl about will visit your pond. You might even be lucky enough to have a turtle stop by.
The possibilities are endless as you envision the shape of your pond and how the water will flow, as well as the beautiful native aquatic plants to choose from that could grow in and along your pond's edge. If you prefer to avoid a lot of planning, there are many preassembled kits available. Pond owners often find this space very satisfying and even therapeutic - you can sit calmly and soak in all the life you've brought to your yard or crouch near the pond's edge to look for underwater commotion.
You'll also be doing frogs and toads a favour; they're often so hard-pressed for water that they pick unsafe places like swimming pools as living quarters. They stay hydrated by absorbing moisture through their skin and need just the right amount of water to raise their young.
When building a pond to help amphibians, keep in mind that frogs need to hibernate every winter, and it takes at least three years for tadpoles to develop into adult frogs. So, provide them with a permanent body of water—with at least one section that is two metres deep - if you want these amphibians to survive beyond their first summer. If your space doesn't permit a deep pond; a smaller, shallow pool of water will still provide wonderful stopover areas for amphibians in search of a more suitable body of water.

Preparation
• First, check with your municipal local by-laws inspector to see that there aren't any restrictions on building this type of water feature in your area.
• Find a partially shaded (not deeply shaded) spot in your backyard that gets no more than four hours of direct sunlight a day. Otherwise, the algal growth in your pond could get out of hand.
• Make sure this area doesn't interfere with any natural water features - altering a stream's flow or creating an addendum to a natural pond could disrupt an established ecosystem.
• Choose an area that is relatively flat, without much sloping, to make installation and upkeep easier.
• Be sure that your pond has a very gradual slope on all sides to help wildlife use the pond more easily and to prevent drowning. If you have a deep end in your pond, be sure to add a few rocks or a log in the water by the edge so any creatures that accidentally fall in can climb out.
• Consider adding different depths to your pond as birds and other animals will appreciate a shallow area for drinking and bathing. Alternatively, you may prefer to add a recirculating stream.
• Before you start digging, make sure that the pond will be within reach of a garden hose. You'll need to add water during periods of low rainfall or freshen up the water if it gets stagnant in late summer. It's also a good idea to build your pond close to a garden or section of your lawn that you let the grass grow a little high, which will draw plenty of bugs and keep amphibian occupants well fed.
Installation
• Excavate the hole for your pond, keeping in mind that overwintering frogs need an area at least two metres deep, otherwise you will need to install a pond aerator to keep the water from completely freezing in winter.
• Use the soil you've removed to level out the edges of the pond. If the edges are not level, water may flow over onto the lawn area.
• Remove any stones or sharp objects and line the bottom with sand to a depth of five centimetres.
• Cover the surface with a 45 millimetre EPDM rubberized pool liner, black in colour. If the area has many rocks or rough roots that are stubborn to remove, you may choose to put down an underlayment fabric over the entire area before installing the rubber liner to protect it from getting pierced.
• Put a little soil on top of the liner to help position potted plants and to help frog species overwinter. There needn't be a thick layer of soil, but just enough for frogs to bury themselves at the deepest portion of the pond. Frogs might also partly bury themselves in potted plants or within the folds of the liner; these are great overwintering spots that will not damage your pond or your plants. Use a soil with a lighter texture for this purpose; some of the soil you've excavated should be sufficient so long as it isn't heavy clay.
• Weigh down the outer edges of the liner with flat stones and enough soil that vegetation will grow around the border.
• Make sure that the stones are tilted slightly away from the pond so that extra water will roll away from the pond. If possible, set them in sand to help prevent the stones from moving around over time or sliding into the water.
• If the safety of small children is a concern, you may want to install a fence around the pond.
• As you're installing your pond, take a mental note or even draw out a map of the physical whereabouts of the system. This way, you won't disturb the pump or sever any electrical cords if you're digging around the pond area. To properly install and care for your pump be sure to follow any instructions that were packaged with it.
Filling the Pond
• Fill the pond with water. If your water is chlorinated, let it stand for a week before proceeding.
• Add aquatic plants. Aquatic vegetation can be planted in pots and then submerged at varying depths in the pond.
• Try to include a variety of native plants with a good mix of emergent plants, which look great along the edge of your pond; floating plants, which help provide shade; and submerged plants, which provide extra oxygen in your pond.
• Be extra careful when purchasing plants. Some plants sold for backyard ponds can be very invasive to precious wetland ecosystems in the wild. Be sure to do your own research and double-check with the nursery before you buy.
Note: If you decide to switch out a pond plant you no longer want, or if a plant needs to be divided, please avoid dumping it in a wild area. This can easily disrupt ecosystems, whether the plant you are discarding is native or not as it may not be native to that area. Inquire whether your nursery is willing to take plants back, or share the plant with a neighbour who also has a backyard pond.
• Plant grasses around the edge of your pond to attract insects for hungry amphibians.
• Place a small island of rocks about one metre from the edge of the pond as a resting spot for frogs and dragonflies.
• Add some pond fish, if you like, but do not take fish from the wild. For information on local laws concerning the collection and transport of native fish, contact your local Ministry of Natural Resources.
• Don't be disappointed if amphibians don't take up residence in your backyard pond right away. Sometimes they're slow to expand their ranges.
• Never catch frogs or toads and relocate them to your pond. Amphibians have been known to travel more than three kilometres to return to the pond where they grew up.
Note: As you stock your pond keep in mind that goldfish are an introduced species in Canadian waters. If kept responsibly, goldfish and koi can be housed in an artificial pond. If you'd like to keep these fish, make sure your pond isn't adjacent to any natural waterways. And never release unwanted fish in natural areas or flush them in your home. They can end up in our waterways where they disrupt natural ecosystems and compete for resources with our native fish. Unwanted pond fish can often be returned to the shop where they were purchased or given away to a neighbour, school or community centre that can properly care for them. You can also call the Fish Rescue Program at 1-800-563-7711 or visit http://www.caoac.ca/rescue.html.
For more information on responsible pond keeping, visit www.habitattitude.ca.


Upkeep
A pond with well-balanced water chemistry, good aeration and a filtration system requires little maintenance. Although you do not have to include fish, they do contribute to the pond's ecosystem and are a joy to observe. The cycle goes like this: fish consume broken down plant materials and produce wastes that are processed by the helpful bacteria found on rocks at the bottom of the pond; the bacteria release nutrients that are essential to the plants' health, and so they are absorbed by the plants' root systems while the filter takes care of any excess wastes.
The upkeep is minimal considering the size of the project, but there are still a few tasks for your to-do list:
• One of the best ways to help keep your pond clean is to have flowing water in the form of a pump, a fountain or a waterfall. Moving water provides oxygen, which helps prevent the build-up of toxic gases created from decaying plants and fish waste.
• Top up the pond water during dry spells. Freshen the water if it becomes stagnant in late summer. It is best to let the water sit for a week before adding it to your pond to allow the chlorine to evaporate. You could also use water collected in a rain barrel.
• Should you notice vegetation floating toward the pump/filter system and clogging it up, anchor the problem plants with some string. Alternatively, stretch a string just above the water in front of this pump/filter system to prevent the plants from flowing into it with the current. If there is nowhere to tie the string, discreetly insert a couple of small sticks at either end.
• If you use a recirculating pump, remember to clean the filter once a week. (These pumps, which create the sound of running water, will attract birds to your pond.)
• If you plan to have many fish, you will likely need a filter to handle their waste.
• Try not to over-feed your fish; uneaten, decaying food will add to upkeep.
• Remove fallen leaves in the spring and fall to prevent fouling of your pond.
• Try to give the pond a good scrub once a year. You can empty some water out if it makes the job easier, then refill the pond with fresh water when you're through.
Algae
If you notice algae in your pond, don't panic. Surface algae will be found at the bottom of your pond, coating rocks and other surfaces. These algae are actually helpful for pond life. However, if you see the bottom of your pond growing fuzzier than usual, just scrub it away with your hands or an old broom.
If the problem persists, or if you notice string algae (which can suffocate plants) or suspended algae (which can turn your pond slimy and green), consider that there is likely a nutrient build-up. There is either too much sun and/or a lack of oxygen and not enough helpful bacteria. First, try removing the algae by hand; scoop away any floating algae with a net, a skimmer or your hands. Should your algae problem worsen or your pond turn green, restore it back to a healthy state by adding more submerged plants, beneficial bacteria and a source of shade. Your algae problem should dissipate within a few weeks.
Another trick for dealing with algae is to float a small bundle of barley straw in your pond which slowly releases tiny amounts of hydrogen peroxide, thereby killing off pesky algae but leaving other plants unharmed. For heavy-duty-algae removal, place 85 grams of barley straw in a mesh bag and add some buoyant material to help it float in your pond. Replace the straw every five to six months, or as you see fit.
A great way to prevent algae build-up is to cover the bottom of your pond with rocks and pebbles. Although this might seem as though it will only add to the headache of cleaning, the surface area of the stones offer a great spot for good bacteria to colonize and help keep algae at bay.
Pond Pests
If you notice fish disappearing, try to narrow down the guilty parties. Look for prints around your pond or, even better, catch the culprits in the act. More often than not, a heron is responsible! Generally, fish are able to swim away into deeper water, away from any creatures like raccoons or bored house cats that may sit along the edge of your pond trying to fish for a meal. A heron or egret, however, can wade in your pond and easily grab your beloved pond fish.
Try these tips to ward off unwanted visitors:
• A heron decoy may discourage birds from coming to your pond. Change its location every few days, so birds that regularly fly overhead don't catch on. Avoid putting the decoy out during heron mating season in your area, as this may attract males searching for a mate.
• To discourage hungry long-legged birds, set up a motion-activated sprinkler, which acts as a type of scarecrow, and move it around periodically if the bird returns. The sprinkler will give the bird a fright without harming it. This method can be used for any nuisance animal.
• Provide fish with interesting habitat at the bottom and sides of the pond, create underwater rock dens or add bits of camouflaged plastic drain pipes where they can retreat and escape danger.
• Add floating aquatic plants to provide fish with cover from predators.
• If you anticipate raccoons being a problem, avoid creating rock shelves near the main body of water where the fish are contained. Raccoons love fishing in these spots. Provide the fish with many hiding spots on the opposite wall from the shelf. But don't assume that a raccoon is taking your fish unless you catch one in the act; it may just be stopping by because the raccoon enjoys the pond as much as you.
• Netting is very effective at keeping away most predators; just make sure the net doesn't droop down into the water.
If you're concerned that a backyard pond is just another breeding pool for pesky mosquitoes, don't worry. Mosquitoes shouldn't be an issue. They lay their eggs in stagnant water, and your pond should have movement to provide oxygen. Should mosquitoes somehow manage to deposit their eggs in your pond, however, the filtration system will sweep the larvae away, if your hungry fish haven't already snapped them up.
Preparing Your Pond for Winter
• Remove any debris, like dead leaves or excess algae, from the pond and surrounding area so that it doesn't decompose and wreak havoc on water quality and the life in your pond.
• You may have to remove leaves often, once a day or more if you can. Alternatively, you can cover the pond with netting if there is a high risk of leaves and debris finding their way into your pond. Again, make sure netting doesn't dip into the water.
• If temperatures in your region become very cold, it is best to remove the pump and filter. Keep your pump indoors in a bucket of water, where it will not freeze.
• For keeping fish outdoors in winter, be sure to have an aerator or bubbler and a pond heater for the fish. The heater will help ensure that the pond doesn't completely freeze over. Be sure that there is always an opening in the ice for proper gas exchange to occur. Do not break the ice manually; this may be detrimental to the fish. Instead, use hot water to create an opening if the pond freezes over.
• When the water temperature of the pond dips below 10°C, stop feeding your fish. Their metabolism drops and they do not need to feed at low temperatures. Once you become accustomed to their behaviour, you can look for a marked decline in activity. When they no longer rush to the surface for food, you'll know to stop feeding.
• For a couple of months before it becomes too cold to feed, switch to a food that fish can easily digest with their slowed metabolism. These are marketed as spring or fall feeds and tend to be wheat germ based.
• You can bring fish indoors if you prefer; however, this will mean continued feeding and maintenance in an indoor tank throughout the winter months.