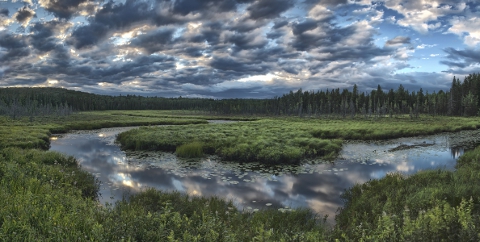 Photo: Bill Maynard
Whether you wish to play with a wet corner of your garden or you have an actual wetland on your property, you'll find something in this section to help you enjoy and work with what you've got.
The Importance of Wetland Habitat
A wetland is an area where land and water meet; water covers the land area to create a shallow wetland habitat. Wetlands provide immeasurable services that help keep our waters clean. They act as reservoirs that help minimize flooding and prevent drought and erosion. Some wet areas condition water quality by acting as filters for lakes and other waterways. Wetland ecosystems provide habitat for many unique plants and animals. They act as spawning grounds for many fish species and offer great nesting, foraging and concealment opportunities for reptiles, amphibians, waterfowl and many other birds, insects and small and large mammals alike. Wetlands are serene areas, perfect for enjoying nature, bird watching, hunting, fishing, canoeing or kayaking. These activities help float local economies too, adding to the list of reasons wet areas are important.
Loss of Wetland Habitat
Where agricultural and urban areas are concentrated, there have been great losses in wetland space. In the past, wetlands were regarded as unproductive areas, sites where disease festered and insect pests multiplied. And so these areas were drained and filled for agriculture, development of infrastructure, housing and roads. More recently, the importance of wetlands has been brought to our attention and the misconceptions have been cleared. However, there is still a lack of understanding of and appreciation for the ecological function of wetlands. Economic gain tends to trump ecological preservation. With continued development, the rising price of land and construction of cottages in wetland areas, wetland habitat loss continues. Pollution, invasive species, unsuitable drainage ditches, peat extraction and severe drought all threaten wetlands.
What You Can Do
Preserve what is already there.
o If you feel passionate about wetland conservation, do not hesitate to communicate this to your political representatives at the municipal, provincial or federal level. Every opinion counts—you can make a difference. Unsure what to say or write? Let politicians know why you like to visit wetlands near you. Maybe you like bird watching with friends or canoeing with your grandkids. Tell them that you want to keep these important wild areas as they are. Let them know if your friends, family or neighbours feel the same way. Do not worry about not sounding scientific enough; just emphasize the bottom line: wetland ecosystems are vital, and their conservation is important to you.
o If you have wetland habitat near you or on your property, try not to alter it. An area you might consider untidy might actually be a great spot for a duck to nest. We often get caught up with the image of a manicured, sterile looking property, but where's the life in that? Instead try to work with these features; maybe add a few carefully chosen wetland plants or shrubs to improve the view and help wildlife. There are so many creative ways for people to coexist with wildlife. Learn to love the effortless look of an area that benefits us all—then you can add a few personal touches.
Create a garden with plants found in wet areas.
Transform a soggy area of your property into a spot where wetland wildflowers and shrubs can flourish. Take delight in reclaiming space that perhaps was once a source of frustration or an eyesore on your property and enjoy new wild visitors.
o If part of your property is a wetland area, let it inspire some of your plantings. You may even be able to add to it, thereby extending the habitat of the creatures that rely on it.
o Be sure to undertake this kind of project only if you have the right moisture, soil and light conditions; otherwise you'll be disappointed when your plants do not survive. A plant growing on your neighbour's property may not be suitable on yours.
o Research native wetland plants and their needs. Keep in mind that the soil's acidity or alkalinity might influence the success of your plantings. For an acidic soil, try bunchberry, bog rosemary or blueberries. For other wet areas, cardinal flower is beautiful, as is bottle gentian or marsh marigold, certain iris species, joe-pye weed and many goldenrod species.
o In any project where you aim to recreate habitat, do not dig plants from natural areas. Doing so disturbs the ecosystem, adding pressure to that habitat. Many creatures rely on those plantings.
o Instead, purchase plants from a native-plant supplier near you. If you choose a responsible nursery, you'll be helping wildlife and supporting like-minded individuals whose efforts are probably underappreciated!
Learn about wetlands.
Wetlands can be found across the country, with the greatest concentration in northern regions. The majority of wet areas are found in the Northwest Territories, Ontario and Manitoba. Learn about the five classes of wetlands in Canada and then have fun figuring out which ones are near you.
To get started, read about the main differences below:
Swamp
Location

· Across Canada

Hydrology

· Filled by waters from surrounding streams, rivers, lakes and melted snow

· Standing or gently moving water

· Typically remain flooded for most of growing season but may dry up in last stretch of summer

Depth

· Variable, seasonal flooding

· Key reservoir areas in spring and summer take in water to help prevent flooding in spring and release it in summer should the water table drop, preventing drought

· Soil's subsurface always waterlogged

Productivity

· Nutrient-rich environment that supports dense plant life, in turn attracting a variety of animal species

· pH greater than five

Plant species

· Characterized by the presence of woody vegetation

· In northern swamps, white spruce, black spruce and sometimes cedar

· Farther south, red maple, ash and some birch species

· Even farther south, silver maple, blueberries, ferns and skunk cabbage

· Swampy thickets composed of shrubs such as willow, alder, buttonbush and red osier dogwood

Wildlife usage

· Provide habitat and resources for salamanders, frogs, ducks, hawks, owls, coyotes, snowshoe hares and black bears

· Important overwintering areas for deer, which often choose areas thick with coniferous trees where they browse for winter food
Marsh
Location

· Across Canada

Hydrology

· Water comes from underground springs, rainfall, run-off and melted snow

· Periodically flooded area with a lot of open water

· Filters out silt, helping to keep and lakes and waterways clean

· Sometimes dries up entirely but can re-establish itself with seeds left behind from the previous season when moisture returns

· Freshwater marshes found inland

· Saltwater marshes found by coastal areas

· Slow-moving or standing water

Depth

· Can be knee height or up to two metres deep

Productivity

· Nutrient rich, with abundant vegetation; supports a lot of creatures

· Considered one of the most productive ecosystems, important for species diversity

· Neutral pH or somewhat alkaline

Plant species

· Characterized by emergent aquatic vegetation like rushes, sedges and grasses

· Contains plants like cattails, pickerel weed, arrowheads, pond lilies and coontails

· Specialized plants in saltwater marshes can withstand salty conditions; some deal with temperature fluctuations as the tide moves in and out twice daily

Wildlife usage

· Important areas for muskrats, minks, beavers, otters, turtles, frogs, waterfowl and other birds like kingfishers and osprey

· Muskrats form series of channels that help create habitat for ducks, bitterns and other marsh animals

· Shallow, warm waters used as spawning grounds for muskellunge, largemouth bass, minnow species and sunfish—important for freshwater fisheries

· Migrating waterfowl like blue-winged teal and ring-necked ducks use marshes for gathering and feeding in autumn
Bog
Location

· Mostly found in Arctic and Subarctic regions, though older wetlands, which are more vulnerable to disturbances and change, are also found in areas farther south.

Hydrology

· Bog water comes from rainfall and snow

· Little to no drainage, meaning water is stagnant

Depth

· High water table

· Bog surface usually somewhat raised compared to the surrounding area, so peat soil (a layer greater than 40 centimetres) remains above the water table

Productivity

· Stagnant and acidic water due to decaying mosses

· Low in oxygen

· Nutrient-poor environment with low productivity translates into a dip in animal diversity

· Home to some unusual plants

· pH less than five

Plant species

· Known for sphagnum mosses

· Peat mainly formed from dead remains of mosses, which builds up layers over time

· If you walk on a bog and your step has bounce, you are walking on a quaking bog. Be extra careful—what may feel and appear to be a solid floating sphagnum mat may not fully support your weight.

· Only habitat for unique wildflower species like sundews and pitcher plants, which are adapted to a nutrient-poor, acidic environment; these plants are carnivorous and obtain some nutrition from trapped insects

· Tamarack and spruce sometimes found in or around bogs but are very slow growing

· Other bog plants include shrub willows, cotton grass, Labrador tea, bog cranberry and mosses

Wildlife usage

· Habitat for weasels, foxes, fishers, lynx, red squirrels and other small mammals, as well as hawks, owls and many song birds

· Moose sometimes feed along edges
Fen
Location

· Found mainly in the North, though also found farther south

Hydrology

· Water moves in from surrounding areas

· Some water movement; not completely stagnant

· Water is slow moving and may dry out in summer

· Internal drainage by water seeping out

Depth

· High water table

· Water table hovers around peat's surface or just above it

· Peat is usually 40 centimetres thick or less

Productivity

· Not very productive wetlands, but do receive nutrients from streams, run-off and groundwater, making them more nutrient rich than bogs

· Can range from a productive area with lots of nutrients, plants and wildlife to a less productive area that is nutrient poor and has low species diversity

· pH is greater than five and is either somewhat acidic or somewhat basic

Plant species

· Type of peat land, but unlike bogs, fens lack abundant sphagnum moss

· Marsh-like vegetation

· Sedges are dominant; mosses, grasses and reeds also found

· Many rare wildflowers like orchids

· If trees are present, they are usually tamarack, cedar, spruce or dwarf birches

Wildlife usage

· Hawks, nesting waterfowl and other birds, amphibians, small mammals like voles and jumping mice and large mammals like mule deer and caribou
Shallow open water
Location

·

Across Canada

Hydrology

· Receives water from run-off, precipitation, groundwater and other water bodies

· Standing or gently moving waters

· Transitional area between lakes and marsh areas

· Unchanging temperature from top to bottom, unlike lakes which are stratified

· Open water, mostly free of vegetation

Depth

· Less than two metres in depth

Productivity

· Variable; can be quite productive in nutrient-rich areas

Plant species

· Some aquatic plants toward the edges

· Lack of emergent aquatic plants

· Some milfoils, sedges, water lilies, water hyacinth and duck weed

Wildlife usage

· Supports crustaceans, fish, amphibians, waterfowl and reptiles

· Moose and beaver may use peripheral areas